"How many Black friends do you have?"
That question, along with its usual clunky response, has become synonymous with Ziwe Fumudoh, the writer and comedian who popularized the phrase on her talk show. So it only makes sense that her new book is titled Black Friend.
Out on October 17, the essay collection covers a wide range of topics like cancel culture, reality TV, and imposter syndrome. Ziwe laces each essay with her typical wit and humor, while also divulging some details from her very private personal life. She begins almost every essay with transcripts from her show, which was canceled by Showtime earlier this year; conversations with Rose McGowan, Caroline Calloway, Chet Hanks, and a few others all make an appearance.
"I love interviewing people and I don't see the end of this chapter as the end of my interviews," she says of her show's cancellation. "I've been doing this since 2016 on YouTube when no one cared. This is just another iteration of an art form that I'm constantly expanding and developing. All I set out to do [with the Showtime show] was make people laugh. So I think I've accomplished that." And now, it's time to take on a new art form.
Below, Ziwe speaks to ELLE.com about Black Friend, finding inspiration in James Baldwin and bell hooks, and what she thinks about her own legacy.
Why did you decide that now was the time to publish an essay collection?
I wish I could say I had a grand conspiracy, but it was due. It's not necessarily that it met a moment, but maybe it was opportunity meeting preparation.
I noticed that your face isn't on the cover. Why is that?
Oh, great question. I had no interest in seeing my face on a hundred or thousands of books for the rest of my life. There's nothing worse than seeing a celebrity book in the bargain bin. I would hate that. But more than anything, I started off in this industry as a professional writer. That is my bread and butter. That was my first job out of college. And so I really wanted to treat this with the decorum that I write for a living, and therefore, the cover could live on its own without having to plaster my face on it.
You write about your childhood and growing up with Nigerian parents. What about your upbringing did you want to convey to readers?
I think I wanted readers to have an idea of my perspective. I think one of the more valuable perspectives I've been able to gain because of my upbringing is having an appreciation for the fact that every perspective is valid to that person. What you may think is gospel is not gospel to other people, but that doesn't discount your opinion. So I have the ability to understand, "This is how my parents were raised and this is what they believe in," and then I'm able to move through spaces and see, "Oh, this is not what other people think." I think it just allowed me to have a sense of a really open perspective.

In being so personal, was it nerve-wracking to put so much of your personal life into the book?
Yes, it was unpleasant. I regretted it immediately. But I think the process of writing a very good book is that you're able to immerse yourself and share with your audience. And so while it was a painstaking labor that I wish I could have avoided, I knew that that was the single greatest barrier to me in writing a book worth itself.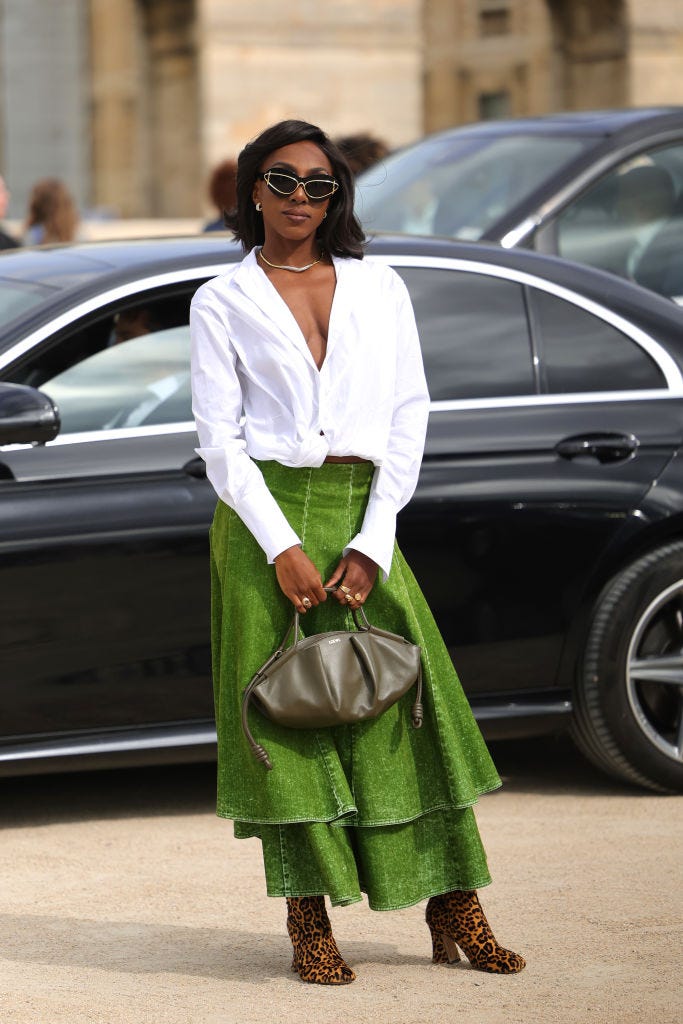 Ziwe arriving to the Loewe show at Paris Fashion Week in September.
Jacopo Raule
//
Getty Images
You write about traveling to Europe before the pandemic because James Baldwin went to Paris. What was that experience like?
The only thing I remember, honestly, was that Toni Morrison died my last week there. And then there was also a mass shooting that week. So it was so interesting to have these two uniquely disparate American moments and watch them from another continent. It was just really surreal. I wrote about that particular experience in an essay that ultimately will never see the light of day, but it helped me express a lot.

In the final essay titled "my body of work," you write about your complex thoughts on motherhood as someone who does not have children yet. Why'd you end the book on that note?

I think you're the first person to ask me about this. That was probably the last essay I wrote and one of the harder ones to get down. I think that legacy is something that I am really concentrated on in my work. What the nicest thing someone ever said to me was that they thought my work was really quality, which I appreciate. I don't put out a lot of content, but I do think I put out work that is sort of evergreen, even though it feels hyper-topical at the moment. We were at the New Yorker Fest and they showed a clip of me and Rose McGowan, and I was sort of shocked and delighted to watch the audience enjoy this clip for the first time. That was really fun. That was three years ago. So with legacy and motherhood specifically, it's like, "Who is the benefactor of my work? Who gets to relish in all the blood and sweat that I've expelled for this art?" And I don't have an answer. I don't know. But I can speak to the fact that my work is consumed and I'm very fortunate. So if no one inherits it directly, then let them, whoever reads my book, get something out of it that they can go forth in the world and use. I mean, Zora Neale Hurston died penniless and childless, but her contribution to American literature cannot be replicated. So is her story a sad ending or a happy one? It depends on who's asking.
Speaking of Zora Neale Hurston, you mention a lot of writers in Black Friend like Baldwin and Maya Angelou. How have they influenced you as a person or your work more generally?
The Fire Next Time is a hundred pages and it's one of my favorite books. So as I was writing this book, I insisted that sometimes short books really hit. His examination of American culture in that book is so pertinent decades later. So again, if we're talking about the nexus of topicality and being evergreen, I hope that I could be as capable of a writer as he is. So he's a big influence. He's king. He's slay. He also was really good at interviews. He had a lot of appearances on The Dick Cavett Show. He was also really funny. I'm a Baldwin stan.
Were you reading any other books while writing this one that influenced the work?
Definitely. I mean, one of the big watershed books that I read was actually All About Love by bell hooks. I found it to be really interesting because of all the personal anecdotes she'd offer to support her theory or contextualize whatever she was saying. Again, one of the big stop gaps in my writing is I don't want to share anything about myself. And I read this book and thought, "Wow, what a compelling essay. Why was it compelling? Oh, because she offered a glimpse into her life." And suddenly my denial turned into acceptance.
What was your favorite essay to write?
Writers are always conversing about the process of writing. And, honestly, I hate writing and love having written. As I'm writing, I'm always like, "Oh my gosh, who would ever want to engage in this?" For me, the better question is, what is the essay that I'm happy to have finished? I think "discomfort" was an essay that had so many permutations, but ultimately I think landed in a really compelling spot. Same with "wikifeet." That was an essay that was always hilarious, but started off as a one-pager and turned into this deep examination of gender and expression and public critique. So that was another essay that I was really happy to have finished because of how far it had come.
This interview has been edited and condensed.

Juliana Ukiomogbe is the Assistant Editor at ELLE. Her work has previously appeared in Interview, i-D, Teen Vogue, Nylon, and more.