When Nora Helmer slammed the door on her husband, leaving her marriage with a bang in A Doll's House, it was the sound heard round the world. And it continues to be: Look at Jessica Chastain's Tony-nominated turn in the Broadway revival this year. The distance between an 1879 Henrik Ibsen play and a fashion collection in 2023 may seem like quite the leap. But, says Max Mara's creative director Ian Griffiths, the playwright "was talking about women breaking out of this stifling bourgeois existence. Then in the 1950s, Max Mara was founded by Achille Maramotti, who declared that his intention was to provide liberating clothes for the wife of the local doctor or the local lawyer—to enable her to become independent. Max Mara could almost have been written by Ibsen, in that sense."
That reference didn't come out of thin air. Griffiths immersed himself in all things Scandinavian in advance of the brand's resort 2024 show in Stockholm. His fact-finding mission became a speedrun through Sweden's history of women's liberation, from the surprisingly gender-progressive Vikings to Queen Christina, who abdicated the throne in 1654, perhaps in part because she refused to get married. He ultimately landed on writer Selma Lagerlöf, who became the first female Nobel Prize in Literature winner in 1909. "I wanted to find one personality who could sum up all the different strands running through the collection," Griffiths says. Lagerlöf fit the bill "because she fought against a lot of stifling conventions."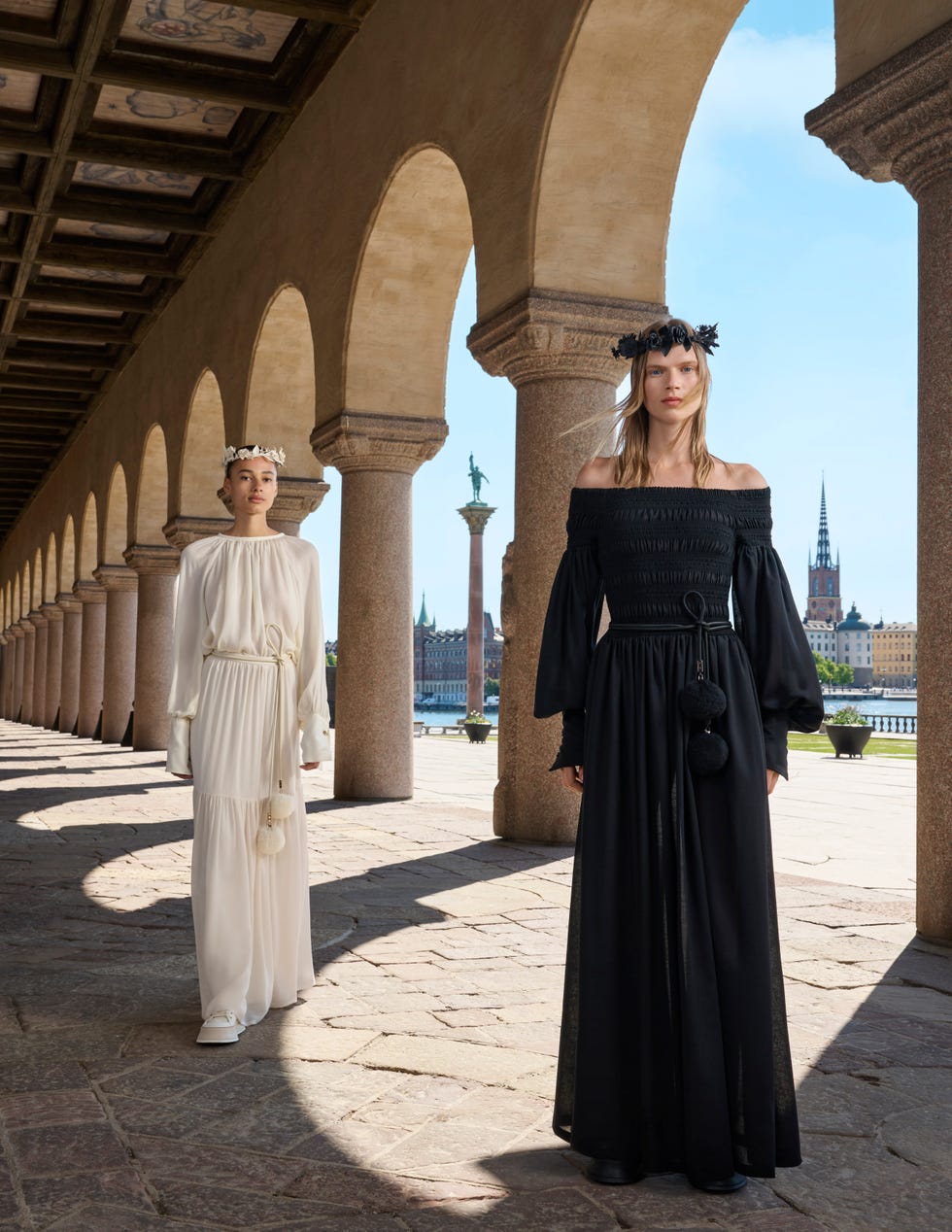 Max Mara resort 2024.
JASON SCHMIDT
Griffiths found the region's approach to design, which he describes as "accessible and democratic," to be parallel to Max Mara's. Edvard Munch's portraits of women in buttoned-up silhouettes inspired the gigot sleeves that graced some pieces. And Griffiths incorporated the darkness of Scandinavian folktales with all-black, textured ensembles. "I wanted to show a slightly Gothic dimension," he says. "It's a collection that explores light and shade." Even the brand's classic Teddy Bear coat got some embellishment. "Looking at folk costume is not something that we often do at Max Mara," Griffiths says, given that the Italian brand has long been known for its clean silhouettes. But after touring sites like the Norsk Folkemuseum in Oslo, Griffiths was drawn to the tassels and studs that decorated many traditional costumes. This turn toward maximalism might not be expected during a time of so-called quiet luxury, especially coming from one of the brands that defined the term. Griffiths professes to "deliberately not think about trends. The way to achieve something original is to follow your instinct. When everyone's talking about quiet luxury, you find yourself doing something that is more decorative and distinctive."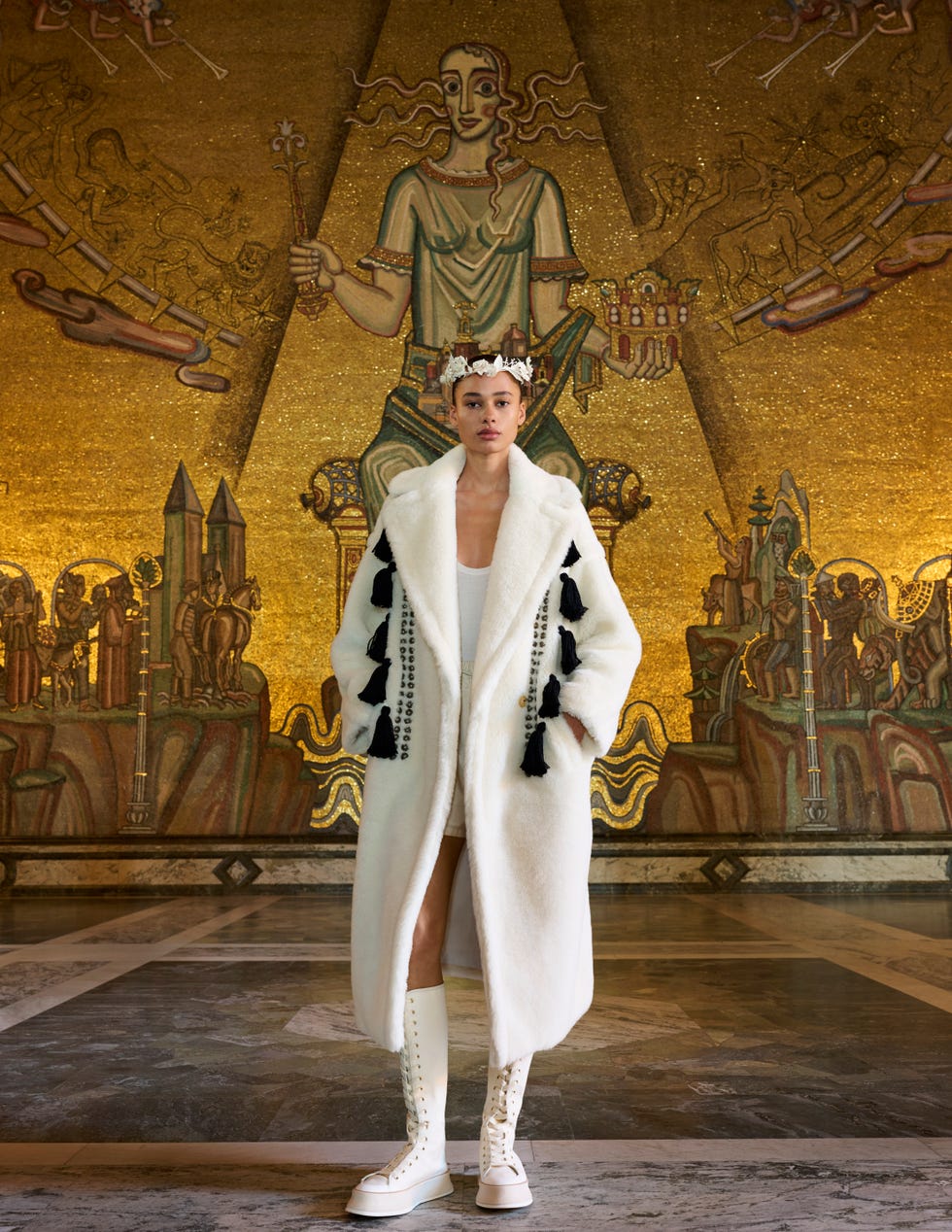 Max Mara resort 2024.
JASON SCHMIDT
The show in June marked the first-ever resort event by an international brand in Stockholm, taking place before the summer solstice holiday of Midsommar. The tradition of Septem Flores, in which people gather seven types of flowers and sleep with them under their pillow in hopes of dreaming of their future beloved, inspired the show's flower crowns and floral prints. It also served as the title of the collection. The night before the show, the brand held a dinner on an island outside the city center. Guests like Lily Collins and Lili Reinhart mingled, with some wearing flower crowns and white dresses, in keeping with the tradition. Then came time for the show, set at Stockholm's City Hall, where the Nobel Prize's annual post-ceremony banquet takes place. Griffiths "wanted to make an obvious point about excellence," before suggesting cheekily that Max Mara be put up for the prize. The building, designed by Ragnar Östberg, "feels a little bit like a fairy-tale castle," Griffiths says. "It gave the appropriate sense of occasion, but also a sense of magic, I hope."
This story appears in the November 2023 issue of ELLE.

ELLE Fashion Features Director
Véronique Hyland is ELLE's Fashion Features Director and the author of the book Dress Code, which was selected as one of The New Yorker's Best Books of the Year. Her writing has previously appeared in The New York Times Magazine, The New Yorker, W, New York magazine, Harper's Bazaar, and Condé Nast Traveler.