Spoilers below.
Netflix's The Fall of the House of Usher from Mike Flanagan touts itself as a series built on the works of Edgar Allan Poe, and the finale reveals that it's as much an adaptation of his famous poem The Raven—and pieces from Poe's short but illustrious life—as it is of the titular short story.
Throughout the limited series' eight episodes, in which Roderick Usher's (Bruce Greenwood) entire bloodline mysteriously dies one by one, a peculiar figure named Verna (Carla Gugino) hovers at each death. She's a security guard, a potential patient, an employee at a pet adoption clinic, and more—shapeshifting as needed to drive each of Roderick's kids into madness and their eventual death. As Roderick, his twin sister Madeline (Mary McDonnell), and their lawyer-slash-fixer Arthur Pym (Mark Hamill) investigate who she might be, they find her undoctored image throughout history.
More From ELLE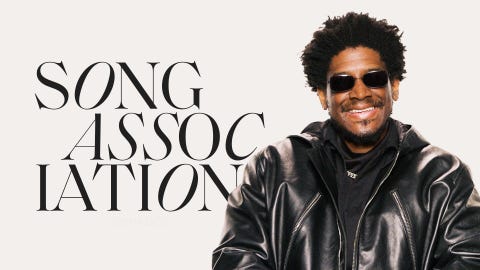 So how can this be? Verna, it turns out, is The Raven personified (her name is even an anagram of "raven"). In Poe's famous poem, the black bird is largely understood to represent death and loneliness, and Verna's appearance at the end of all of the Usher kids' lives is the kiss of death. But her presence is no coincidence. "The Raven" (season 1, episode 8) reveals that Roderick and Madeline made a deal with Verna/The Raven many years ago that traded their bloodline's lives for success and riches during their lifetime. The Ushers signed a contract that promised Roderick and Madeline an enviable fortune with the price "deferred to the next generation" in the form of the heirs' actual lives, choosing a hypothetical short-but-gilded existence for their family instead of seeing their name survive and thrive for posterity.
With Verna on their side, the Ushers rose to run Fortunato Pharmaceuticals where they developed the drug Ligodone that has infiltrated the world to such a degree, it's reminiscent of today's opioid crisis. All of Roderick's children, including the illegitimate ones, have enjoyed a life of luxury and no responsibility—a gilded life, you could argue—and the company has seen no legal repercussions, just as Verna promised.
All eight of the Netflix series' episodes are framed by Roderick's conversation with Auguste "Auggie" Dupin (Carl Lumbly)—the detective who has taken a personal vendetta against the family largely due to Roderick's backstabbing when they were younger men—as he nears the end of his life. As Roderick's health declines and his family is picked off, he finally gives Auggie what he'd been working for his whole life: a confession.
He comes clean about the truth behind his children's deaths, the secret deal with Verna, and that he and Madeline secretly killed the former Fortunato CEO by chaining him up and sealing him behind a brick wall à la Poe's short story The Cask of Amontillado (which explains the jester that haunted Roderick, as they placed a jester Halloween mask on him before trapping him in the wall). He even concedes that he didn't deserve his wife Annabel Lee, whom he hallucinates seeing at his children's funeral. But most of all, he confesses that he knew exactly how harmful the drugs he was peddling were—the exact reason Auggie had been tailing him all these years.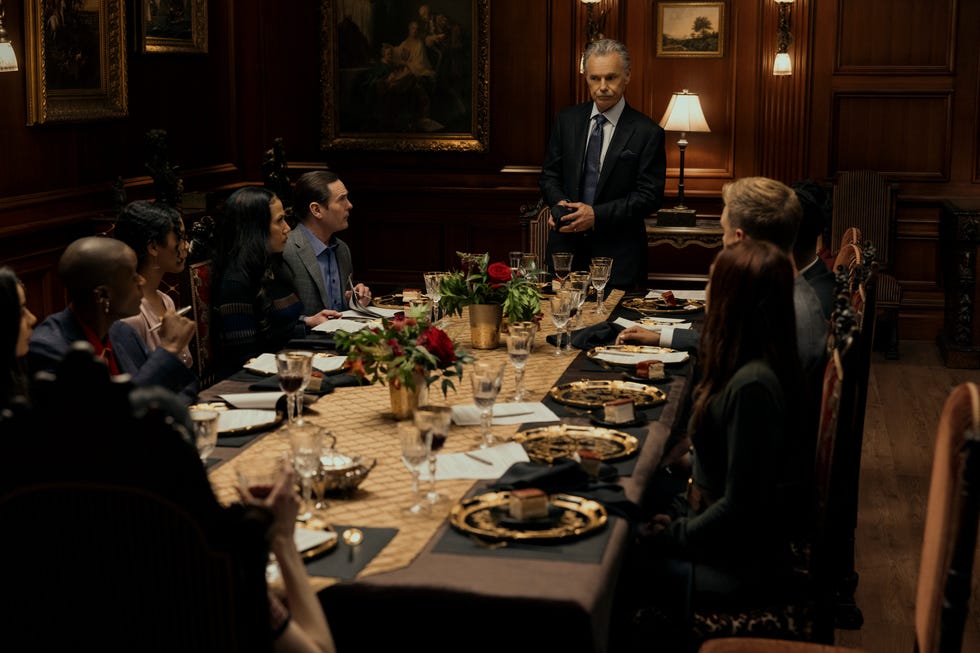 From left to right: Paola Nuñez as Dr. Alessandra Ruiz, T'Nia Miller as Victorine Lafourcade, Kyliegh Curran as Lenore Usher, Crystal Balint as Morella Usher, Henry Thomas as Frederick Usher, Bruce Greenwood as Roderick Usher, Samantha Sloyan as Tamerlane Usher, Matt Biedel as Bill T. Wilson.
Netflix
But in accordance with the deal, as Roderick's life comes to an end with his dementia diagnosis, so too must all of his family's. Roderick's deal with the devil doesn't only affect his thankless kids. His granddaughter Lenore, whom he often refers to as "the best of us," isn't spared by The Raven. Verna tells Lenore that her mother will survive the acid burns she suffered after attending Prospero's illicit warehouse party and go on to do great things in her name before The Raven kills Lenore earlier in the day. The Raven even targets Arthur Pym after he attempts to capture her at the Usher home with an offer for absolution once the Ushers are gone, but he chooses to test his fate and is arrested by series end.
Near the end of "The Raven," Roderick isn't the only Usher left standing; his sister Madeline is still alive, hidden in the basement after an altercation between the two prior to Auggie's arrival. Madeline delivers a treatise on capitalism to justify everything they did at Fortunato, but when she gets up to leave she finds she's been poisoned by her brother. Roderick attacks her and gauges her eyes out, replacing them with blue stones and uttering the famous phrase, "nevermore."
Mary McDonnell as Madeline Usher.
Netflix
Similar to The Fall of the House of Usher short story, Madeline's half-alive body later emerges from the basement and attacks her brother. She strangles him just as the House of Usher begins to literally fall around them. Auggie escapes just as the house collapses and when he visits their graves later, he remarks that he is the richest man of all because he has a loving family. Tying up loose ends, Juno (Roderick's latest Ligodone-addicted wife) gets control of both Fortunato and her life by weaning off of the drug and dissolving the company once and for all, and turning its remains into a center for addiction recovery.
Verna/The Raven arrives at the cemetery just after Auggie leaves and, in a voiceover, recites Poe's "Spirits of the Dead" poem as she places one token on each of their tombstones. Briefly perching atop the graves, The Raven then takes flight, on to her next target.


Radhika Menon is a freelance entertainment writer, with a focus on TV and film. Her writing can be found on Vulture, Teen Vogue, Bustle, and more.