Contrary to initial reports, Netflix is opening its palace doors one more time for The Crown season 6. In July 2020, show creator Peter Morgan reversed course on his decision to end the royal drama after its fifth season: "As we started to discuss the storylines for Series 5, it soon became clear that in order to do justice to the richness and complexity of the story we should go back to the original plan and do six seasons," Morgan said in a statement, via Variety.
Morgan's change of heart is his second regarding a sixth and final season. Back in January 2020, Morgan had originally stated, "At the outset I had imagined The Crown running for six seasons, but now that we have begun work on the stories for season 5 it has become clear to me that this is the perfect time and place to stop. I'm grateful to Netflix and Sony for supporting me in this decision." But best laid plans couldn't support the heft of numerous important storylines, particularly those surrounding Prince Charles and Princess Diana's divorce, and the Princess of Wales's death in 1997.
Ahead, everything we know about the final installment, including which prime ministers will be depicted and why the Sussexes have been excluded from the season.
When does The Crown season 6 come out?
The final season will be split into two halves. Part 1 premieres on November 16, and part 2 premieres on December 14.
This content is imported from youTube. You may be able to find the same content in another format, or you may be able to find more information, at their web site.
A late 2023 premiere date was already expected as past seasons have been released in the fall. Filming for season 6 began in September 2022.
What time period will the season cover?
Season 5 ends shortly before Princess Diana departs on a vacation with Mohamed and Dodi Fayed. Season 6 will cover events from 1997 through 2005, Netflix confirms.
Part 1, the first four episodes, portray the relationship between Princess Diana and Fayed, including their fatal car crash. Part 2, the last six episodes, features Prince William acclimating to life at Eton following his mother's death; the Queen assessing the future of the monarchy upon her Golden Jubilee; the marriage between Prince Charles and Camilla; and William and Kate's courtship.
That means there won't be any episodes that address the marriage of Prince William and Kate Middleton (2011), Meghan Markle and Prince Harry's decision to step back from royal duties, or Prince Andrew's ouster due to his friendship with Jeffrey Epstein.
In fact, Peter Morgan has said he's relieved to not cover recent events. "The Meghan and Harry story is nowhere near over yet," he told Town & Country in October 2020. "And I'm happy that I'm never going to write it."
It's likely that, in addition to Princess Diana's car accident in Paris on August 31, 1997, season 6 will cover the 2002 deaths of Princess Margaret and Queen Elizabeth, the Queen Mother. (Margaret died on February 9, 2002, while the Queen Mother passed less than two months later, on March 30, 2002.)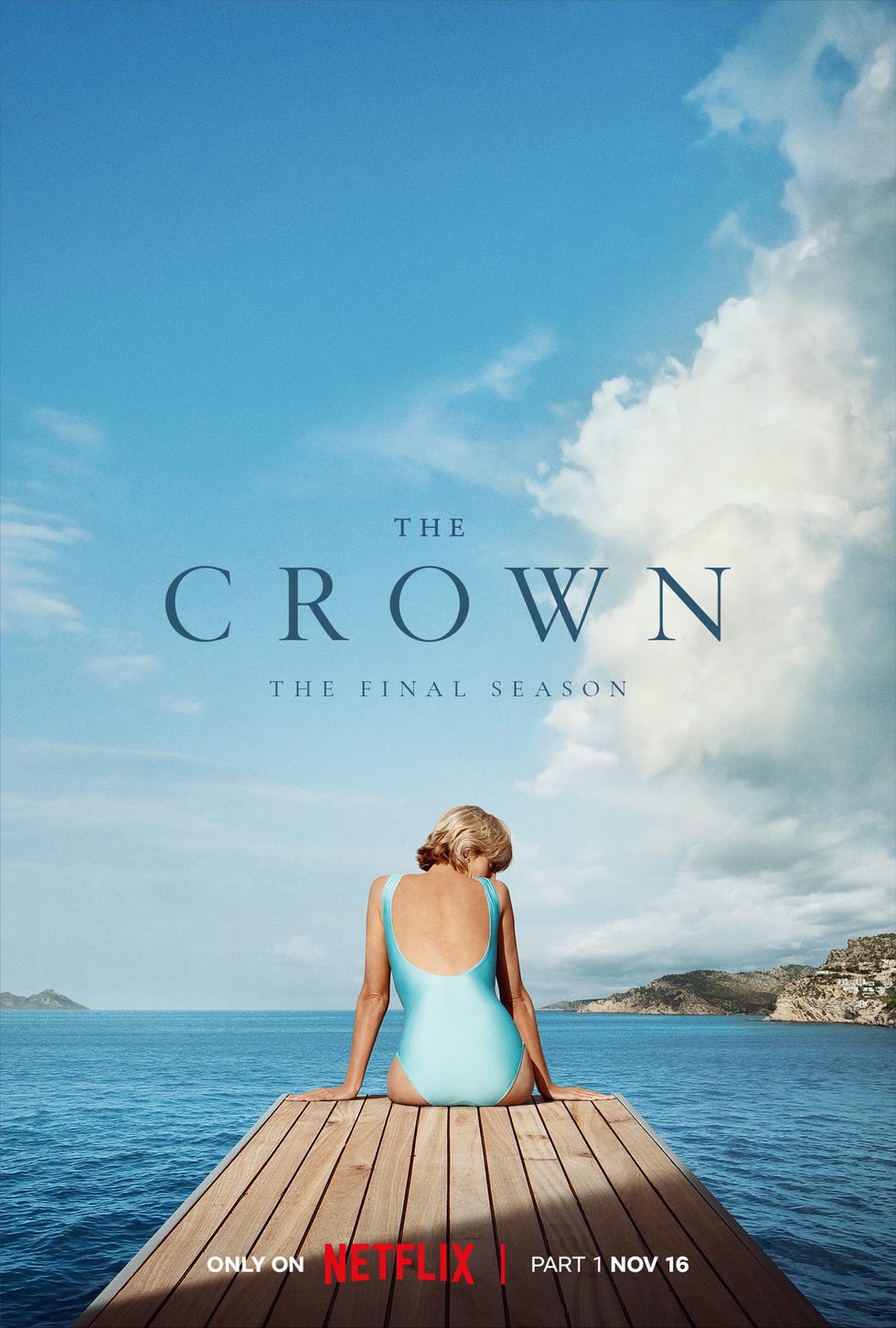 Netflix
Who will be in the cast?
Netflix first confirmed on Twitter that both seasons 5 and 6 of The Crown will star Imelda Staunton as Queen Elizabeth, with Lesley Manville, Jonathan Pryce, Dominic West and Olivia Williams playing Princess Margaret, Prince Philip, Prince Charles, and Camilla Parker-Bowles, respectively. Elizabeth Debicki will return to play Princess Diana in season 6, though only for the first four episodes. Salim Daw will return as Mohamed Al Fayed and Khalid Abdalla will reprise his role as Dodi Fayed.
In September of 2022, the showrunners also announced casting for the younger versions of Kate Middleton and Prince William. Two actors will be portraying William in season 6: 16-year-old Rufus Kampa and 21-year-old Ed McVey. Both actors are relative newcomers, though McVey has appeared frequently on stage in London. Meg Bellamy will play Kate Middleton. Both she and Kampa were discovered after submitting casting tapes to an open call on social media.
Prince Harry will be portrayed by Fflyn Edwards in his younger years and by Luther Ford as a teen.
Can I get a sneak peek of the season?
While we wait for an official trailer, we can rely on behind-the-scenes images and paparazzi shots for an inside glimpse at The Crown's last chapter. One image published on March 10 features a scene between Prince William (Ed McVey) and Kate Middleton (Meg Bellamy) on a jog. Could it be their first encounter on the show? In real life, the couple first met as college students in 2001 while attending St. Andrews University in Scotland.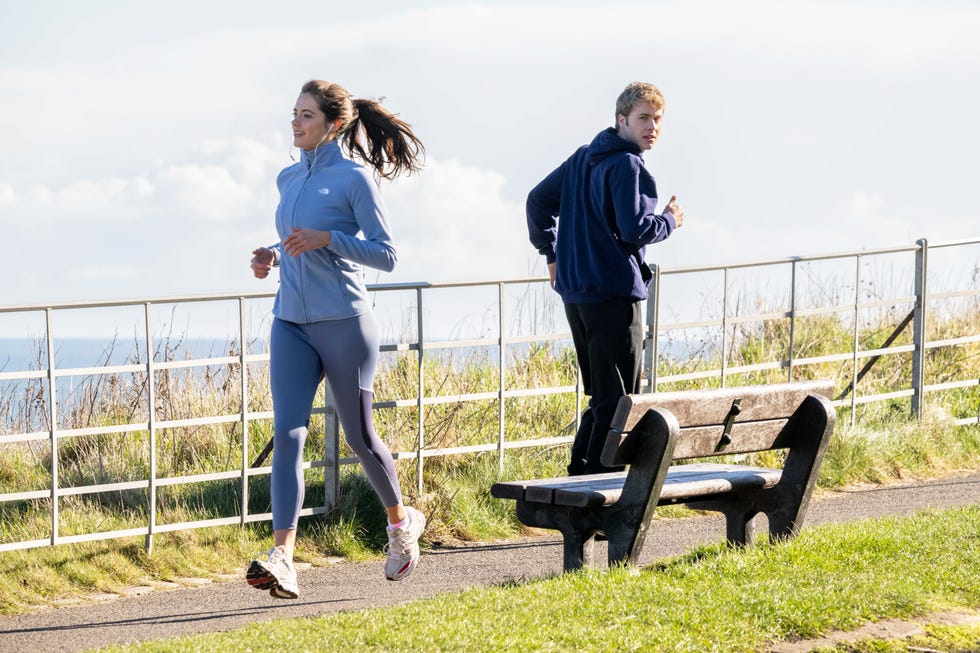 GOFF / SplashNews.com
On March 17, British Vogue released another image of Bellamy and McVey together on set, playing Kate and Will during their time at St. Andrews University.
Netflix shared the first stills from the new season, once again starring young Will and Kate in their college years, in late April.
This post will be updated.

Culture Writer
Lauren Puckett-Pope is a staff culture writer at ELLE, where she primarily covers film, television and books. She was previously an associate editor at ELLE. 

Editorial Fellow
Savannah Walsh is an Editorial Fellow at ELLE.com.