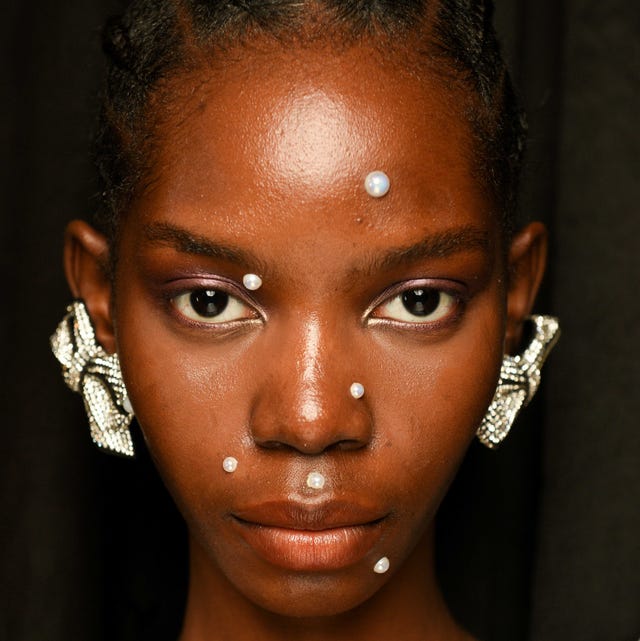 Nicky Sims/BFC
I've had the pleasure of dealing with acne for a greater portion of my young adulthood—as sarcastic as the term "pleasure" may sound here, I mean it. Yes, my acne journey has been fraught with tears, stress, and momentary defeat. However, it also introduced me to a world of skincare treatments and products that eventually blessed me with fewer breakouts, (almost) even skin, and an even smoother texture along the way. There's no way I can give all credit to one particular product—though face sunscreens and vitamin C serums have helped to lighten spots left behind from breakouts—but investing in a reliable acne face wash was perhaps the best decision I've ever made.
Let's take it back to the basics, though. "Acne results from a combination of factors, including increased oil production and a buildup of dead skin cells that lead to clogged pores, bacteria, and inflammation. In some cases, it can also be related to a hormonal component or other external factors such as certain products or triggers," NYC-based board-certified dermatologist Dr. Marisa Garshick, MD, FAAD, said. With so many elements contributing to breakouts, acne treatments, especially facial cleansers, aren't one-formula-fits-all.
According to Dr. Garshick, staying away from heavy oils is your best bet if you're troubled with acne-prone skin.
"Heavy oils can contribute to clogged pores and worsening breakouts. Additionally, avoid harsh soaps or abrasive scrubs—which can strip the skin of its natural oils and cause microtears in the skin barrier, cause dryness, and may make it harder to tolerate other acne-fighting products," she explains.
To help make your shopping experience seamless, we rounded up the 14 best acne face washes to eliminate current breakouts and avoid future ones.
1
Best For Beginners
CeraVe
Acne Foaming Cream Cleanser
2
Best Gentle Cleanser
Honest Beauty
Get Clarity Foaming Acne Cleanser
3
Best Drugstore Option
Cetaphil
Daily Facial Cleanser
4
Best Sulfur Treatment
Acnefree
Sulfur Acne Foaming Cleanser
5
Best For Full Body Use
humane
Maximum-Strength Acne Wash
6
Best Acne Face Wash For Oily Skin
La Roche-Posay
Effaclar Medicated Gel Cleanser
7
Best Acne Face Wash For Sensitive Skin
DRMTLGY
Gentle Acne Face Wash
8
Best Cleansing Oil
Hanskin
Hanskin Pore Cleansing Oil – PHA
9
Best Hormonal Acne Face Wash
Neutrogena
Oil-Free Acne Wash
10
Best Bar Soap
Dove
Beauty Bar Gentle Cleanser
11
Best Acne Face Wash For Even Tone
SkinCeuticals
SkinCeuticals LHA Cleanser Gel
12
Best Benzoyl Peroxide Cleanser
PanOxyl
Acne Foaming Wash
13
Best Clarifying Cleanser
Murad®
Clarifying Cleanser
14
Best Antioxidant-Rich Cleanser
Youth To The People
Superfood Antioxidant Cleanser
15
What ingredients are best to look for in an acne wash?
As you shop for acne treatments, you'll notice that most cleansers contain salicylic acid or benzoyl peroxide, two powerful ingredients that ensure your breakouts don't return.
"Some key ingredients to look for in an acne wash include benzoyl peroxide, salicylic acid, or sulfur. Benzoyl peroxide and sulfur help reduce acne-fighting bacteria, while salicylic acid, as a beta-hydroxy acid, is especially good to help get rid of dead skin cell buildup, unclog the pores, and reduce excess oil," Dr. Garshick explains. If you have sensitive skin, Dr. Garshick advises using a gentle cleanser, especially if your skincare routine contains strong ingredients. "When it comes to treating acne, it is important to not use too many active ingredients, unless your skin can tolerate it, to minimize the potential for dryness and irritation," she adds.
16
Should acne-prone skin double cleanse?
Good news: double-cleansing works for all skin types. The trick is finding a formula that suits your specific skin needs. For acne-prone skin, "it can be helpful in some cases to ensure the proper removal of makeup and excess oil, which can be especially important in those with acne-prone skin," Dr. Garshick says. If your skin is on the oily/combo side, Dr. Garshick says to look for cleansers "that are considered non-comedogenic to prevent clogged pores."
Double-cleansing with acne-prone skin isn't as scary as you may think. "To double cleanse, you can start with an oil-based cleanser, cleansing oil, or a cleansing balm and then follow with a water-based cleanser. It is especially important that the first step of a double cleanse won't worsen breakouts in those with acne-prone skin, "Dr. Garshick says.
17
Is it possible to get rid of acne permanently?
"It is normal for people to experience occasional breakouts. For this reason, it is something that we try to manage with various treatment options. Also, it's important to remember that just because something worked for one type of breakout, doesn't mean it will work for another," Dr. Garshick says. There's no permanent cure-all for acne, but with the proper treatments, breakouts can be reduced.
19
Why trust ELLE Beauty?
Nerisha Penrose is the Beauty Commerce Editor at ELLE.com. Since joining ELLE.com in 2017, she has interviewed countless skincare professionals and has personally tested the latest and greatest products across makeup, skincare, and hair care.
Nerisha Penrose Beauty Commerce Editor Nerisha is the beauty commerce editor at ELLE.com, covering all things beauty (and fashion and music).