First impressions are everything, and in astrology, learning about your rising sign is the key to understanding how others view you. Below, dive into the show-stopping power of Leo risings, and discover what they bring to the cosmic stage.

What Exactly Is Your Rising Sign?
In astrology, the rising sign, also called the ascendant, is like the opening act of a grand performance, setting the scene for your unique life journey. It's an essential part of the foundation of your birth chart, along with your sun sign, which represents the ego or your life purpose, and moon sign, which indicates your internal emotions and instincts. The rising sign, in particular, is the mask you wear when you step out into the world, influencing your physical appearance and other people's initial impression of you. Through the lens of our ascendant, we also view ourselves and perceive the world around us.
So, how do you find your rising sign? The rising sign is the zodiac sign that was on the eastern horizon the moment you were born. To calculate your ascendant, you'll need your birth date, location, and your birth time. (You can calculate yours using a free birth chart calculator.) Since it changes signs every two hours, the ascendant is also the first angle of the birth chart, creating the pie structure of the 12 astrological houses.
For those with Leo rising, life is a stage, and they are the lead performers. The bright Sun rules their birth chart, and their nature is just like the life-giving star at the center of our solar system. Leo risings will naturally command attention as they move through the world, whether they intend to or not.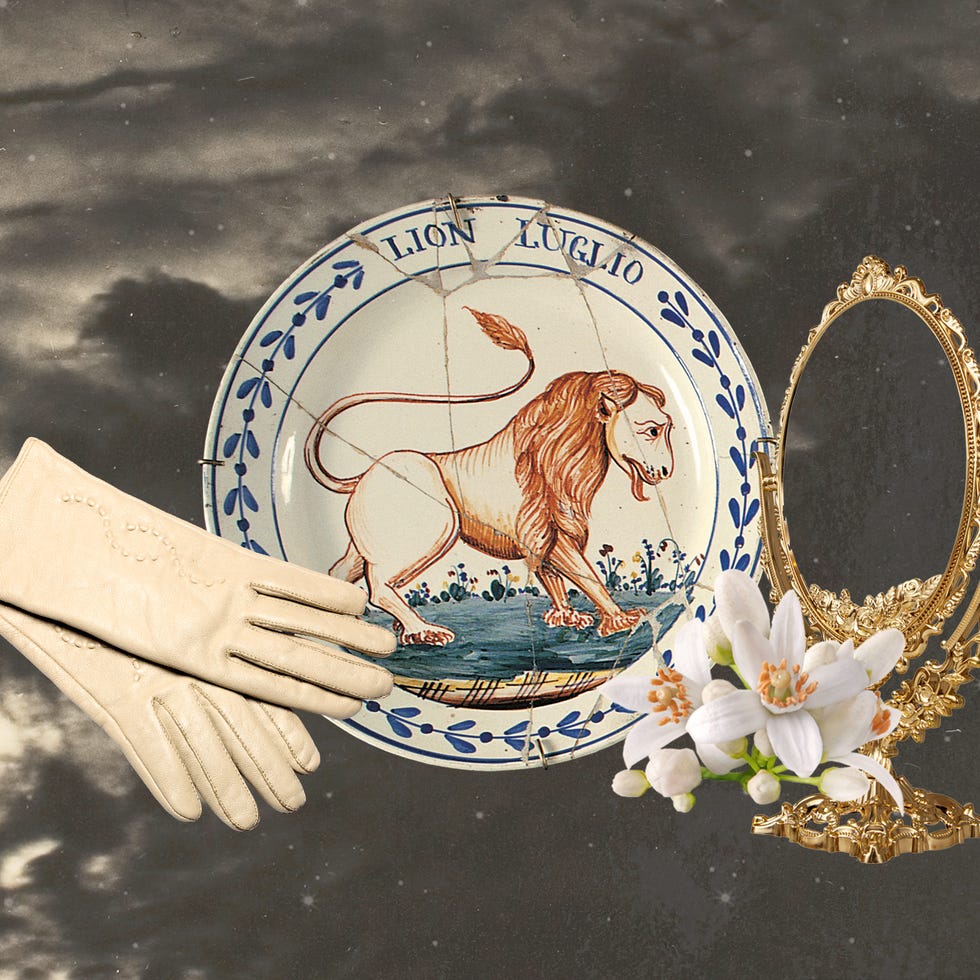 Getty + Design Leah Romero
Leo Rising Traits
Leo is a zodiac sign known for its magnetic charisma, confidence, and creativity—a fixed fire sign with an energetic and fun-loving disposition. Leos are also the fire sign with the most staying power and stick to their opinion once it's formed. Linked to the fifth house in astrology, Leo reigns over the realms of self-expression, children, romance, playfulness, drama, and performance. As a result, they energize and positively affect those around them, which is why they tend to be the life of the party.
Leo ascendants love whenever they're able to shine brightly, proudly displaying their creative talents and gifts to the external world. Among the zodiac's most charming signs, they possess an innate loyalty and generosity. However, Leos tend to not share the spotlight, and they can, at times, miss out on the needs of others due to typically centering their own. If you're a Leo rising, be aware of this tendency and try to always practice balance.
Famous Leo risings include Marilyn Monroe, Selena Gomez, Drake, Demi Lovato, Celine Dion, Meryl Streep, Blake Lively, Jessica Alba, Emma Stone, Tina Turner, Frida Kahlo, and Vanessa Hudgens.
First Impressions
It's nearly impossible to not feel drawn to those with a Leo rising. They often possess regal, well-defined features, and a captivating presence. With a mane of well-maintained, luxurious, or bold hair and a penchant for fearless fashion and beauty choices, they are the stars of any gathering. Their self-assuredness makes an unforgettable first impression.
The symbol of the Leo is the lion, and those with Leo rising exude a radiant aura that commands attention and leaves an indelible mark on everyone they meet. Even when faced with life challenges or crises, Leo risings maintain a sunny disposition and won't let it show publicly.
Compatibility
As a fixed fire sign, Leos are generally compatible with fire and air sign ascendants, including Leo, Sagittarius, Aries, Aquarius, Gemini, and Libra risings. Fire naturally builds and blends together, while air, a mystical element, feeds the flames of the fire. Emotional and sensorial water and Earth signs, like Scorpio, Cancer, Pisces, Taurus, Virgo, and Capricorn, can require a lot of adjustment from Leos and create tension, as their internal, emotional, and practical nature may feel stifling to an energetic Leo.
Leo risings seek others who can appreciate their need for admiration and share their zest for life. If you're willing to be an audience member and help feed a Leo's tendency to perform, you'll probably be a good match. Leo risings value freedom and individuality with others and are open to exploring unique and innovative connections. People with fresh ideas and connections make great collaborators for Leo ascendants.
Friendship
In the realm of friendship, Leo risings are also shining stars. They possess a natural gift for communication and thrive in social settings. They are the friends who keep everyone entertained with their wit and charm, making them popular in many different circles. You can always count on a Leo rising to energize a group of friends and inject playfulness into the situation.
Leos also have an optimistic and open outlook on friendships and social connections. They can chat with anyone and have acquaintances all over the world. They do keep a group of what they would consider close friends, and they're loyal to those connections. It's important to give that same loyalty back to a Leo, or you will hurt their pride. Leo ascendants are also generous with their friends, always eager to host or lend a hand when someone's in need.
Love and Relationships
In their relationships and love life, Leo risings are passionate, bold, and romantic. With Aquarius in their relationship sector, they are drawn to partners with intellectual depth and who share their vision for a more progressive and open-minded world. They seek relationships that are both exciting and intellectually stimulating. They inject fun, pleasure, and joy into their lovers' lives, like a bright ray of celestial sunshine.
Leo ascendants have a soft spot for unconventional and unique lovers who they can entertain. But Leo risings are also more detached in their serious relationships, craving freedom while simultaneously needing reassurance and loyalty. They tend to love spontaneous dates and fall in love through adventures with their partner.
Money and Finances
Leo risings possess an inherent talent for steering their financial affairs. Although they relish in enhancing their appearance, they also hold a deep appreciation for financial stability. When it comes to money, they exhibit a practical and methodical approach, leveraging their creative talents, ideas, charisma, and attention to detail to attract both money and opportunities.
However, there's one crucial caution for Leo ascendants: the potential for financial setbacks due to unchecked generosity. Leo ascendants should stick to their practical nature and properly vet to avoid issues like this.
Home and Family
Home and family hold a significant place in the hearts of Leo risings. They are deeply loyal and protective of their family members and loved ones. Leo ascendants may also move around frequently, experiencing upheaval and change in their home environments throughout their lives. Although Leo ascendants maintain a shiny exterior, beneath the surface, some have experienced family challenges or a difficult home growing up. As a result, they tend to cover up deep emotions with a bubbly and light exterior as a protection from the outer world.
Professional Talents
In the public and professional realm of life, Leo risings often excel. They have a natural flair for leadership and a strong work ethic. They are reliable, patient, and determined in their pursuits, typically well-suited for careers in finance, the arts, fashion, beauty, hospitality, food, singing, wellness, or acting. Bright Leo ascendants are naturals at bringing entertainment, amusement, and delight to the world around them, and with their natural talent for public speaking and performing, they are well-suited for creative industries. Individuals with a Leo rising can also flourish in entrepreneurial endeavors or solo career paths, giving themselves the autonomy to set their schedules and the freedom to curate their own work day.