Spoilers below.
Who killed Ben Glenroy? That's the question the third season of Hulu's Only Murders in the Building has revolved around, and the finale "Opening Night" gives us not one but two answers.
Mabel cracks the case almost immediately at the beginning of the episode, spurred by both Oliver's sweet-talking reunion with his beloved dips (he'd been warned to stay off the stuff after suffering a heart attack a few episodes ago) and Howard finally piecing together the shredded message. By Mabel's calculations, Ben—who had been fasting before the show—was tempted by a Shmackery's cookie left in his dressing room by none other than Donna, Death Rattle's producer, after she found out that Maxine's review of the show (and specifically, Ben) was unfavorable. Donna sprinkled a tiny bit of rat poison on top of the cookie and sent him off to his dressing room with the suggestion to "be nice to Ben," knowing he would take the bait, all in the name of saving the show.
The footage that Mabel and Tobert recovered earlier in the season of Ben talking to someone in his dressing room, and the lipstick message saying "fucking pig" on the mirror weren't targeted attacks, but rather the unraveling of Ben's psyche prior to him taking the stage. But Donna still holds the poisoned cookie. To add fuel to the fire, newly-free Loretta also hands over the bloody handkerchief found on Ben's body, which has Donna's exact shade of lipstick pressed perfectly into it. It seems like a hook, line, and sinker, and the gang hatches a plan to confront Donna and bring her down by luring her in with a new review of the revamped musical Death Rattle Dazzle.
Patrick Harbron
On opening night, Mabel brings a bouquet of flowers to Donna with a note summoning her to the backstage offices. Before she goes, she offers her son Cliff two disturbing kisses ("one on the lips and one on the heart") and tucks her own handkerchief in his pocket. Oliver, Mabel, Charles, and Tobert (with the boom mic) await her backstage to accuse her of the crime, and she confesses almost immediately. Her motive was to save the show by any means necessary, especially because it's Cliff's first production. While she didn't mean to kill Ben (she only wanted to buy time for the show), when he reappeared later that night, she says she couldn't risk him going on stage the next night.
Tobert records her confession for the podcast but she asks for one thing in return: Call the cops after the show. She wants to be there for opening night and deems herself "not a flight risk" due to her stage four lung cancer. They agree, but as Mabel watches Donna and Cliff from the wings, she realizes that Donna didn't act alone.
Mabel follows Cliff up to a lookout in the rafters of the theater where she confronts him about pushing Ben down the elevator shaft. "One on the heart," Mabel realizes, means that Donna's lipstick-stained handkerchief wound up in Cliff's suit jacket pocket, placing Cliff at the scene of the crime. Cliff doesn't deny it, telling Mabel that Ben found out about Donna's rat poison from toxicology reports. Ben remembers that Donna offered him the cookie and then offends Cliff by insinuating that he doesn't have a brain of his own, and Cliff fights back saying that he never wanted to cast Ben in the first place—that he thinks he's a superhero hack who can't act. The two get in a scuffle that ends with Cliff, somewhat accidentally, pushing Ben to his death at the bottom of the elevator shaft.
The confession almost breaks Cliff, who refuses to let his mom take the fall for him, and he threatens to jump out of the rafter to his own death in the middle of the musical. But the warmth of his mom's hand pulls him gently to safety. He apologizes and she forgives him before the two are carted out by the police; sadly, they don't get to see that the musical received a good review after all.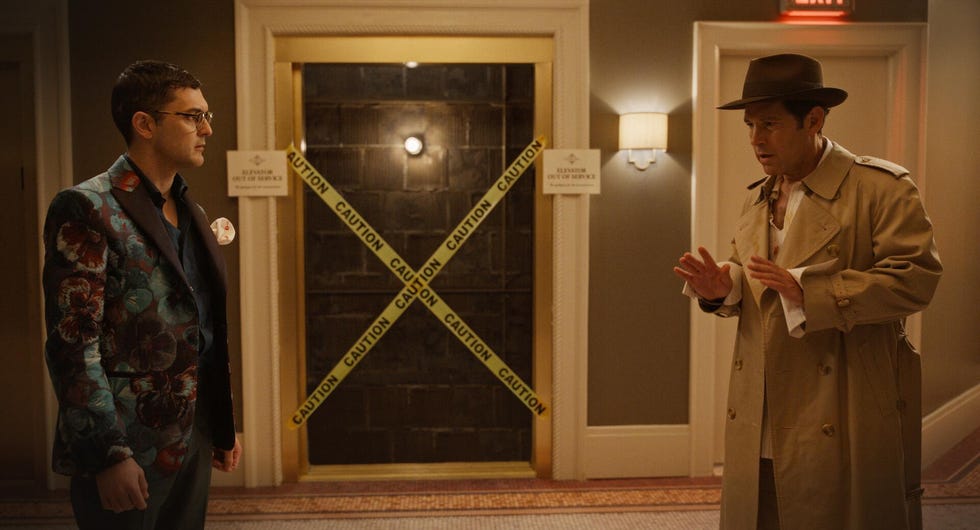 Patrick Harbron
The season's fixation on the love between a mother and her son isn't only resigned to Donna and Cliff's odd dynamic; Loretta finally tells Dickie that she's his biological mother. He says he knew it all along and quickly goes back to work as her agent, fielding offers far and wide in Hollywood. Oliver, reunited with the love of his life, finally lets go of control and encourages her to go and pursue her dream with Dickie by her side. As for their relationship, he says he's just fine being with Loretta in short bursts. L.A. is also calling Tobert's name for an indie film gig and Mabel turns down his offer to join him and find herself out west, saying that she needs to make herself "unstuck" in New York.
Every mystery story has red herrings, and that was especially true of this season of Only Murders in the Building. Many of the characters introduced as potential players had increasingly minor roles as the season went on—especially Ashley Park's Kimber, who at one point was positioned as a major suspect. Jonathan, played by Jason Veasey, also got minimal screen time after he takes a drug cocktail in the finale that rendered him unable to go on for opening night, forcing Oliver (and not Howard, who desperately wanted the role) to take his place. Even Jesse Williams' Tobert, who will be carrying on a bicoastal romance with Mabel for the foreseeable future, didn't have much to do late in the season aside from a few funny one-liners.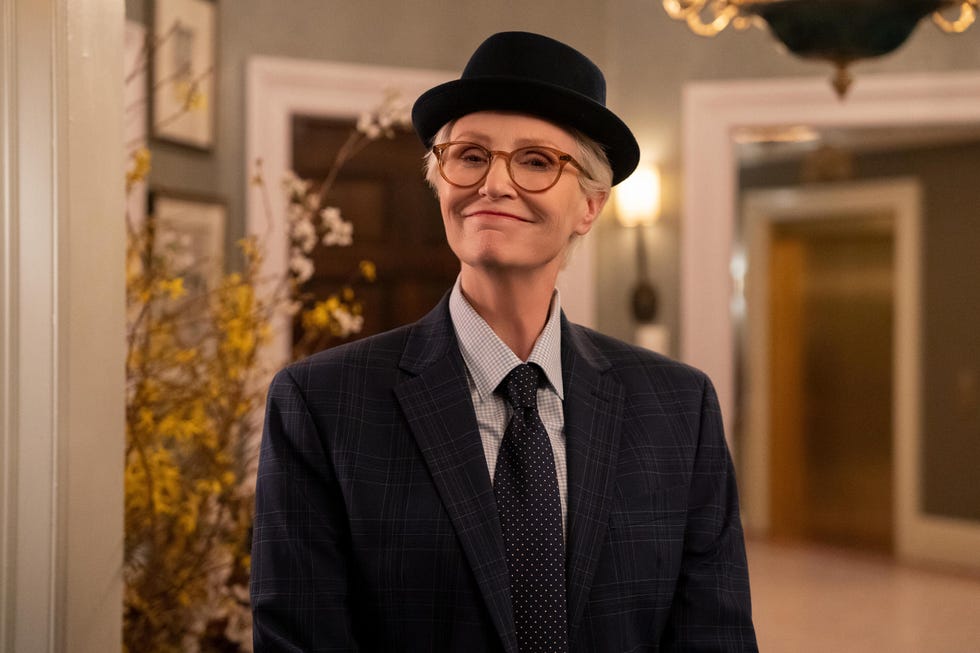 Patrick Harbron
Only Murders in the Building ends its third season similar to seasons past: by setting up yet another investigation for the true crime junkies' true crime podcast. As the trio celebrates solving Ben's murder, Sazz ( Charles' former body double, played by Jane Lynch) crashes the party. Charles announces that he's going to go get an Argentinian malbec wine from his apartment to keep the party going, and Sazz says that she needs to tell him something sensitive but puts off the conversation for the moment.
Upstairs in Charles' apartment, a single bullet pierces the window and the person inside topples over with blood gushing from their body. At first it looks like Charles was the victim, but when we see him re-emerge at the party downstairs, it turns out Sazz is the one who was shot. We can already see the wheels turning for the show's fourth season: Who killed Sazz, and equally important, who wanted to kill Charles?

Erica Gonzales is the Senior Culture Editor at ELLE.com, where she oversees coverage on TV, movies, music, books, and more. She was previously an editor at HarpersBAZAAR.com. There is a 75 percent chance she's listening to Lorde right now.