Mia Goth has long been an It Girl on-screen, but her starring roles in Ti West's buzzy X and Pearl last year pushed her to new levels of stardom. More than that, they've also provided her opportunities to get involved behind the scenes, and become more self-assured in the process. Goth co-wrote Pearl, a prequel to X focused on her titular character which released last September, and also MaXXXine, the third film in the trilogy, coming soon to theaters. Working on the creative side helped build her confidence, and it's something she wants to continue doing. She opened up about the experience during one of the LA Times Talks presented by Chase Sapphire at the Sundance Film Festival, where ELLE was hosted by Chase Sapphire.

"Honestly, I would say it just imbues me with a level of confidence that I really didn't have before," Goth told moderator Mark Olsen of the LA Times. "I mean, I have a complete and total imposter syndrome, and I always feel like I'm not actually meant to be on the set that I'm on. And then when I wrap my movie, I'm always certain that I'm never going to make another one again. And it's just, 'grateful to be here' and 'hi.'… This never feels normal. So I guess just having the opportunity to now be involved in projects from [their] conception, it's empowering, and it's given me a new level of confidence and a new sense of self, really. And it's just made me even more attached to my projects. And so it's definitely something that I would love to continue to expand."
That next project is Brandon Cronenberg's Infinity Pool with Alexander Skarsgård, an unsettling psychological thriller following an affluent couple vacationing in a secluded luxury resort in the fictional country of Li Tolqa. Beyond the resort's heavily patrolled gates, people are executed for their crimes—but wealthy foreigners can circumvent the law if they can afford it. For a handsome fee, they can get cloned and have their sentient body double get executed in their place, while they watch. When Skarsgård's James and his wife Em (Cleopatra Coleman) encounter a fellow vacationer Gabi, played by Goth, things go wild from there.
More From ELLE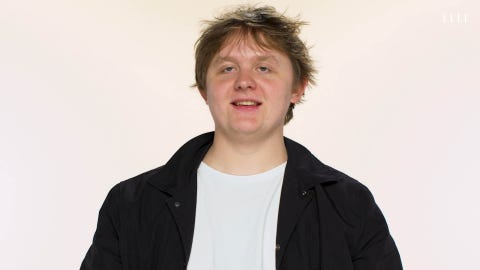 Cronenberg originally planned for Infinity Pool to be a short story. "But then when I decided to expand it into a feature, I started having memories of this vacation I took at an all-inclusive resort many years earlier," he said. "And it was a very strange experience, as I'm sure many of you have had." He recalled that while leaving the property, and going past its razor-wired fence, his bus passed by poverty-stricken locals and dilapidated homes outside of the vacation grounds. "And so it seemed you'd never visited the country. And it felt like a good setting for a film about people who are operating without conventional consequences."
The concept of privileged people buying their way out of trouble very much exists in real life, but Cronenberg further explores it in the surreal, sci-fi-adjacent world of Infinity Pool. The film is "a way to approach living without consequences and what that does to people," he said during the panel.
This content is imported from youTube. You may be able to find the same content in another format, or you may be able to find more information, at their web site.
INFINITY POOL – Official Trailer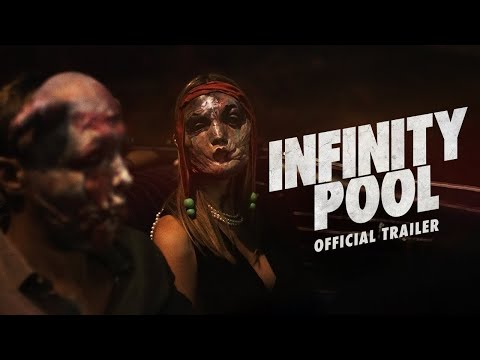 Goth, who received the script while filming in Pearl in her native New Zealand, was immediately intrigued when she learned it was developed by Cronenberg and that Skarsgård was attached. "And so on my Sunday off, I opened the script and I got reading, and I knew about four pages in that this was going to be a really wild movie," she said. "And I knew from there, really, that it was something I wanted to do."
Her Gabi is a bubbly actress in breezy caftans and statement earrings, but she has a mysterious side. "I thought that the character was going to be one thing, and then she ended up evolving into something entirely different," she said. "And she essentially fooled me, tricked me, and I found her to be really impressive."
She added, "The whole character arc of Gabi, and really the whole movie, I see as a meditation on power. And I found that really interesting. It's examined in this really nuanced way."
The strange world of Infinity Pool, which was set in a real-life resort in Croatia, was liberating for Goth as an actress. "It's actually quite a gift to have a film that has quite a disregard for reality in a way. As a performer, you're just able to be more free," Goth said. She commended Cronenberg for "just [letting] you run wild with it. He fully trusts his actors. And from my experience, that's really the sign of a great director."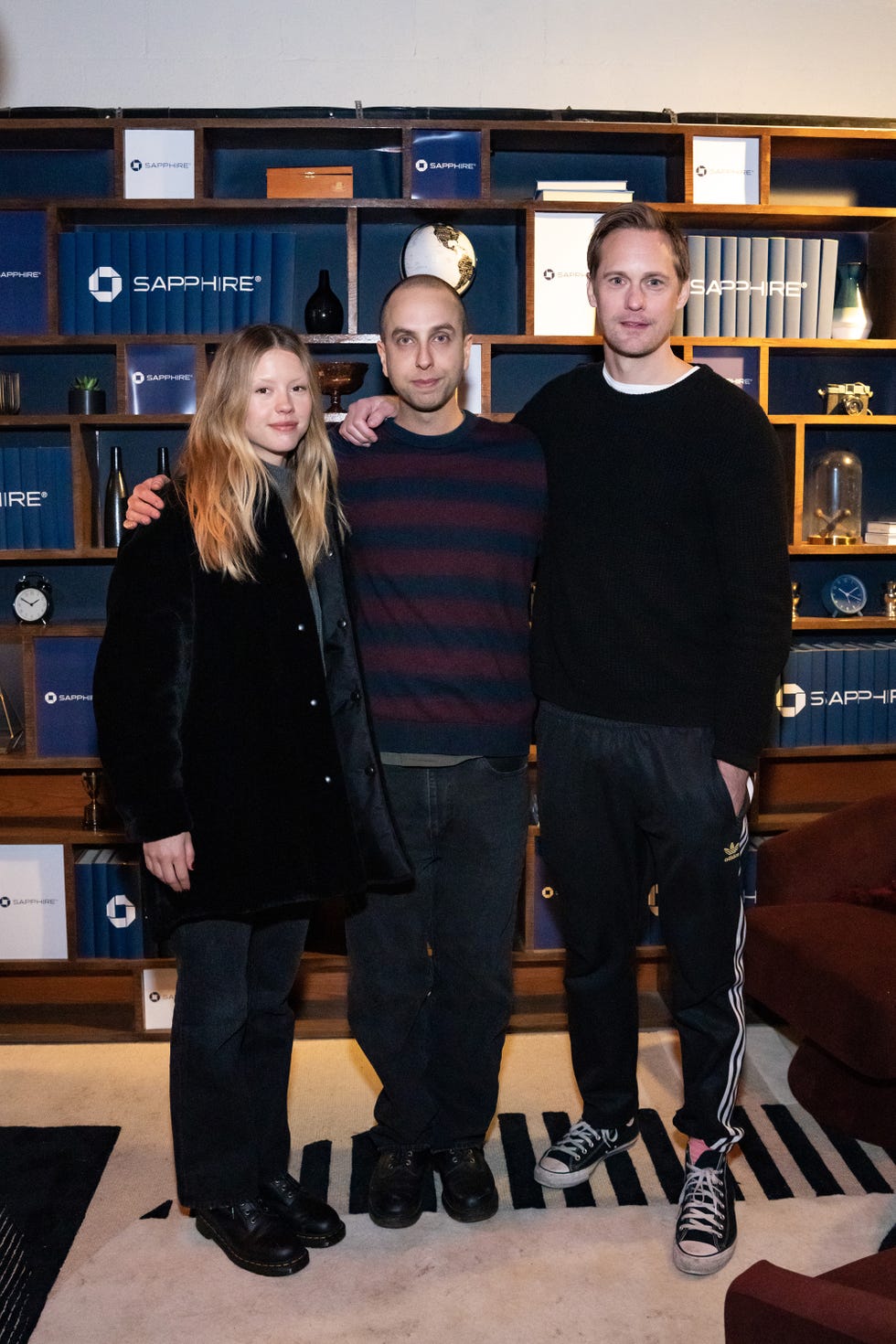 Mia Goth, Brandon Cronenberg, and Alexander Skarsgård before speaking during the Infinity Pool panel at Chase Sapphire on Main.
Jack Dempsey
With its focus on the 1 percent behaving badly, especially on vacation, Infinity Pool carries similar themes to recent projects like Triangle of Sadness, The White Lotus, and even Succession, in which Skarsgård currently stars, Olsen pointed out. (Trust me, as someone who's seen all of the above, Infinity Pool is far more deranged than the others.) But the overlap is coincidental; Cronenberg said he began writing the film in 2014 or earlier. "I think it shares some DNA with those projects, but it's a coincidence that they're all coming out at the same time," he said.
Skarsgård also wasn't particularly drawn to the project solely for its Succession comparisons. "Both projects definitely exist within a very affluent world and in a very sheltered bubble," he said. "What interested me most about Infinity Pool wasn't the narrative that rich people are parasitic assholes especially when they go on vacation. Yes, we are, but I feel like that's also kind of a moot stick. I think we've seen that many, many times before." Instead, he was interested in the effect of Li Tolqa's strict legal codes on the characters, and how they'd be psychologically changed by knowing they could bend the law.
"On a psychological level, I found it way more interesting once we got into what happens to these individuals when they watched their own executions, and how do they know whether they executed the clone or themselves? What does that do to you?" he said.
You'll find out when Infinity Pool opens in theaters January 27.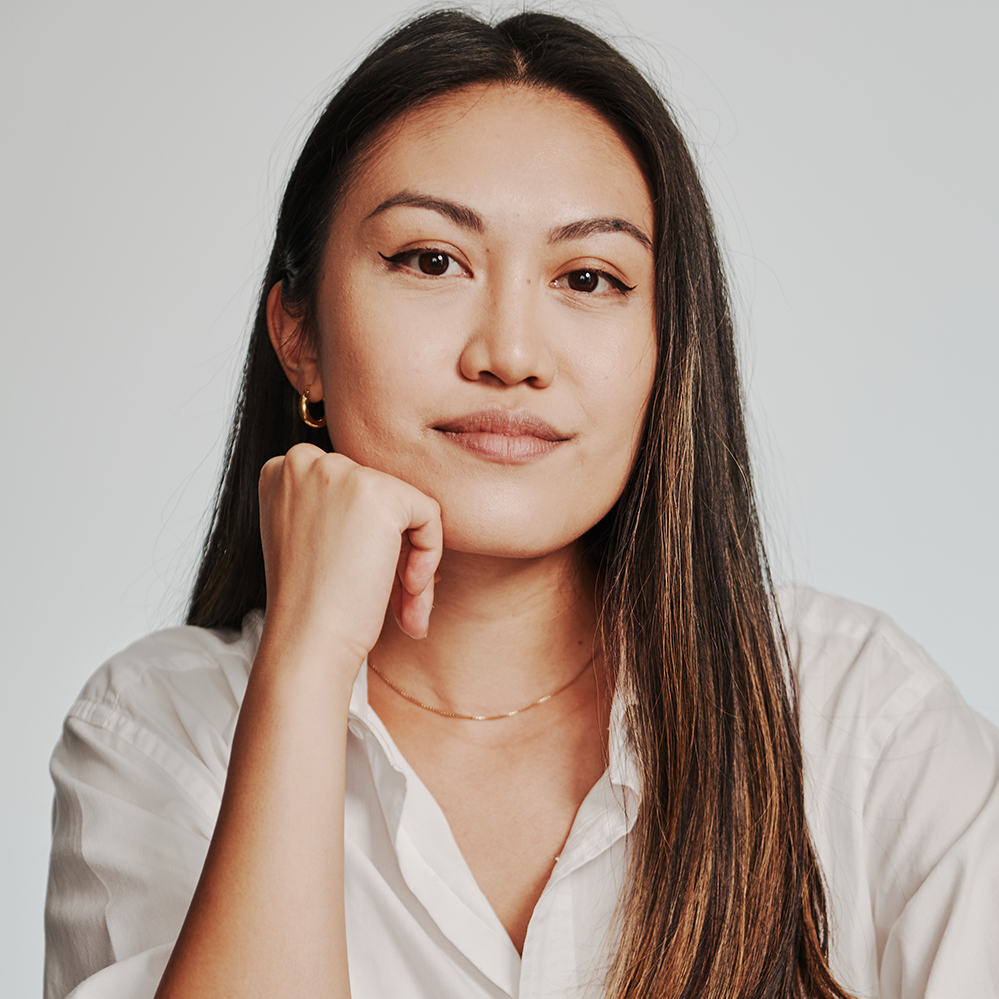 Erica Gonzales is the Senior Culture Editor at ELLE.com, where she oversees coverage on TV, movies, music, books, and more. She was previously an editor at HarpersBAZAAR.com. There is a 75 percent chance she's listening to Lorde right now.