In the second act of Merrily We Roll Along, Franklin Shepard, who, at that moment in the show, is an aspiring and up-and-coming composer, utters a quick joke you'll miss if you aren't listening carefully. While Broadway starlet (and later wife of Shepard) Gussie Carniege is trying to convince Shepard to write a musical for her, she says, "I've been in five Broadway shows." Shepard responds with, "I've seen the second act of every one."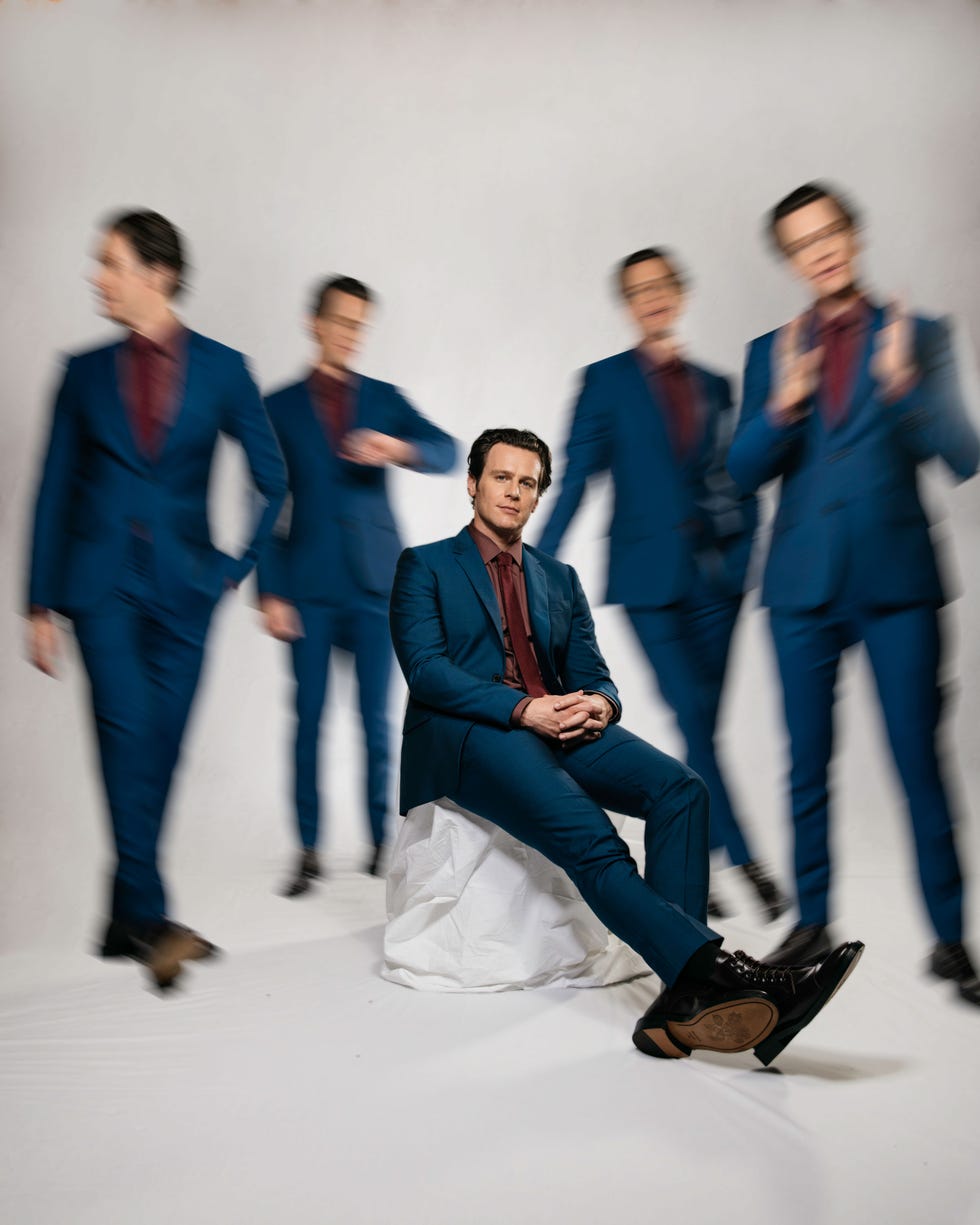 Jonathan Groff stars as Franklin Shepard in Merrily We Roll Along
Andy Henderson
It's a nod to a common experience in the theater world. While everyone is taking a smoke break outside during intermission, those who couldn't afford a ticket join the blob and find an empty seat in the theater, exposition in the first act be damned.
When I first saw Maria Friedman's masterfully staged production of Merrily We Roll Along at New York Theatre Workshop almost a year ago, I had one of these invested intruders sit right next to me after the first act. They hadn't bought a ticket, prices were steep for the sold-out run, but they were clamoring to see Daniel Radcliffe play Charley Kringas, astounded that there was even one open seat in the small theater. Even pre-Broadway, the hype around this Merrily We Roll Along revival zipped around town.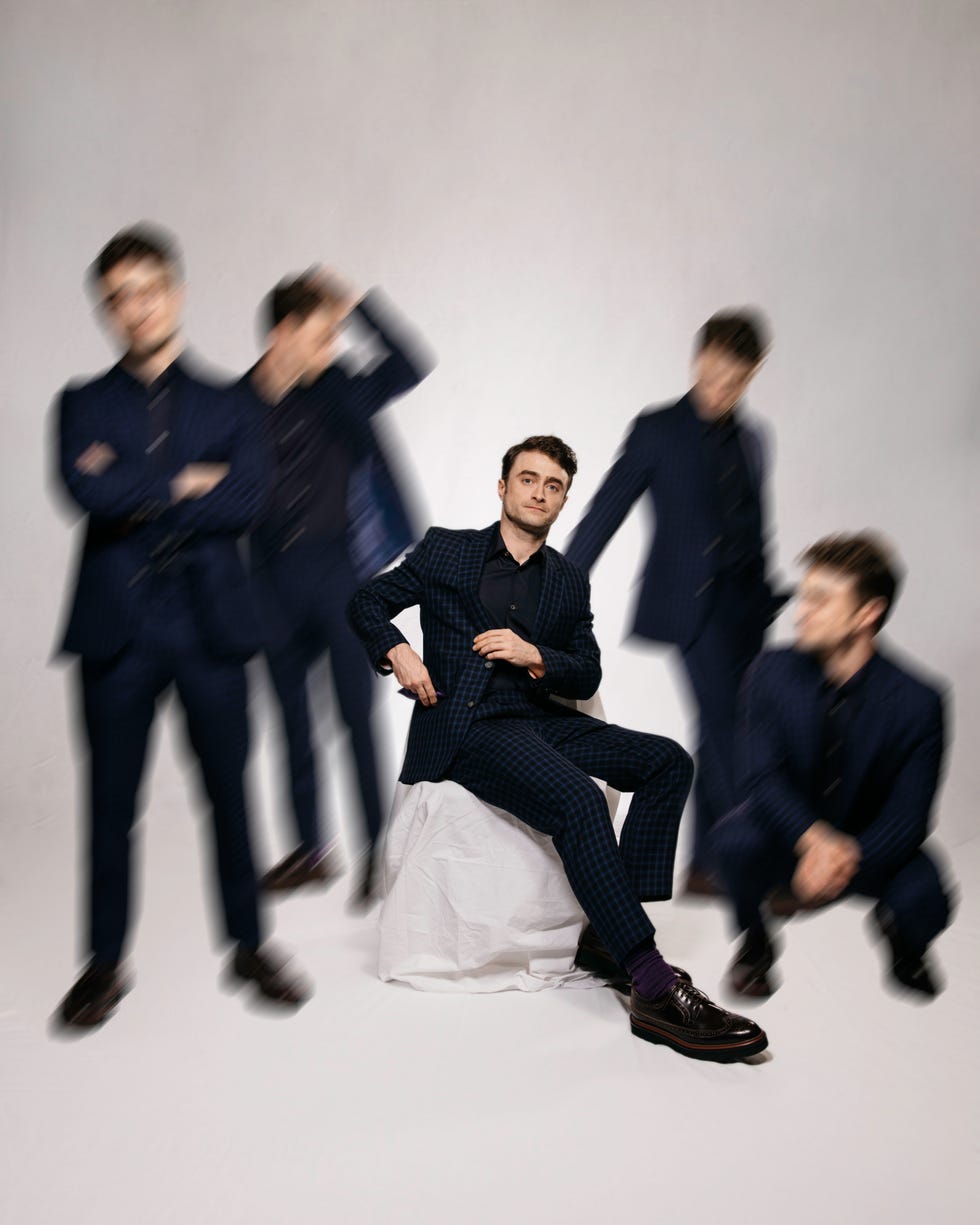 Daniel Radcliffe Stars as Charley Kringas in Merrily We Roll Along
Andy Henderson
It makes sense, because Merrily has never been this good. When the Stephen Sondheim and George Furth musical first premiered in 1981, it only ran for 16 performances and 44 previews. It was deemed a flop. Post-Broadway, the show was staged with rewrites and revisits. But, it didn't make as much of a splash until Friedman, who played Mary Flynn in the 1992 Leicester Haymarket Theatre production where Sondheim and Furth redeveloped the show, sat in the director's chair. This production of Merrily, which was first staged in 2012 in London at the Menier Chocolate Factory, transferred to the West End, then to New York Theatre Workshop, and finally to Broadway (with the full, lush overture, which was missing from the downtown run).
Now, only a week into their Broadway run, tickets are hard to come by. The production received rave reviews from critics. In its first week of previews, the show broke the house record at the Hudson Theatre, completely selling out and grossing $1.3 million. The tune of Merrily currently hums throughout Broadway, beckoning every theater groupie to journey through Franklin Shepard's life.
Below, ELLE.com shares exclusive images of the Broadway cast, and Maria Friedman, director of the Broadway hit, speaks over the phone to discuss Sondheim's legacy, the impact of Merrily in her life, and what any theatergoer can take away from a Sondheim show.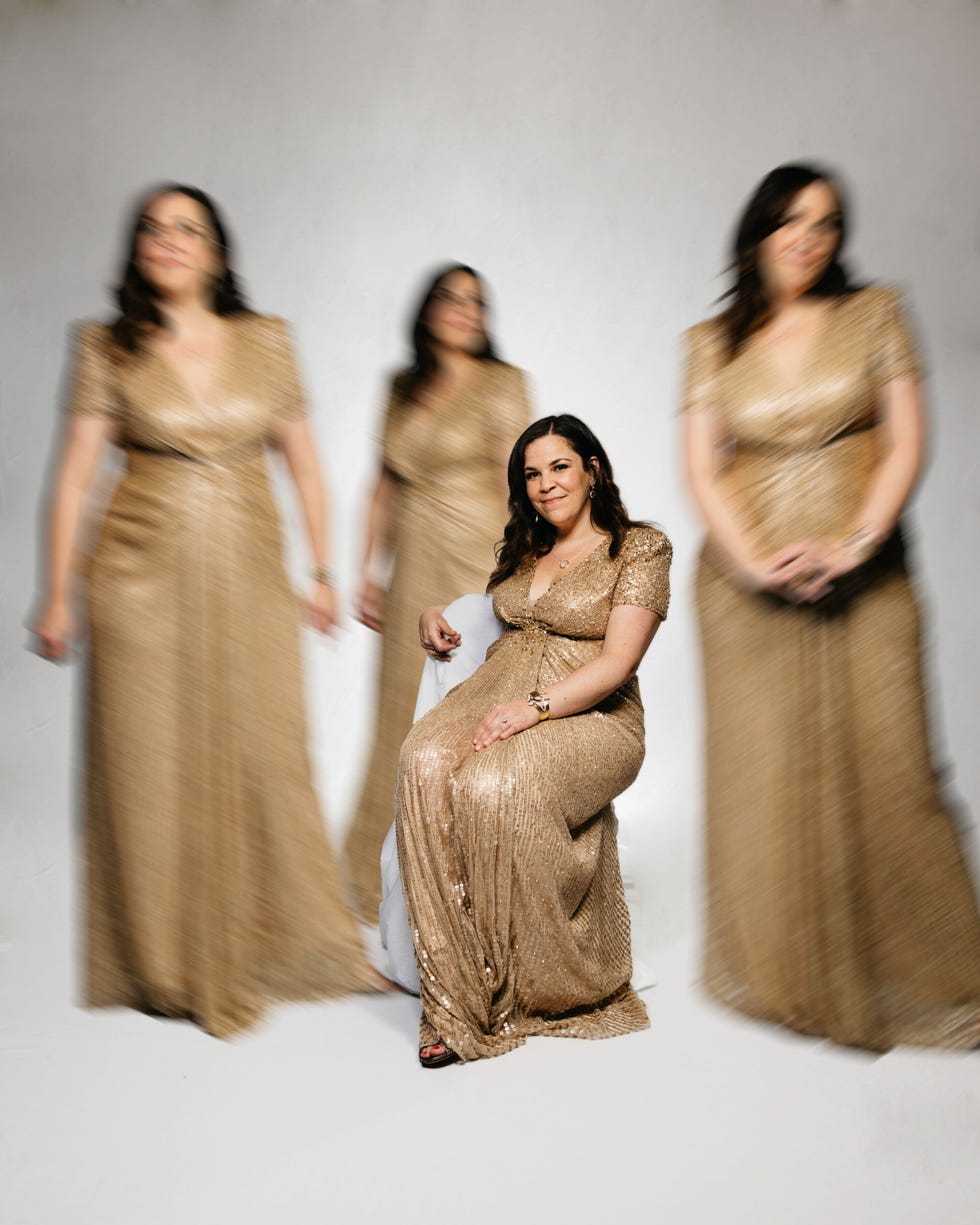 Lindsay Mendez stars as Mary Flynn in Merrily We Roll Along
Andy Henderson
On what it means for Merrily We Roll Along to finally be on Broadway:
"It's with Stephen Sondheim's blessing, that it's the sweetest and the saddest in combination, because he waited 42 years. He wanted this show on Broadway because he wrote it for Broadway with George [Furth]. That's where it belongs. It was written for a Broadway house, the references, the ideas that fly beneath the space, and that holding. That beautiful theater, the Hudson, is an exquisite theater. It's where it belongs. I feel a real warmth in my heart, a great feeling of satisfaction.
"It just reminds me every day who's not there, which is my dear friend [Sondheim, who died in 2021]. So, it's bittersweet. But all his friends, and his husband, and everybody that I've known over the years all said, 'Just do it. Do it because the most important thing, Stephen has a legacy and it now becomes part of it.' Along with Sunday in the Park with George, and Sweeney Todd, and A Little Night Music, and Into the Woods, and Company. Merrily can now go in the same breath."
On the explosion of Sondheim shows on Broadway:
"He just had posterity in his own time. There's a line in our show, which says musicals can make a difference. They can state important ideas, ideas that make a difference. 'We can change the world' comes from Merrily itself. He really believed that and he lived to see that. 'Anything you do, let it come from you, then it will be new.' This is from Sunday in the Park with George. It's an ongoing theme in his life, which is keep writing from your heart, and your soul, and your lived experience in life and you will make a difference. He does make a difference.
"I feel very certain that his work will live on because it's ideas that are universal and belong to all of us. Once you're hooked into a Stephen Sondheim brilliant piece, you're done for life. You've got it for life.
"I know I can turn to his scores and his ideas. Another one, 'Stop worrying where you're going, move on.' I've used these little, tiny sentences. They're like Shakespearean sonnets, they're like haikus. They hold so much importance, and they came from that man, and he made a difference. So yes, Broadway is having a moment but it will continue to have it. The world will continue to have it.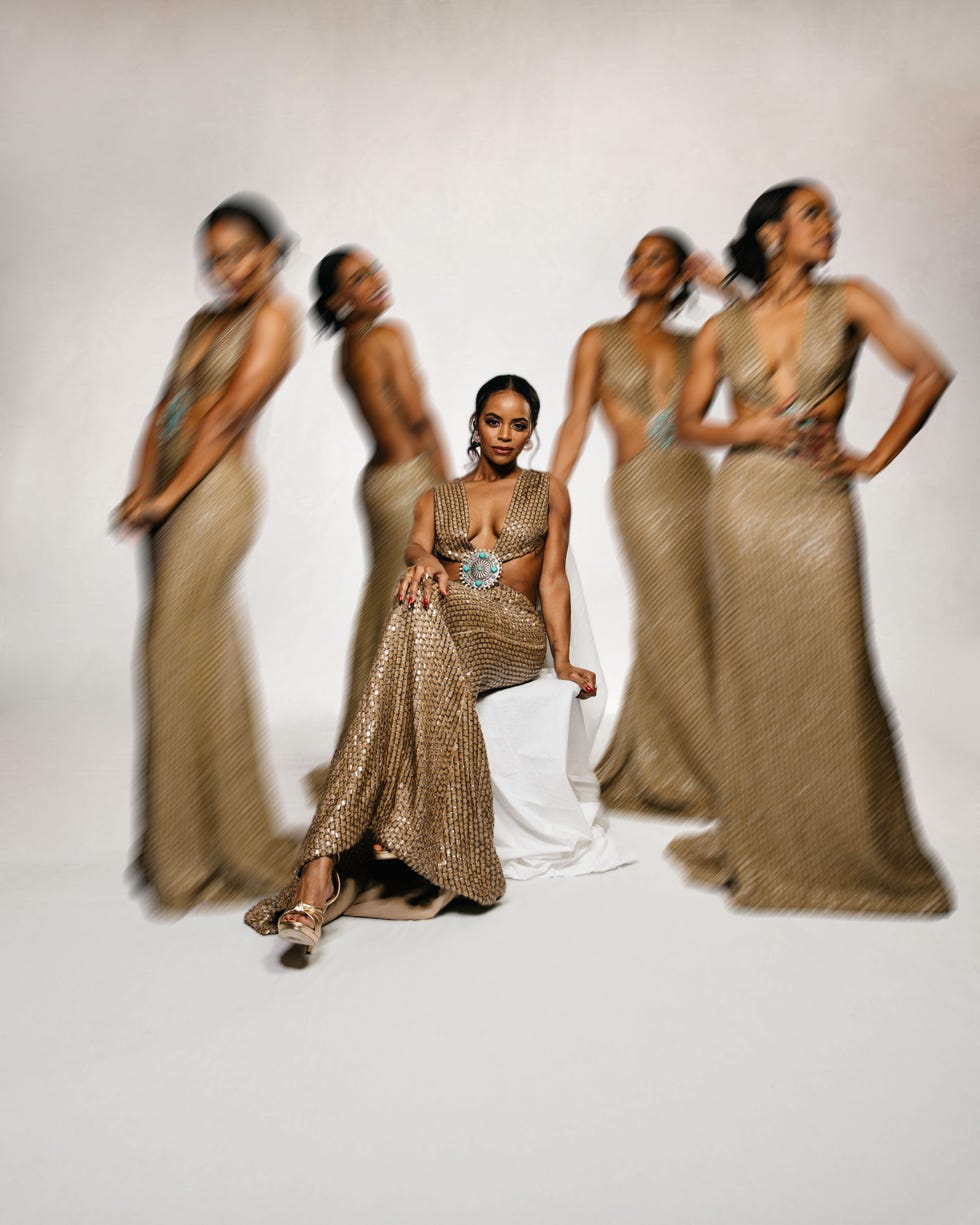 Krystal Joy Brown stars as Gussie Carnegie in Merrily We Roll Along
Andy Henderson
On the Merrily We Roll Along cast:
"Well, if you look at the script and you look at the piece that narrows on stage, you'll see that Steve and George wrote six entirely clear characters that don't cross lanes. They are all fully them. In a show, you'll have a few people that are quite like each other because they live in the same town, or they come from the same family. You look at the contrast between these people, they are deeply different, and therefore, can really spread out into their own lanes.
"So, I was able to look for very different spirits and souls. The one thing in common is they're glorious people. The trio, led by Jonathan Groff, [who plays Franklin Shepard], who is without a doubt, the sweetest soul ever; he's taught me lots about remembering to be joyous, and full of love, and excitable. Just a sweet, sweet man with a brilliant talent. Daniel [Radcliffe] is the same, Lindsay [Mendez, who plays Mary Flynn], the same. Katie [Rose Clarke, who plays Beth Spencer] is a mother of three, and comes in and gives her heart and soul to the piece. Krystal Joy Brown is born to play Gussie. Reg [Rogers, who plays Joe Josephson] is a tremendous actor with extraordinary charisma, and also can stretch two words. Two words can suddenly have a weight of a book. He's an incredibly dextrous actor. And Lindsay—glorious, glorious woman who leads the company as well, with great soul. They're just great people.
"It took six months to cast, so it takes time. You've got to feel the essence of the person. They all are very like their characters, in terms of the essence of the character. Lindsay's not somebody who drinks too much, I'm not saying that. It's just that she's full of love and art. That's what you're looking for. And, very funny, and very, very smart, and very strong. That's what Mary is, and Lindsay has all those characteristics."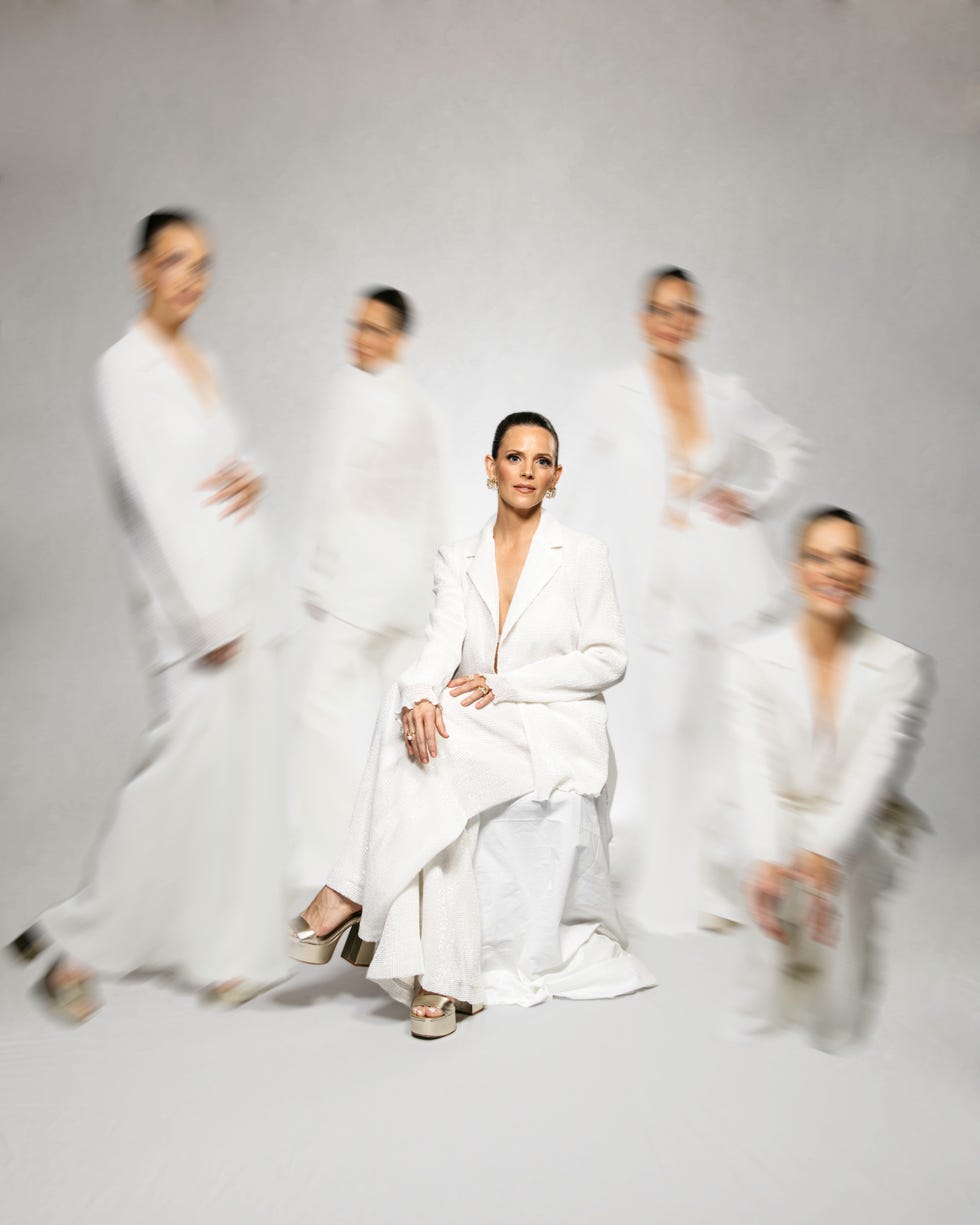 Katie Rose Clarke stars as Beth Spencer in Merrily We Roll Along
Andy Henderson
On directing the character of Mary Flynn, played by Mendez, who Friedman played in the past:
"As an actor who also directs, I feel all those characters as if I was playing them. That kind of is how I feel a rhythm, and I feel the text, and I feel who those people are. Then, I cast it. And then, I encourage most of them to come out. I don't want Lindsay to be doing my beats. They have to be her beats. They have to belong to her. I definitely am somebody who wants to be the conductor at the top, making sure we'll all playing the same tune in the same way. I think the thing I don't want is a different style, different people. You'll get somebody in a musical, somebody in a play, somebody in a tragedy, and everything like that. I want everybody in the same play. That's my only strictness, I wanted everyone to be quite quiet and to bring the audience to them in our living room, rather than push out. So, we're voyeurs in their space."
On what happens to the characters after Merrily:
"I don't want to impose that on anyone, but my thing is they're all fine. The reason the play happens is so that Frank can have some introspection that he's sorely missed. I think Mary sees him for the first time. I think Mary goes to rehab. I think Frank has a reckoning. I think he phones up Charley. I think Charley is hurt because he couldn't have had a Pulitzer Prize winning play without Frank, because the doors were opened by having success. So, when he wrote his little intellectual play full of integrity, he'd already met everyone who'd fund it. He wouldn't have gotten funding as an unknown writer. So, he's had his success and is missing Frank. I don't know that they write again together, but I think Frank makes music again. He says at the beginning, 'If I didn't have music, I'd die,' and he does die. He doesn't physically die, but emotionally he dies. It just feels like a plant that hasn't been watered. And I feel that's how we meet Frank, he's like a plant, a beautiful plant that needs some sustenance."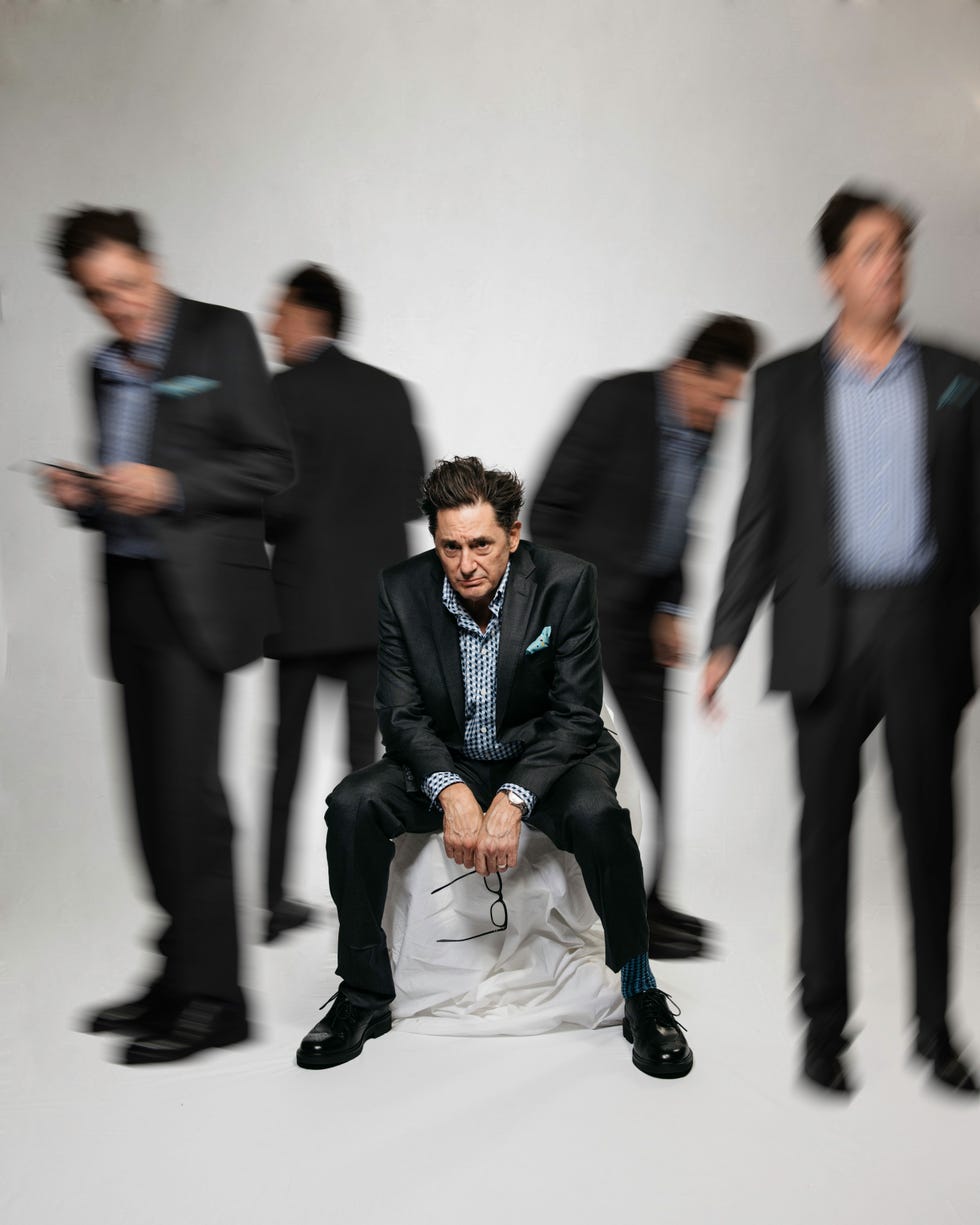 Reg Rogers stars as Joe Josephson in Merrily We Roll Along
Andy Henderson
On the message behind the show:

"The moral of the piece is be very careful with your friends and family, be careful. Be careful about the things that really matter. And if you do make mistakes, which we all do, you can reset if you understand your part in it. You can reset. Every day is a new beginning."
The Cast of Merrily We Roll Along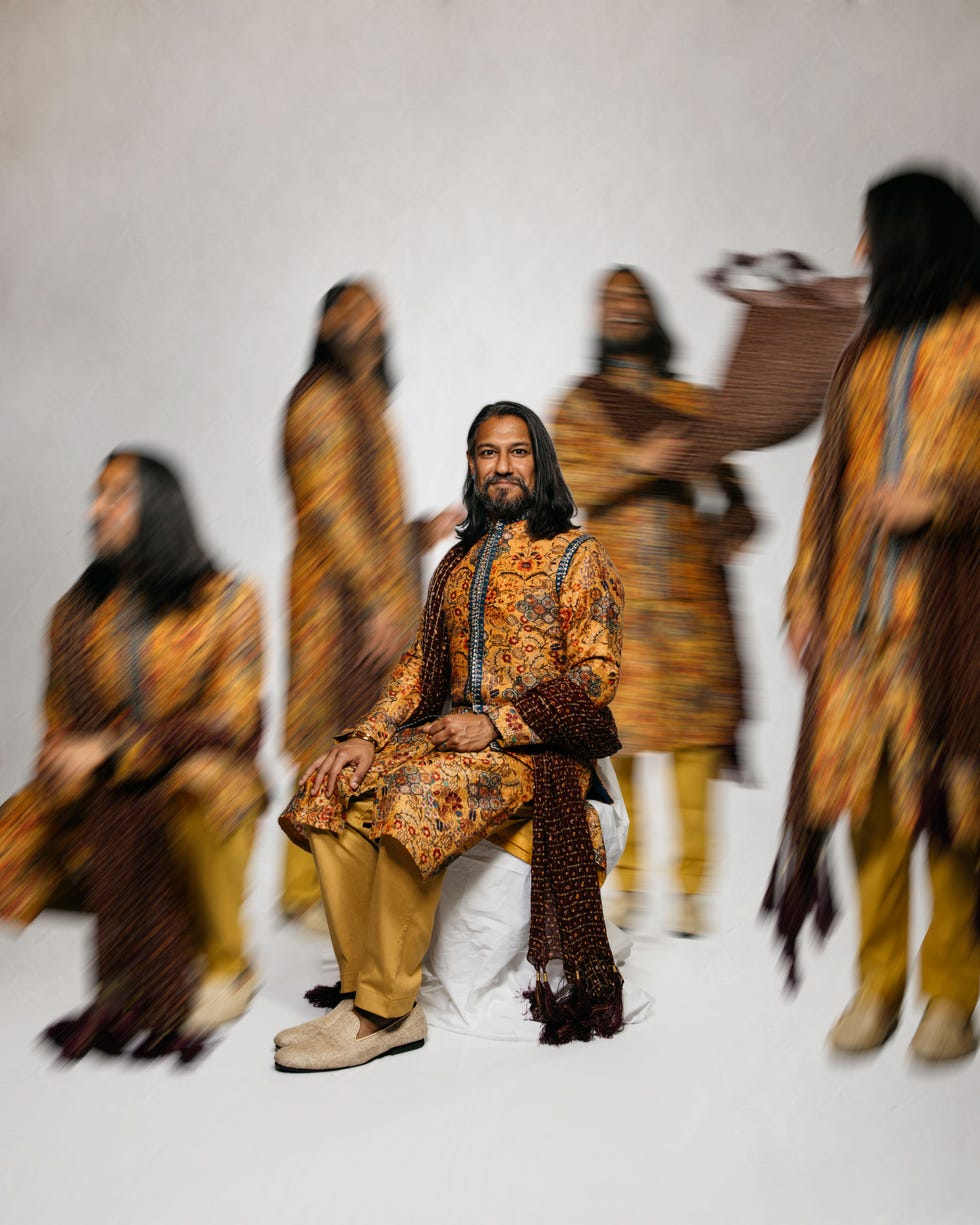 This interview has been edited and condensed for clarity.

Merrily We Roll Along plays a limited run at the Hudson Theatre until March 2024. Tickets can be purchased here.

Samuel is the Assistant to the Editor-in-Chief at ELLE Magazine. His interests include music, theater, books, video games, and anything to do with Taylor Swift. He famously broke both his arms at the same time in fourth grade.