Minor spoilers for The Perfect Find below.
Written by Tia Williams (of Seven Days in June fame), The Perfect Find follows Jenna, a 40-year-old editor working and living in New York City. When she gets fired from her media job at Darling magazine, she begins working at StyleZine, an online fashion magazine run by her former rival Darcy. While on the job, Jenna starts collaborating with her crush, a young videographer named Eric, who also happens to be Darcy's son. From there, chaos and romance ensue.
Williams co-wrote the new Netflix film adaptation, which was released on June 23, with Leigh Davenport (Run the World). Numa Perrier (Jezebel) direcots, Gabrielle Union stars as Jenna, and Keith Powers plays Eric. Other notable names in the cast are Gina Torres, Janet Hubert, La La Anthony, and TS Madison. (The rapper Remy Ma even makes a cameo).
It's always tricky when a novel gets adapted for the screen. Something is always bound to be missing or slightly different, and the director is likely to take several creative liberties and infuse the source material with their own style and perspective. The Perfect Find is no different. Below, we break down some of the biggest differences between the book and the movie.
Jenna and Eric's Romantic Timeline
In the book, Jenna and Eric's romance is a slow burn. After they first meet at a party and later discover that they'll be working together, the relationship turns into a strong case of love-hate. And they bicker constantly. The frenemies-to-lovers pipeline is slowly teased out over the course of the book. But in the movie, their romantic timeline picks up speed and they get to the "lovers" portion of their relationship much quicker.

Darcy's Backstory
In the book, Jenna's boss Darcy (played by Gina Torres in the movie) is given a very intricate, and heartbreaking, backstory. She describes her childhood as "gothic" as she tells Jenna all about her abusive father. At 14, when he caught her drinking, she was shipped off to a Catholic reform school. And when she got pregnant with Eric at 16, he attempted to give her an abortion by pouring mineral oil down her throat. But in the movie, we're not given much in-depth context about Darcy as a character.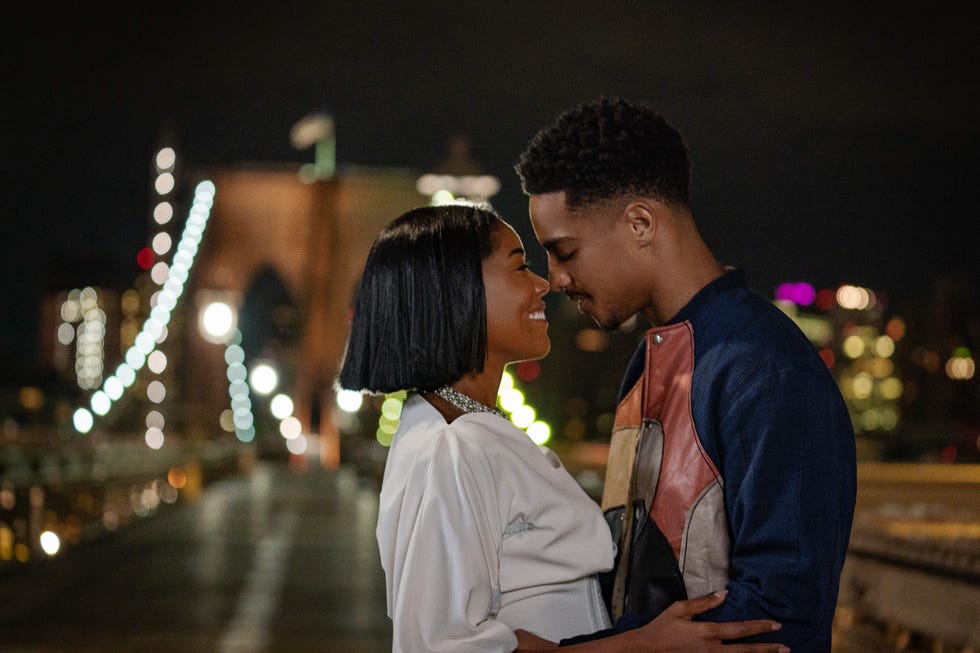 Gabrielle Union as Jenna and Keith Powers as Eric.
Alyssa Longchamp
//
Netflix
StyleZine Becomes DarcyZine
In the book, the company that Jenna goes to work for is called StyleZine, but in the movie, the name is changed to DarcyZine after Gina Torres' character.
Jenna's Mom
In the movie, Jenna's mom Monica (played by The Fresh Prince of Bel-Air's Janet Hubert) makes a few key appearances. She's present at the beginning of the movie when Jenna loses her job and comes back later on via a lengthy phone call. However, in the book, Monica doesn't exist and Jenna's mom doesn't play a central role in the plot.
Alyssa Longchamp//Netflix
Watch The Perfect Find on Netflix

Juliana Ukiomogbe is the Assistant Editor at ELLE. Her work has previously appeared in Interview, i-D, Teen Vogue, Nylon, and more.