Minor spoilers for The Other Black Girl below.
"It's so humbling to see the characters who've been living inside of me now on screen," says Zakiya Dalila Harris. "It's very cool." When I speak to the author of The Other Black Girl, we're a few weeks out from the Hulu premiere of the TV adaptation. Premiering today, the show comes just two years after the bestselling book's publication—a rare feat for a debut author. The story, modeled after Harris' own experience as an editorial assistant, follows Nella as she navigates being the only Black person working at a publishing company. But when another Black woman named Hazel finally joins the team, she soon realizes that she may not be the ally she hoped for.
Harris and Rashida Jones serve as executive producers of the show and the main characters Nella and Hazel are played by Sinclair Daniel and Ashleigh Murray, respectively. Other notable names in the cast include Garcelle Beauvais, Bellamy Young, and Brian Baumgartner. Jordan Reddout and Gus Hickey (Queens, Mixed-ish) are serving as co-showrunners.
Adapting a book for the screen is always a tricky task. Something is always bound to be slightly different, and the team is likely to take several creative liberties and infuse the source material with their own style and perspective. The Other Black Girl is no different. Below, we break down some of the biggest differences between the book and the show.
Nella's Backstory
In the book, Nella is given a more fleshed-out backstory. We learn that she's an only child from Connecticut and that her parents divorced after she graduated from high school. She then went on to attend the University of Virginia and majored in English literature. And being an editor was a dream she'd had for years, ever since she worked on the school newspaper in high school. But much of her personality, especially her work ethic and ambition, remains the same between the book and the show. "She's very good at her job and she wants to come off the right way," says Harris. "She's earnest, hopeful, a little awkward, and really believes in the work she's doing, which is a major contrast with Hazel."
Hazel's Introduction
Between the book and the show, Hazel and Nella's first meeting goes down a bit differently. In the book, their initial conversation is more drawn out. Hazel also meets Vera (Nella's boss, played by Bellamy Young) and shares that she previously worked at a small magazine in Boston before moving back to Harlem to work at the nonprofit she started. In the show, Hazel doesn't meet Vera and adds that she went to Howard University for college (and saw Lil Baby perform at Homecoming). "Hazel is beautifully played by Ashleigh," says Harris. "She's effortlessly chill and just immediately at home [at Wagner, the publishing company], even though she just started. We don't see this in the show, but in the book, Nella's first day is nothing like Hazel's. She wasn't comfortable and didn't necessarily have a smooth transition. So having Hazel be that cool, calm, and collected person was such a fun contrast to have. And I was so excited for the moment [that they meet] because it was one of the moments when I was writing the book where I felt like I really hit my stride." We also get more Hazel in the show than we do in the book. "It's so great to really understand her," says Harris. "She's still a villain, but I really hope people see why she makes the decisions that she does."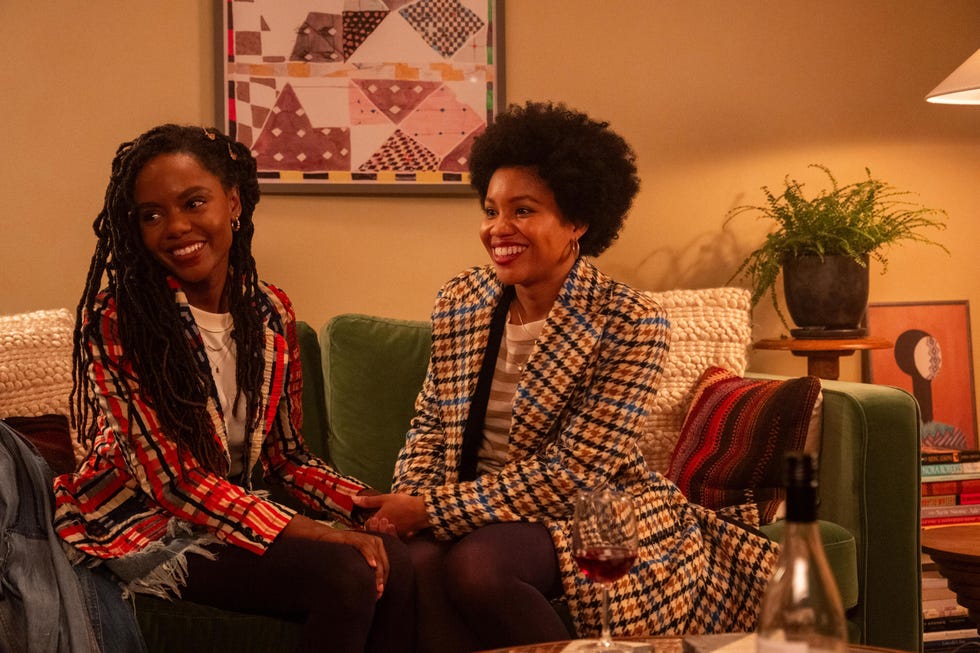 Wilford Harwood // Hulu
Shani
In the show, the mysterious and elusive woman Shani (played by Karina Willis) is given a more in-depth and singular storyline. "She's much more independent," says Harris. In the book, she's part of a larger group called The Resistance that serve as the primary antagonists against Nella. "We have them in the book, but in the show, for various reasons, there wasn't really any room to get into that. So having Shani as this more independent operator was a big difference that I think is actually great and I'm glad that we have it."
This content is imported from youTube. You may be able to find the same content in another format, or you may be able to find more information, at their web site.
Watch The Other Black Girl on Hulu


Juliana Ukiomogbe is the Assistant Editor at ELLE. Her work has previously appeared in Interview, i-D, Teen Vogue, Nylon, and more.