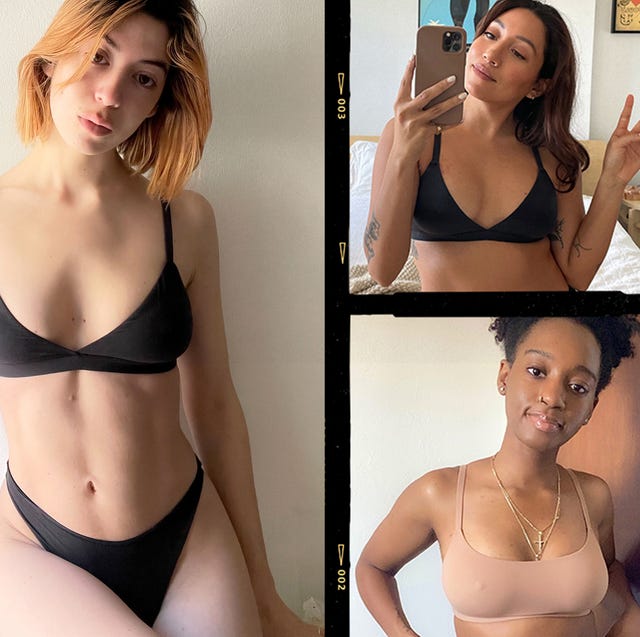 Courtesy
The quest for the perfect underwear is often a daunting task, with so many different needs for so many different body shapes and sizes. Thus, when Kim Kardashian's shapewear brand Skims stormed onto the fashion scene in 2019, it almost immediately amassed a cult following, with good reason. Skims is so confident in its underwear-making abilities, in fact, that the company asked our team of editors to review its now-iconic Fits Everybody collection, comprised of skimpy yet impossibly soft bras, briefs, and thongs.
A bit on the collection for the uninitiated: Kardashian set out to create a breathable, expandable fabric that can stretch to twice its size without compromising hold and fit. Skims achieved this feat with its revolutionary nylon-spandex hybrid, proving it's much more than just a shapewear brand. Case in point: the Dipped Front Thong from the collection has sold over 300,000 units and regularly garners a waitlist on drop days.
Below, our editors give their no-holds-barred opinions on various pieces in the collection, from fit to feel and comfort (some were even daring enough to snap a pic in their pieces). Read on to find a new favorite to add to your cart, ASAP.
1 of 14
Claire Stern, Digital Deputy Editor
"We all know Kim Kardashian gets her f—king ass up and works, and she did just that with the Skims Fits Everybody collection. Every piece feels good, practicality and comfort-wise, and this Triangle Bralette is the perfect example—stretchy and soft with just the right amount of support, it's so breathable I even slept in it."

2 of 14
Emily Burns, Assistant Beauty Editor
"To be fully transparent, I have and always will be a Skims stan. Every product I've tried has accentuated my curves in all the right ways, while providing comfort and support. So, it comes as no surprise that I love both of the pieces I tried: the Fits Everybody Crossover Bralette and the Fits Everybody Thong. The fabric on both garments is buttery soft and practically seamless under clothing. If you have a bigger chest, I recommend sizing up in Skims bralettes for a bit of added coverage and support."
3 of 14
Tatjana Freund, Beauty E-Commerce Writer
"I'm a simple girl when it comes to lingerie, so I was immediately drawn into Skims branding. Nudes? Blacks? It pleases my minimalist heart. The Fits Everybody line is so soft. Ridiculously soft. On a day-to-day basis, thongs are for daytime (no panty lines here) and a brief is for sleeping—or sweatpants days. But I found the Skims briefs to be virtually lineless, so I could actually wear tight jeans and not have everyone guess the style I was wearing. They are prone to causing a minor wedgie here and there, but for the most part, the pieces are breathable, comfortable, and extremely flattering. As for the bra, I am not busty enough to have cleavage when there isn't an underwire involved, but I found the Triangle Bralette to be flattering nonetheless. I will say, I have a slightly confusing bra size (32D, but also a 34C, and also sometimes a small? Medium? I don't know). I wound up opting for size small, but I think I'd probably be better suited to a medium to avoid any spillage. If I had the correct size, you might find me actually wearing a bra for once. All in all, I'm a Skims convert. Give me a year, and my entire underwear drawer will be converted to Skims only."
4 of 14
Alyssa Bailey, News & Strategy Editor
"Skims feels a bit like invisible lingerie once you have it on— you forget it's there with the stretch fabric. I'm lucky it fit my body type well; I'm not sure if it is the most flattering lingerie I've ever worn, but it is very comfy. With the thong in particular, styles from other brands I've worn in the past felt like they were giving me wedgies all day. This one you don't really notice, which is a huge victory for reluctant thong wearers. I'm not sure if the bra contains my breasts as neatly as it could, but I feel pretty confident this isn't going to show with any plunge-front tops. Support seems fine for 32C boobs, though with no underwire, it is definitely not the most supportive bra out there. I noticed that the fabric presses down on parts of your chest. If you're wearing a tight T-shirt under it, the Triangle Bralette may not be the best choice if you want your boobs to look even. In anything not super form-fitting, it doesn't matter."
5 of 14
Lauren Puckett-Pope, Associate Editor
"When I first received my thong and bralette set, I thought there was absolutely no way the tiny scraps of fabric would make it over my hips and head. They felt cheap and flimsy, but I was surprised by both the stretch and durability of the material once I actually slipped them on. I wore the thong all day at work without feeling a hint of discomfort, and nary a single line showed through my pants. (This is impressive given the number of so-called "no-show" thongs I've tested.) The bralette was similarly cozy, though it didn't feature enough support or coverage for my comfort—I have no problem with freeing the nipple, in concept, but would prefer not to have mine immediately on display if a cold breeze happens to float through. I'd absolutely recommend the thong if you're hunting for a seamless, no-show pair that hugs the hips without cutting into your skin. As for the bralette, if I'm being honest, you can find better styles elsewhere."
6 of 14
Madison Rexroat, Fashion and Accessories Assistant
"The thing I love about Skims is the simplicity. The designers think in the same way that I think about underpinnings—they can be cute, but ultimately, they need to be functional and invisible under clothes. This thong offers a great balance of coverage v. nothingness, and it doesn't roll down in the way some string thongs do. Overall, it's a classic essential that is what it is: a basic thong. The Scoop Neck Bra is a great no-nonsense piece from the Fits Everybody collection. The material is soft, cool, and lightweight, and the cut is simple but flattering. It's definitely more of a loungewear piece that I probably wouldn't wear under anything due to the neckline, but on its own, it's super comfortable. It's not a sports bra, but I will admit I completed a 12-3-30 workout and it offered a good amount of support without feeling restrictive."
7 of 14
Nerisha Penrose, Beauty Commerce Editor
"I've been a fan of Skims's loungewear since its inception, but I'd never ventured into its intimates category until recently. It was almost as if my tatas gave out a sigh of relief as I slipped into the Scoop Neck Bra. Smooth to the touch, light but supportive, the bralette is really comfortable. This softness carries over to the matching thong, which would be a win-win for me if my lady bits were completely covered."
8 of 14
Danielle James, Interim Beauty Director
"When I think Skims, I think effortlessly snatched—but I was hesitant to take a dive into the Kardashian klothing kash kow (sorry, can't help it) because of sizing. Clothing brands that have been around for decades struggle with their size range, so I didn't have much faith that Kim would understand my dilemma. Turns out, I was 50 percent correct. As a size 12/14, I ordered a large (the equivalent) in the Mid Rise Brief and matching bralette. The briefs fit well and were extremely stretchy, but the material is thin and doesn't provide much support. As for the bralette? I couldn't submit a photo as it veered into the NSFW lane. Again, lots of stretch, so it surprisingly covered my breasts, but there was so much side boob going on it could have been the main course. I was disappointed, and the $6 return fee makes you feel like just gifting the $20 bralette to a friend. I'd try other aspects of the line, particularly the shapewear, but I'm in no rush."
9 of 14
Leah Romero, Senior Digital Designer
"Simply put, if I'm going to wear a bra, I go for wireless. What woman doesn't prefer comfort and barely visible lingerie? As a B-cup girlie, I tried on the Triangle Bralette and Dipped Thong in size medium. Both are insanely soft, form-fitting, and comfortable after a full day of wear. My one con with the bra was lots of nipple slippage. I think the cut of the bra is sexy, but tends to shift after a few hours. Be warned."
10 of 14
Madison Feller, Senior Writer/Editor
"This was my very first time trying Skims, and I must say: I'm impressed. Both pieces are so buttery soft, I often forget I'm wearing anything at all⁠—and I love being able to wear the thong higher on my hips for extra comfort. I range between a small and a medium when it comes to underwear and bras, and ultimately decided to size down due to the wide selection. While that proved to be the correct choice for these particular bottoms, I definitely should've gone with a medium for the bralette in order to get more room in the band and the cup. (I'm typically a 34C or a 32D.) Even so, I'll still be sporting this matching set under my usual jeans and a T-shirt because 1. It makes me feel that much more put-together and 2. Did I mention buttery soft?"
11 of 14
Margaux Anbouba, Beauty Editor
"I am not an anti-bra person. Actually, I'm incredibly pro-bra—I'm disproportionally heavy-chested to the point where I have to even sleep in a bra, so comfort is key for me. I was so skeptical on the Skims sizing because brands that work on a S-M-L sizing model basically never fit me, but I should have know Kimberly Noel Kardashian of all people would have this figured out. The fabric in the Triangle Bralette is really stretchy, but stays taut enough that you feel supported for daily life—and it checks my boxes for a sleeping bra, too: no underwire, holds everything in place. I'm wearing a medium here, which was still a little big in the band, so I would probably try sizing down to a small to see how it fits. The underwear looks cute when worn high up on the hips, or as a low-rise bottom. It's like a choose your own adventure panty that works under almost all of my clothing."
12 of 14
Kayla Adler, Deputy Editor
"Looking at the itty bitty bit of material that claimed to be a thong in my size, I thought, Nope, no way, not happening. But when I put it on, like magic, the fabric expanded to fit as promised. I love the soft fabric, the high cut, and how they smooth out my tummy. I had similarly high hopes for the triangle-cut bra that came with it, but alas, I have never in my life found a triangle top that fit, and am sad to report this one also failed me. I will however note for women with larger chests like me, I have had remarkable success with Skims' scoop neck cuts, which tend to fit so well, I've even worn them as swim tops."
13 of 14
Rosie Jarman, Assistant Fashion Editor
"First of all, the brief is truly light as air—spun from gossamer, I don't know how they did it, but I do know that, if only the edges were seamless, it would be the most invisible pair of undies ever created. The Triangle Bralette is exactly what I was looking for in a nude triangle bralette, I love that there are no clasps for a totally smooth look under light summer blouses and dresses. Plus, it comes equipped with the perfect stretch that fits your body."

14 of 14
Juliana Ukiomogbe, Assistant Editor
"As a Skims newbie, I had zero expectations going in. But when I saw Tyra Banks modeling the Fits Everybody collection, I absolutely had to see if it was worth the hype. Dear reader, it is. The Scoop Neck Bra fits like a glove and offers the support of a sports bra, but in a style that can be worn any time. It's so soft and thin that it feels like you have nothing on. Similarly, the boy shorts also provide the perfect fit—and you don't have to worry about any annoying underwear lines showing through your clothes (a big plus for me as someone who wears a lot of leggings). My only recommendation would be to size up like I did, because, although stretchy, the collection runs very small."