The tables are turning for pop superstar Adele, who—despite keeping a low profile following her divorce from Simon Konecki, which was finalized in March 2021—has found love stateside.
On July 24, 2021, she and sports agent Rich Paul were seen out on a date at NYC hotspot Cipriani; The Sun obtained photos. The PDA-filled photos seemed to confirm the romance, which was also confirmed by Page Six on July 20, 2021.
Only a few days before the Page Six post, they were seen together for the first time. On July 17, 2021, British singer was spotted laughing and cheering alongside Paul at Game 5 of the NBA Finals, in which the Milwaukee Bucks beat the Phoenix Suns.
Paul was apparently there alongside his client LeBron James to support friend Chris Paul, a player for the Suns. On a late-night podcast following the game's conclusion, ESPN's Brian Windhorst seemingly confirmed the relationship between Paul and the "Rolling in the Deep" singer.
"Rich Paul brings his girlfriend to the game to sit next to LeBron. His girlfriend is Adele," Windhorst said. "This is the first time that they've come out in public together."
Page Six confirmed the two were involved on Tuesday, July 20, with a source telling the outlet that Adele and Paul are "100 percent" dating.
Not much is known about the relationship nor its impetus, but it's possible the two have been an item since as early as May 2021. In a profile of Paul for The New Yorker, interviewer Isaac Chotiner detailed the following exchange between the sports agent and Adam Mendelsohn, a friend and adviser to both Paul and James.
"She was over yesterday," Paul said.

Mendelsohn clarified whom he meant, dropping the name of a major pop star. "Doing what?" he asked.

"Hanging out," Paul replied.

"Why are you hanging out?" Mendelsohn asked.

"Why not?" Paul replied.

I wasn't entirely sure whether this exchange was for my benefit.

Paul said, "I'm not dating, I'm single. Put that in the story." He laughed for the first time all day.
The "major pop star" in question is almost undoubtedly Adele, and it appears the two have made their relationship official in the months since the article's release. And while Adele has, of course, received the majority of the press since the couple was spotted at Game 5, Paul has a storied career of his own. Here's what we know about the agent's background.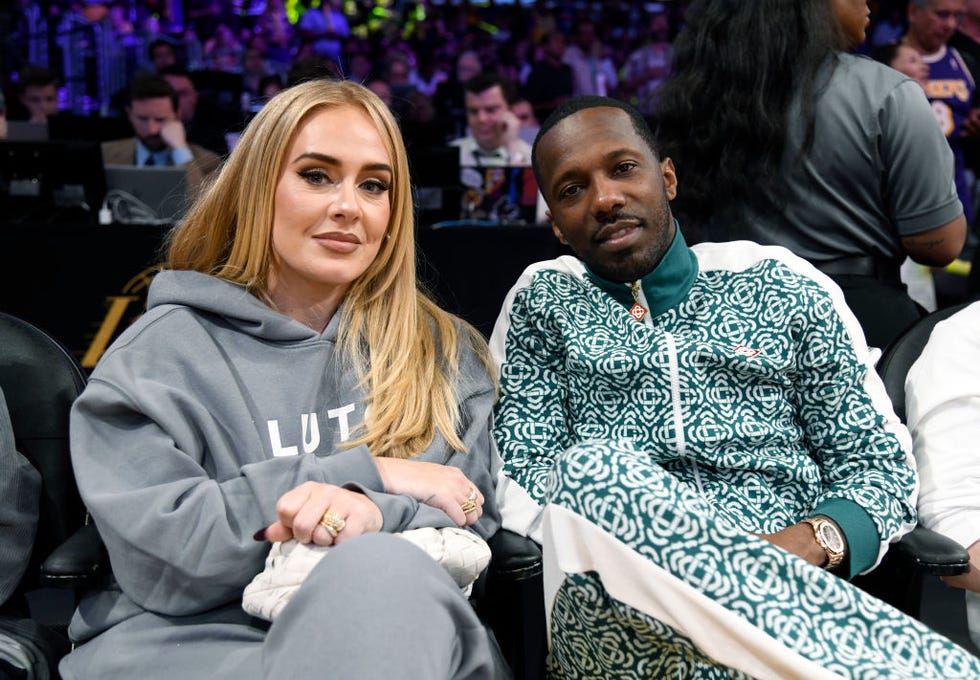 Kevork Djansezian//Getty Images
He's one of the biggest agents in sports.
Born and raised in Cleveland, Ohio, in the neighborhood of Glenville, 41-year-old Paul became a sports agent after meeting a teenaged James at the Akron-Canton Airport in 2002. Paul was wearing a Houston Oilers jersey that caught James's eye, and the two of them stayed in touch, eventually becoming such close confidantes that Paul went to work at Creative Artists Agency, under James's then-agent Leon Rose. Developing a strong business savvy, he was eventually able to strike out on his own.
Today, Paul has his own agency—Klutch Sports Group, which he started in 2012—and is one of the most well-known agents in sports. His clients include James, Philadelphia 76ers player Ben Simmons, Los Angeles Lakers star Anthony Davis, and Golden State Warriors player Draymond Green, among a slew of others.
Windhorst—the podcaster and ESPN reporter who revealed Adele was Paul's "girlfriend"—has written several books about James and has developed a close relationship with Paul as well. He told the New Yorker's Chotiner, "The burden that Rich faces is that people question his legitimacy. They want to delegitimize him because of his race, because of his lack of education, because he used to sell jerseys out of the trunk of his car. If that's the best they can do, they have to do a lot better."
He's writing a memoir.
In March 2021, around the time Paul supposedly started "hanging out" with Adele, The Hollywood Reporter announced that the sports agent would release a memoir titled Lucky Me. The book is a coming-of-age story to be published by Roc Lit 101, the publishing division of Jay-Z's entertainment company Roc Nation.
The memoir will apparently follow Paul's upbringing in Cleveland, his relationship with his family, as well as his rise to the top of his field in sports.
"Lucky Me is more than my story," Paul revealed in a press statement. "Lucky Me is the story of every young Black man who grew up like me. I want to use my story to uplift and inspire those who lived this and educate those who didn't. I cannot tell you what it means to partner with my friend and mentor Jay-Z on this project. Lucky Me was the name of the book before I even spoke with Jay because his music was my life's soundtrack."
Paul and Adele initially kept a low profile.
The first photos of the couple together were taken during the NBA Finals, though they certainly looked at ease court-side.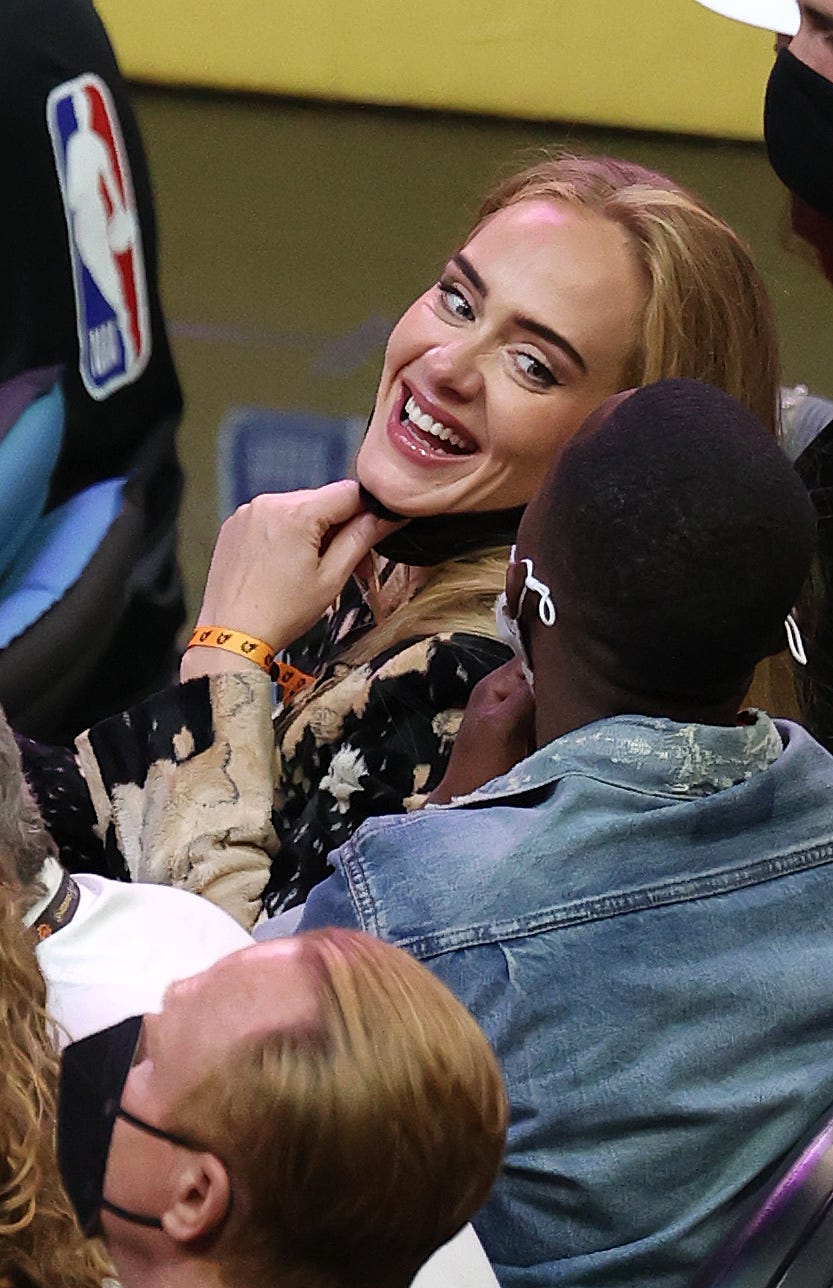 Ronald Martinez//Getty Images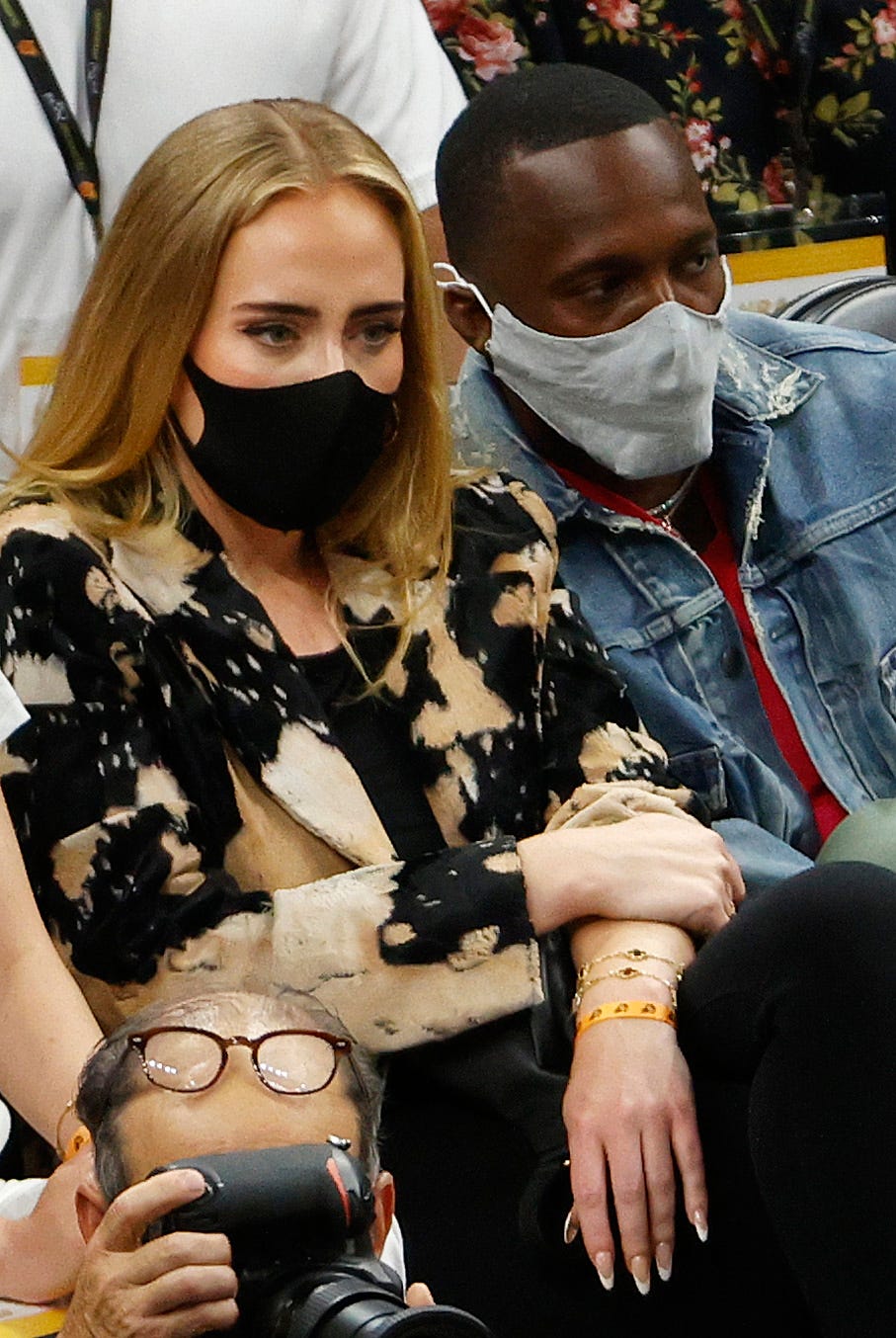 Christian Petersen//Getty Images
An eyewitness at the game told Entertainment Tonight, "They had their eyes on each other almost as much as they did on the game!"
Page Six confirmed Adele and Paul's relationship shortly after Windhorst sparked the rumor.
It took just days for media outlets to confirm the news that Windhorst broke: Adele and Paul truly are a couple. Page Six was told by a source that "they are [definitely] dating," on July 20. Details about what their relationship is like or how they met remain private at this point.
When news of Adele and Paul's relationship broke, the two had actually been dating for a "few months."
People got a little more insight on July 20 about Adele and Paul's timeline. The outlet was told by a source that their relationship isn't brand, brand new. A source said that they've actually been dating for "a few months." Paul and Adele's reps didn't respond to the outlet's request for comment, a hint that the two are likely keep their relationship details as private as possible.
Adele is deliberately being more public with her and Paul's romance.
E! spoke to a source close to Adele in early August about why the singer has been more willing to have her romance with Paul in the spotlight. The source called their relationship "bit of a whirlwind."
That said, "she's very happy and loves being with him." Paul is "outgoing" and wants to "out and about," which Adele has "embraced," the outlet's source said. "She's not as concerned about being private with her life because she's very happy with Rich."
As of September 2021, Adele and Paul were more serious.
People was told by a source on September 1 that Paul and Adele's relationship isn't just causal anymore. "They went to LeBron James' party together," a source told the outlet. "He often brings her around his friends. She seems to be getting along with everyone. They act like they are getting more serious."
"She is having fun dating Rich," the source added. "They spend a lot of time together. Adele seems very happy."

On September 18, Adele posted a photo of herself with Paul on Instagram.
Adele slipped a picture of herself posing with Paul at a party into a slideshow of her beautiful strapless dress on Instagram. The two were at a the wedding LA Lakers star Anthony Davis.
The photo booth image shows them smiling and happy and very much in couple mode.
On November 3, Adele and Paul were seen on a date in London.
Rich Paul accompanied Adele to London, where she is preparing for her show at the London Palladium next week, E! News reports. This will be Adele's first show in the U.K. in four years and it's the first time Paul has joined her in her own country. They have also met one another's kids, and a source told E! in September that their relationship has "become more serious in the last few months" and the singer is "very much in love with Rich."
Taking him back home with her to England does seem serious. Her show will be available as an ITV special, An Audience With Adele, beginning November 21.
Adele told Rolling Stone in November that Paul has met her son, and their relationship is the "easiest" she's ever been in.
Adele opened up a little about Paul to Rolling Stone in the magazine's cover story about her ahead of 30's release. Celebrity gossip Instagram DeuxMoi outed her relationship with the sports agent, Adele said. "I didn't really tell many of my friends at the beginning because I wanted to keep it to myself," she said. The two first appeared together at a discount mall. "None of them believed it!"
She added that Paul has met her son, and their relationship is "incredible, openhearted, and [the] easiest [one]" she has ever been in because of the self-growth and healing she's done.
Adele said this is the first relationship where she's really "loved herself."
In an interview with Oprah Winfrey during her Adele: One Night Only TV special, the singer opened up about her relationship with Paul and what makes it so special. She said it's the first time she's truly "loved myself and been open to loving and being loved by someone else." So, Winfrey asked, is the lucky sports agent getting a different Adele than everyone else has gotten?
"Yeah," Adele answered hesitantly. "By arriving and turning up [for myself], maybe I'm getting a different version of him at all. It's just timing. It'll be interesting to see what my reaction will be like in general to anything that hurts me now that I feel so secure in myself. And I'm talking outside of romance as well."
Adele shouted out Rich Paul's sneaker collab on Instagram.
Adele showed off her new kicks on Instagram Stories, a pair of white New Balance 550s that are a collaboration between the brand and her boyfriend, Rich Paul, even featuring his name on the sneakers' tongue.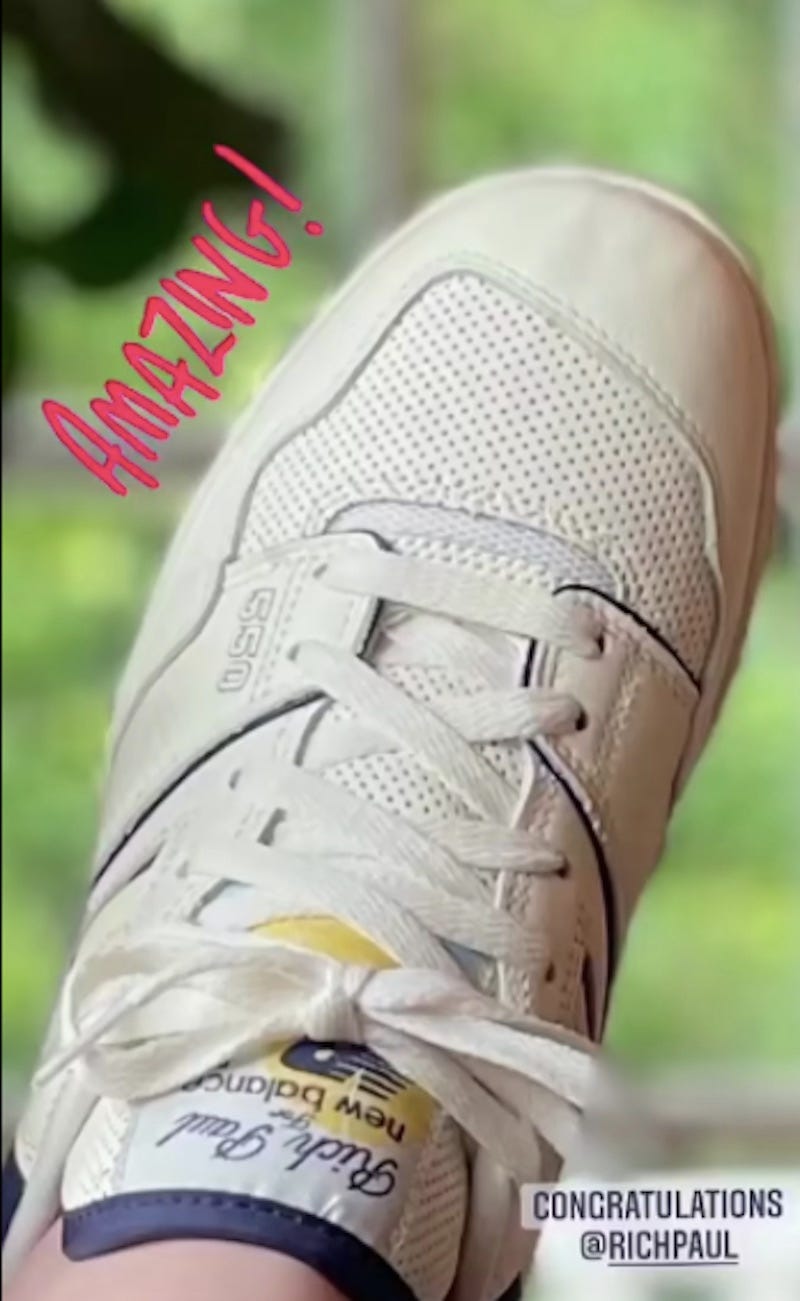 Instagram
"Congratulations @richpaul," she wrote across the post.
The collaboration between Paul and New Balance will also include apparel. These white shoes have a classic look and feature blue and yellow accents. Adele shared yet another image of them from further away, posting hearts over the photo.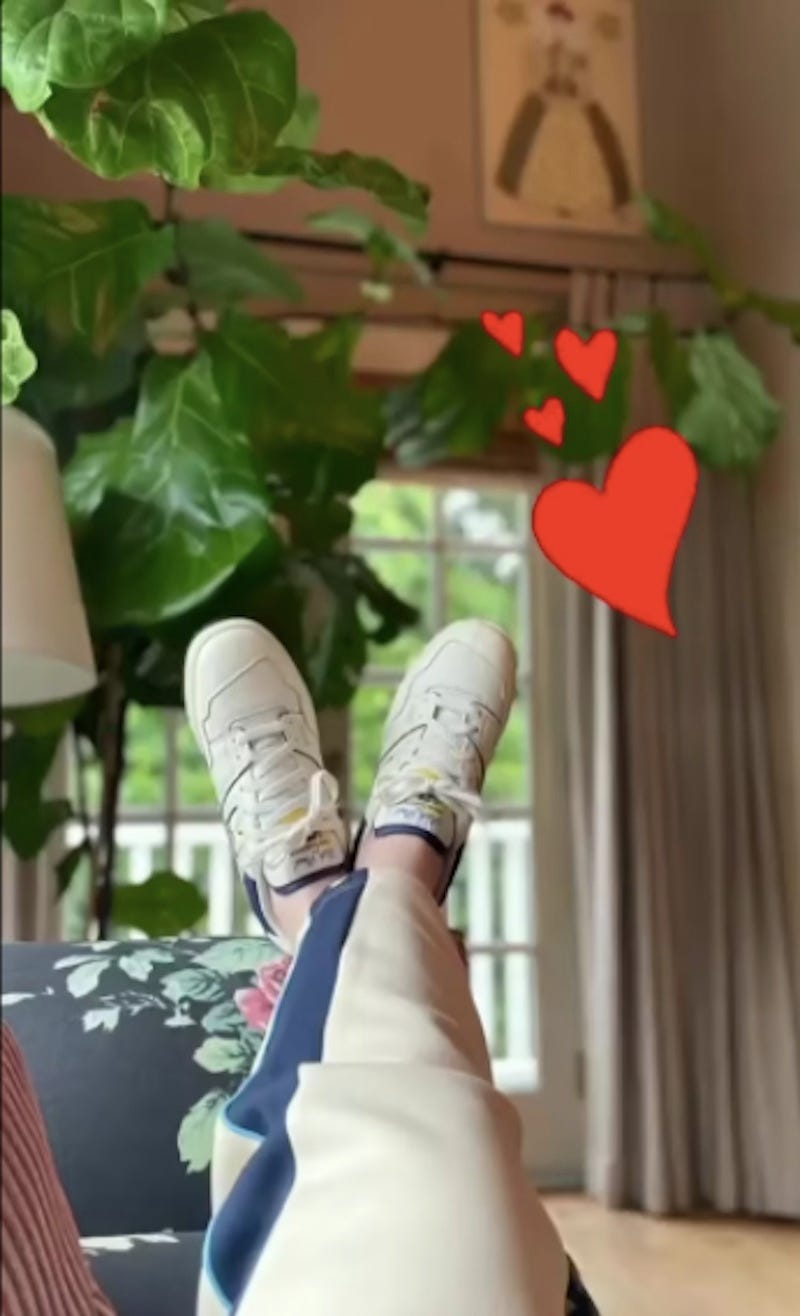 Instagram
She was also wearing a pair of cream sweatpants with blue stripes, matching the shoe's color story.
Adele and Rich Paul joined Jay-Z at SoFi Stadium in December 2021.
On Thursday, December 16, the couple appeared at SoFi Stadium with Jay-Z and LeBron James' business partner Maverick Carter in a luxury suite. They were photographed holding hands by ESPN as they enjoyed the Kansas City Chiefs-L.A. Chargers game.
This content is imported from twitter. You may be able to find the same content in another format, or you may be able to find more information, at their web site.
James joked about the photos on his Twitter account, quote-tweeting the images and asking, "Who the heck are Jay-Z and Adele's +1s????"
Obviously, both Paul and Carter are quite well-known the the NBA star.
Adele and Paul were still together in May 2022 although they spent Adele's birthday apart.
Adele and Paul's relationship quietly remains on and strong. While the two were apart on Adele's 34th birthday, People reports the couple had dinner in Napa Valley on May 8.
"Adele is still seeing Rich," a source said. "They are both very busy though. She is working on her residency and Rich is busy with his clients. They see each other when they can."
Adele and Paul went to a wedding together in June 2022.
On June 25, Adele and Rich Paul attended Cleveland Cavaliers star Kevin Love and Sports Illustrated Swimsuit model Kate Bock's wedding at the New York Public Library. A photo of them in their full glam was posted to LeBron James' Instagram account. They stood as a couple across from James and his wife, Savannah James.
Adele wore an off-the-shoulder black gown that ended at just her ankles and which was draped with sheer tulle fabric. She was wearing pointed black pumps and carried a black clutch. Paul was in a black tuxedo tailored to fit the Great Gatsby theme of the evening with a classic fit.
James captioned the photo, "ICONIC."
Paul spoke about having more kids in June 2022.
On June 11, 2022, during interview with E! News, Paul seemed to hint that he'd be open to having more children and being an "older dad."
"As a young dad, growing a business, it was pretty tough," he said. "But now looking as an older dad and my kids being much older, and obviously, if I was to have more kids … I'm looking forward to being a different dad, a more patient dad."
Adele says she would love to have more kids with Paul.
In an interview with BBC Radio Four's Desert Island Discs on July 1, 2022, Adele said she'd "definitely like a couple more kids" with Paul. She has one child now, nine-year-old son Angelo, who she shares with her ex-husband, Simon Konecki.
"I would definitely love a couple more kids," she said. "It would be wonderful. If not, I've got Angelo."
Adele has mentioned wanting to have more children before, saying in an interview on the Graham Norton Show in February that her recently cancelled Caesars Palace Las Vegas residency would "absolutely 100% happening this year."
She explained, "It has to happen this year because I've got plans for next year. Imagine if I have to cancel because I am having a baby!"
Adele spoke once more about her hope to have another child soon and Paul's thoughts on possible names in August 2023.
During a late August Las Vegas residency show, Adele spoke to two fans about her hope to have another child on the sooner side. "I really want to be a mom again soon, so every time I see a name I like, I write it down in my phone," Adele said, via Entertainment Tonight. "I can't say Parker because Rich likes that name." Adele noted that she likes the names Ray and Spencer.
Adele tells ELLE she is obsessed with "Rich Paul."
Adele was featured on the cover of ELLE's September issue, where she gushed about how her relationship with the sports agent is unlike anything she's ever experienced.
"I've never been in love like this. I'm obsessed with him," she announced. When asked if she'd consider remarrying following her divorce from ex-husband Simon Konecki, Adele answered, "Yes, absolutely."
She went to say, "I definitely want more kids. I'm a homemaker and I'm a matriarch, and a stable life helps me with my music. But right now, all I got in my brain is [my upcoming Las Vegas residency]. I wanna f*cking nail it."
Adele sang to Paul during her Las Vegas residency for his birthday in December 2022.
Paul celebrated his 41st birthday on December 16, 2022. Adele serenaded her sweetheart while on stage at The Colosseum at Caesars Palace in Las Vegas. She sang him "Happy Birthday," and naturally, it went viral. Fans took to Twitter to share the wholesome moment.
"It's my boyfriend's birthday today, and I love him more than life itself," she said. "Can we wish him happy birthday?"
This content is imported from twitter. You may be able to find the same content in another format, or you may be able to find more information, at their web site.
In February 2023, a year after Adele first sparked speculation she and Paul were engaged, DeuxMoi claimed the singer and agent were planning a summer wedding.
Adele played coy when she sparked Paul engagement rumors last February by wearing a diamond ring on her left ring finger to the BRIT Awards. She said, days after on the Graham Norton Show while still wearing the ring, "If I was [engaged], would I ever tell anyone if I was or wasn't?"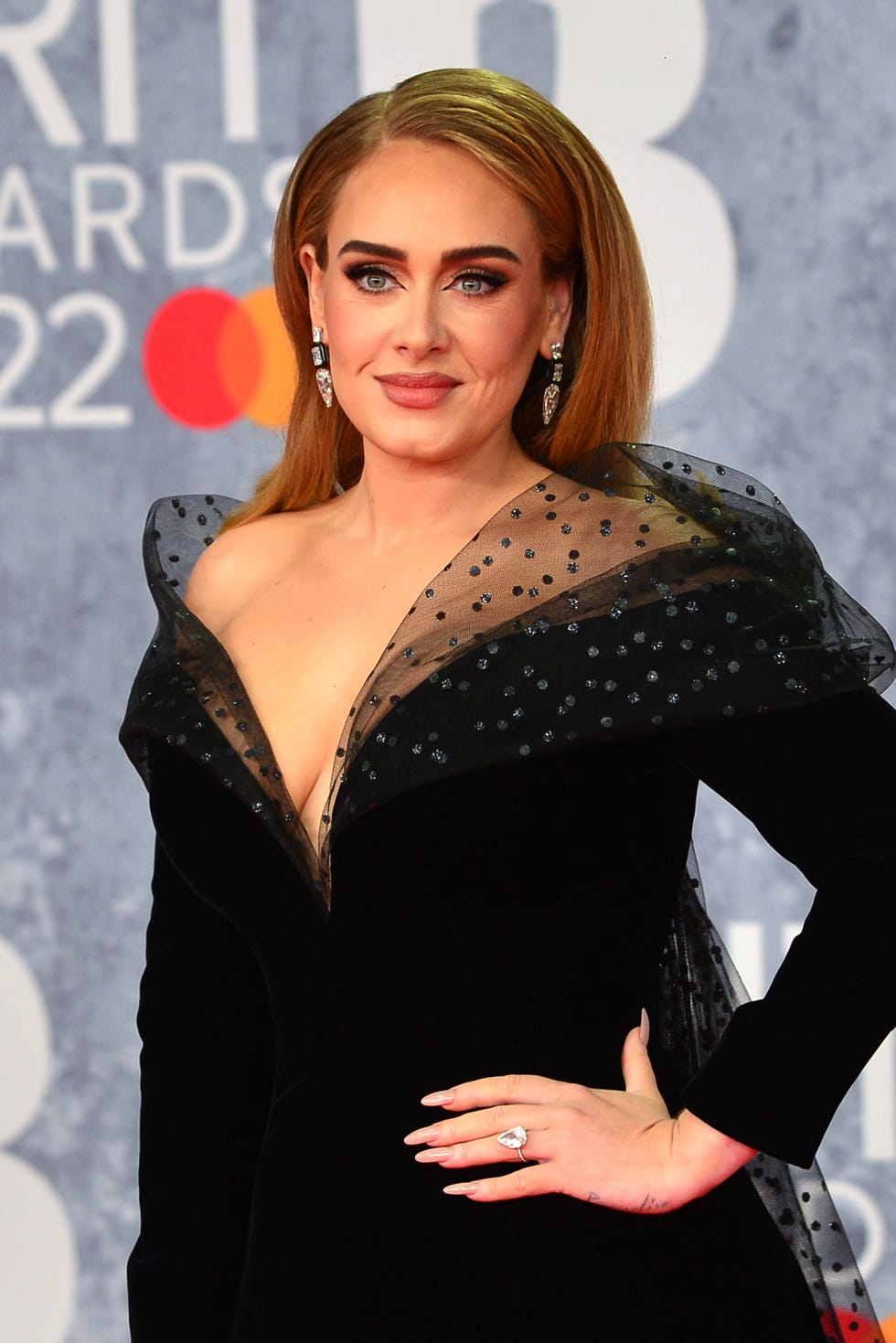 Jim Dyson//Getty Images
A year later at the end of February 2023, unverified celeb gossip Instagram DeuxMoi claimed that Adele and Paul really were engaged and planning to get married in the summer, per a "reliable source." DeuxMoi did not disclose who this source was or what makes them reliable, however, and Adele has not ever confirmed her engagement. It's just more fodder to the engagement rumor.
In April 2023, they had a rare public outing at an NBA game.
Adele and Paul had a casual date on Friday, April 28, attending the NBA game at the Crypto.com Arena in Los Angeles where the city's Lakers and the Memphis Grizzlies were facing each other in the playoffs. The singer was wearing a grey tracksuit from Klutch Athletics, her fiancé's sportswear brand he co-authored with New Balance. Though the outfit was relaxed, she had on some glam makeup, including a smokey eye and dark lipstick.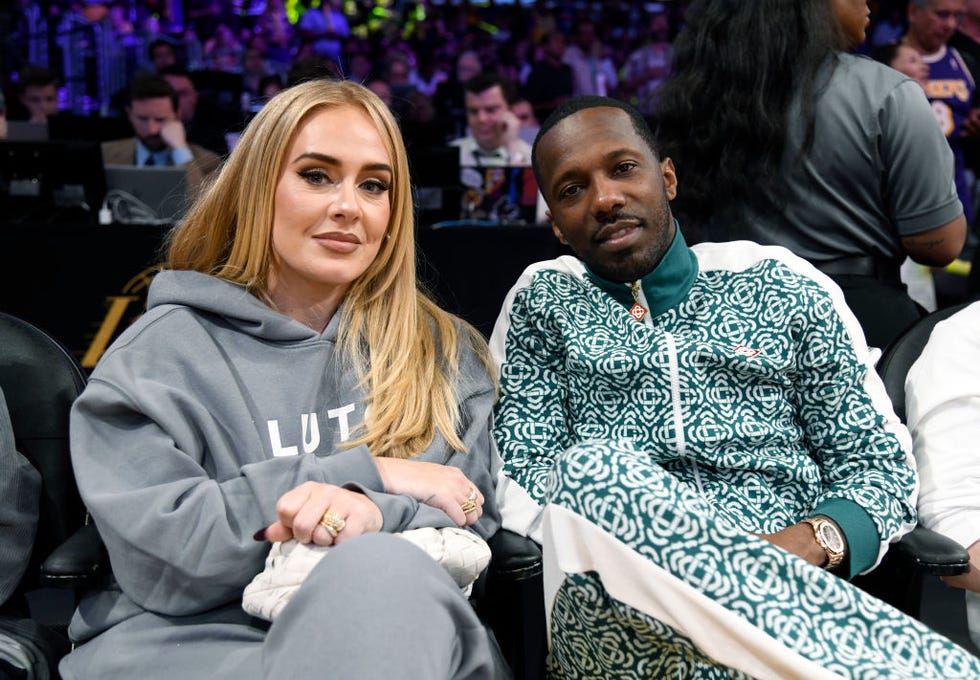 Kevork Djansezian//Getty Images
Paul was also in a tracksuit set, this one in patterned white and green with a zippered jacket.
They were court side for the Lakers playoff game in May.
On Saturday, May 6, the couple were seen on another date at the Crypto Arena in Los Angeles for the 2023 NBA playoffs. The singer was wearing a two piece made of flowing tan fabric with loose slacks and matching button down. She paired the look with black sandal heels and hold hoops that matched her necklaces and bracelets. Paul wore a black tracksuit with green details over a white t-shirt underneath and a pair of colorful sneakers. They were seated next to actress Nia Long and the stadium was full of other celebrities, including Leonardo DiCaprio, Kim Kardashian, Rob Zombie, Kevin Hart, and Michael B. Jordan.
A source explained in October 2023 why Adele keeps calling Paul her husband.
The couple has been regularly calling each other husband and wife despite not being married, and Adele has made headlines for doing it during her Las Vegas residency.
A source told Us Weekly that Paul actually started calling Adele his wife two months into dating.
"They aren't married but they do call each other husband and wife and have been for a while now," the source said. "Adele loved the security [of it] and how much he adores her."

Hilary Weaver is a freelance writer based in New York who writes about politics, queer issues, Meryl Streep, Glenn Close, and every woman the Queen has ever made a dame. I saw Mamma Mia! Here We Go Again three times in theaters, and that's pretty much all you need to know. 

Assistant Producer
Hannah Malach is an assistant producer at Hearst Magazines, where she covers entertainment news, the royals, and more for brands including Cosmopolitan, Elle, and Harper's Bazaar. She's previously written for Billboard, WWD, and The Hollywood Reporter. If she's not catching up on the latest season of RuPaul's Drag Race, you can probably find her curled up with a good book or exploring one of New York City's many museums.
Senior News and Strategy Editor
Alyssa Bailey is the senior news and strategy editor at ELLE.com, where she oversees coverage of celebrities and royals (particularly Meghan Markle and Kate Middleton). She previously held positions at InStyle and Cosmopolitan. When she's not working, she loves running around Central Park, making people take #ootd pics of her, and exploring New York City.