As Kristen Stewart and Dylan Meyer's relationship continues way past the two-year mark, things between them are stronger than ever—to the point where they're ready to get married. On November 2, 2021, Stewart revealed the two are engaged to Howard Stern, and Meyer popped the question.
"We're marrying, we're totally gonna do it," Stewart said. "I wanted to be proposed to, so I think I very distinctly carved out what I wanted and she nailed it. We're marrying, it's happening."
It's a decidedly new chapter for Stewart, who opened up in a recent issue of InStyle about being "sort of cagey" in previous relationships. Meyer and Stewart were first romantically linked in summer 2019, but the couple actually met six years before on a movie set, Stewart told Howard Stern last November. They later reconnected at a birthday party for a mutual friend. "The day that I met her, all bets were off," Stewart remembered. "I was like, 'Where have I been and how have I not known you?' She's been, like, living in LA alongside my life somehow but not ever converging?"
The actress even told the radio host that she was ready to propose in November 2019, two years before it actually happened.
In July 2021, the two even sparked secret marriage rumors when they were photographed wearing rings on their left ring fingers, although they never even announced they were engaged. In September 2021, the two were photographed together again, signaling their relationship remains on and strong.
Ahead, everything we know about Meyer, including her screenwriting career and how she paid tribute to Stewart during her birthday and Valentine's Day in 2023.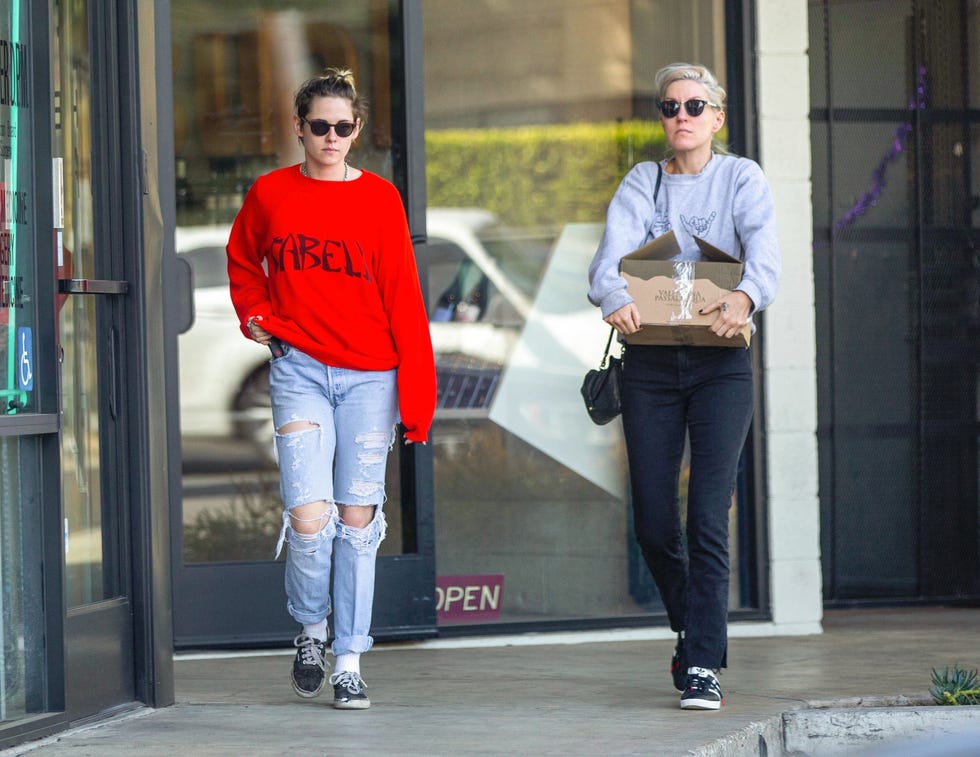 JAPZ, JOGA, GEDU//BACKGRID
Meyer is a screenwriter and actress.

Stewart told Stern that she met Meyer on a movie set six years ago. While she didn't specify which one, Meyer has written and co-starred in multiple films and TV shows. She co-wrote and executive produced the 2016 Netflix movie XOXO, starring Sarah Hyland. She penned episodes of the sci-fi series Miss 2059. Meyer also wrote the short films Loose Ends (2015) and Rock Bottom (2019), which you can watch right here:
As for her acting credits, Meyer has appeared in short films including The Death and Return of Superman (2011), Wrestling Isn't Wrestling (2015), and Jem Reacts to the New Jem and the Holograms Trailer (2015).
The couple began dating after Stewart ended things with model Stella Maxwell.

Rumors about Meyer and Stewart's relationship began in August 2019 when the pair was seen kissing on a New York City stoop. The sighting came less than a month after Stewart was photographed kissing on-off girlfriend Stella Maxwell on a yacht in Italy. A source told E! at the time that while "it will always be very easy for Kristen to fall back with Stella," she's focused on her new relationship with Meyer.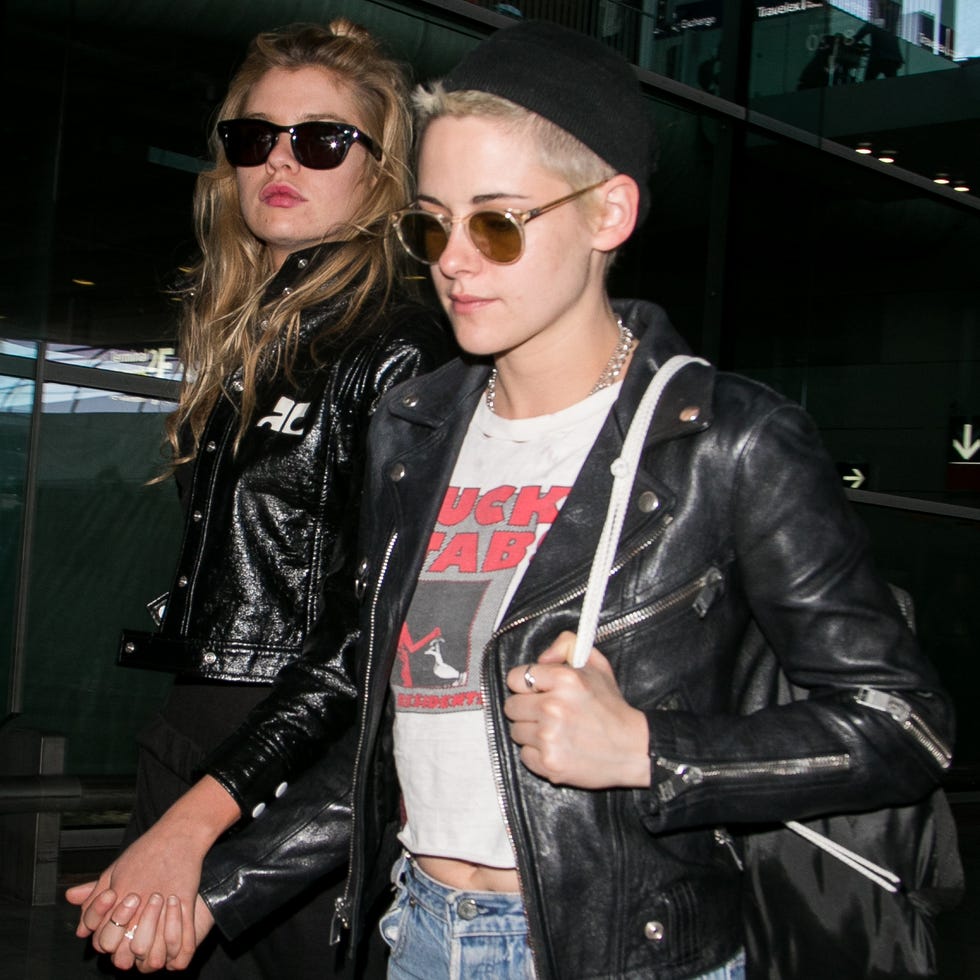 Maxwell and Stewart in 2017.
Marc Piasecki
//
Getty Images
"Kristen is spending time with Dylan and very happy about it," the insider told E! News. "She was seeing Stella for a little bit while it worked, but now she has moved on with Dylan." The source added, "Kristen isn't holding back at all and loves being with her. They are moving quickly and always together."
Stewart confirmed the fast-paced nature of their romance during her November interview with Stern, revealing to him that she told Meyer she loved her two weeks into dating. "It was like really late, and we were in some shitty bar, and her friends were there or whatever, and they like walked out, and I was just like, 'Oh man, I'm so f*cking in love with you. Done,'" she recalled. "It wasn't like a thing, and also it was like so obvious. It just is." Stewart later added of their connection, "We're both from L.A. and we really love L.A. We're both kind of like, scumbags. We both felt like trolls as kids. We're so similar but different. She's a writer; she's brilliant."
The pair went Instagram official in October 2019.
Although Stewart herself doesn't have a public Instagram, Meyer shared a first glimpse into the couple's relationship last October. She posted a black-and-white snap of a polaroid where the couple can be seen kissing. "Find me under the covers hiding from the happiness police. 🖤," she captioned the post.
Six months later, Meyer shared a birthday tribute for Stewart on the 'gram, writing, "It's my absolute favorite person's birthday and I'm wishing everyone the volume of beautiful feeling I feel toward her. It's a short ride on this earth, spend your time with someone that inspires you to be the best version of yourself and lights your shit on fire."
Her Instagram aesthetic is cats and nature.
When Meyer isn't gushing about Stewart, her social media is filled with a ton of nature and animal photos. You'll find pictures of her cats Zsa Zsa and Snack in various scenarios, as well as outdoor shots from around Los Angeles.
Stewart said she was ready to propose to Meyer in November 2019.
The couple may keep their romance private, but that doesn't mean things aren't serious between them. During her November 2019 interview with Stern, Stewart got very candid about her feelings toward Meyer. She told Stern that she "can't f*cking wait" to propose to Meyer and said she would "absolutely" get married.
"Yeah, I want to be, like, somewhat reasonable about it, but I think good things happen fast," Stewart continued, telling Stern she has a plan for how she'll pop the question. "I can't say right now, because she'll find out." Stewart also said that her matrimony plans weren't "tied to any weird sort of convention; it's just, like, when you know, you know."
They spent quarantine together.
Meyer and Stewart kept a low-profile during stay-at-home orders but made made a rare outing in June 2020 for a coffee run in L.A. The Daily Mail captured photos of the couple wearing casual gray and black outfits, masks, and sunglasses while on their errand.
The outlet also published photos of the couple participating in a Black Lives Matter protest in Los Angeles earlier this month, following the deaths of George Floyd, Breonna Taylor, Ahmaud Arbery, and others at the hands of police.
Sources told E! in October 2020 that Stewart and Meyer attended an intimate baby shower for Emma Roberts and Garrett Hedlund. (Stewart and Hedlund co-starred together in 2012's On the Road.) They joined the likes of Camilla Morrone (Leonardo DiCaprio's girlfriend) and Lily Kershaw to celebrate the upcoming arrival of Roberts and Hedlund's son.
Stewart has used Meyer's Instagram.
Stewart, who next stars in the LGBTQ holiday rom-com Happiest Season, doesn't have a 'gram. However, she used her girlfriend's platform to urge people to vote in the upcoming election. "I turned the mic over to Kristen because she had some things to say and doesn't have her own account. Happy #nationalvoterregistrationday!" Meyer captioned a selfie of Stewart in a "VOTE" tee on September 22. Kristen wrote, via Meyer's account:
"I never do this but for anyone who has not registered to vote please take this opportunity to feel HEARD. And not hopeless. I am voting because I WANT to believe in our country. Because I believe in climate change. I believe in systemic racism. I believe in freedom of speech and the right to assemble. I believe in gun control. I believe that women have a right to make choices about their own bodies. I believe people have the right to live and love and identify however they feel in their hearts without fear. I believe that people care about each other. So try and have a lovely Tuesday and vote for your fucking lives."
Meyer also shared a black-and-white photo of herself and Stewart to encourage voting. "I think I might chew my fingers off from nerves today but here's a sweet photo @lindseybyrnes took. I really hope you vote. There are lots of crucial issues on your ballot besides the presidency and your voice truly does make a difference. The opportunity to have a say in the laws that govern you is precious, please don't waste it," she captioned the snap.
Meyer celebrated Stewart's 31st birthday with a sweet tribute.
On April 9, Stewart's 31st birthday, she and Meyer were out grocery shopping (masked).
She also posted on Instagram to celebrate her girlfriend's birthday.
"Life sure is sweeter with this cute little family," she wrote. "Happy birthday, kiddo. You knock my socks off."
Meyer and Stewart sparked marriage rumors in July 2021.
LaineyGossip pointed out that Stewart and Meyer were photographed at LAX in July 2021 wearing rings on their left ring finger. The two never confirmed wedding rumors or that Stewart even proposed to Meyer at this point. Meyer and Stewart, throughout their relationship, have managed to keep most details private and out of the limelight.
Stewart announced her engagement to Meyer in November 2021.
On November 2, Stewart told Howard Stern that Meyer popped the question.
"We're marrying, we're totally gonna do it," Stewart said. "I wanted to be proposed to, so I think I very distinctly carved out what I wanted and she nailed it. We're marrying, it's happening."
Stewart joked she and Meyer may elope in January 2022 and have "unceremonial" wedding plans.
During her appearance on Stephen Colbert's talk show, Stewart addressed wedding planning—and how they may just elope. "I want to have a big party or something," she said. "I'm so unceremonial. I think we might just go do it this weekend or something, I don't know, and then, like, just hang out with everyone afterwards," Stewart said.
She had more wedding details in October 2023.
On Thursday, October 26, Stewart appeared on an episode of Watch What Happens Live With Andy Cohen, and shared more about her wedding plans, particularly her hope that the ceremony will be officiated by celebrity chef Guy Fieri.
"Oh, we have a lot of, like, similar fashion sense and hair," she said of the culinary star. "Also, I think he just seems like a really nice dude, and he marries a lot of queer people."

Apparently, Fieri has a history of officiating LGBTQ+ weddings, to which Stewart responded, "Guy? My guy? You kidding me?"
She said that when Fieri's team actually contacted her about it, she was excited.
"They reached out and they were like, 'You know, we are down for this,'" Stewart explained. "And I was like, 'Me too, but also, like, I'm bad at planning stuff. So, I'll hit you up soon.'"
But it might never happen.
"I think we're probably just going to marry each other, and then call Guy and say, 'You were here in spirit, babe,'" she joked.
When asked about a wedding date, Stewart said, "I don't know…We're gonna sort of surprise ourselves."
She went on, "We're either going to have, like, no one—we're just going to do it ourselves and just, like, not have somebody officiate to sort of, like, have another party involved in, like, our moment."
Meyer and Stewart are friends with Ashley Benson, who shared photos of them together at Disneyland.
It isn't often Stewart and Meyer's private life with friends is documented on social media, but Ashley Benson gave the world a rare glimpse into their dynamic in January 2022. The former Pretty Little Liars actress shared a group shot of Stewart and Meyer alongside each other and friends at Disneyland. "Family trips to Disney @cjromero @spillzdylz @sweetsuzieq @michael," Benson captioned the shot, tagging Meyer's Instagram.
Meyer has joined Stewart during the recent awards show circuit.
Stewart is nominated for Best Actress at the Oscars this year, and ahead of the ceremony, Meyer joined Stewart on the events circuit. On March 8, Meyer attended the Oscars nominee luncheon with Stewart and The Hollywood Reporter's Oscar nominees night. Meyer matched her outfits to Stewart's for both events, wearing a black Alessandra Rich mini dress for the luncheon and a white tank in the evening.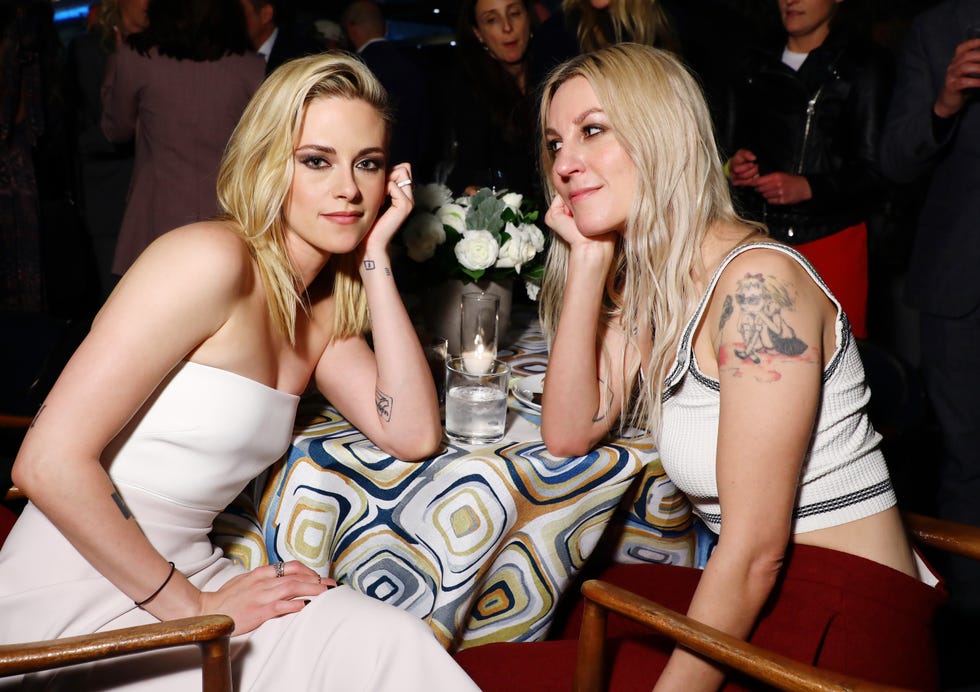 Sara Jaye//Getty Images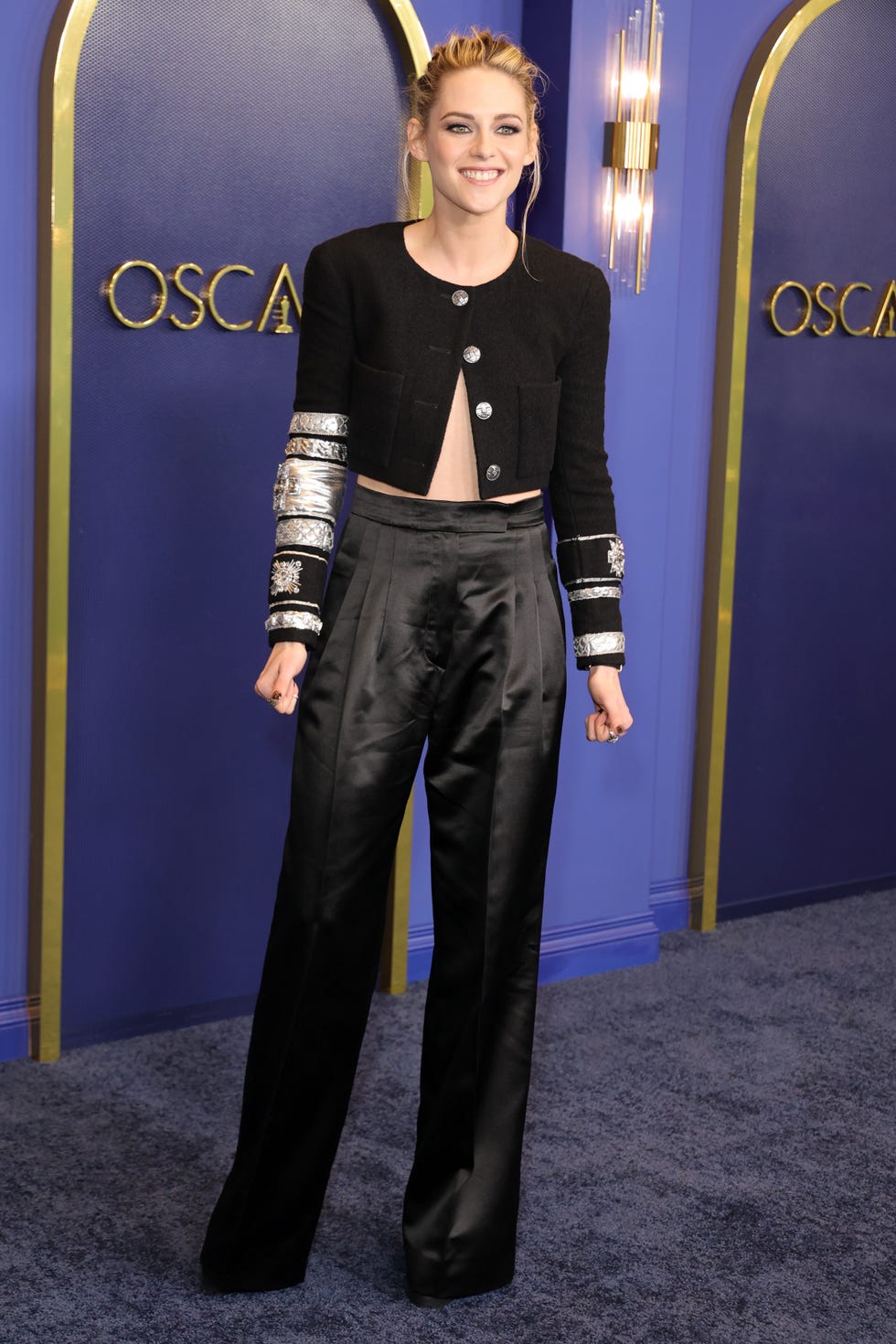 Momodu Mansaray//Getty Images
The two then attended the Critics' Choice Awards together, where Stewart was nominated for Best Actress for her portrayal of Princess Diana in Spencer. At the show, Stewart wore a nude, glittery Dolce & Gabbana gown with Messika jewelry and Jimmy Choo shoes and Meyer wore a complimentary white August Getty Atelier and Chanel ensemble.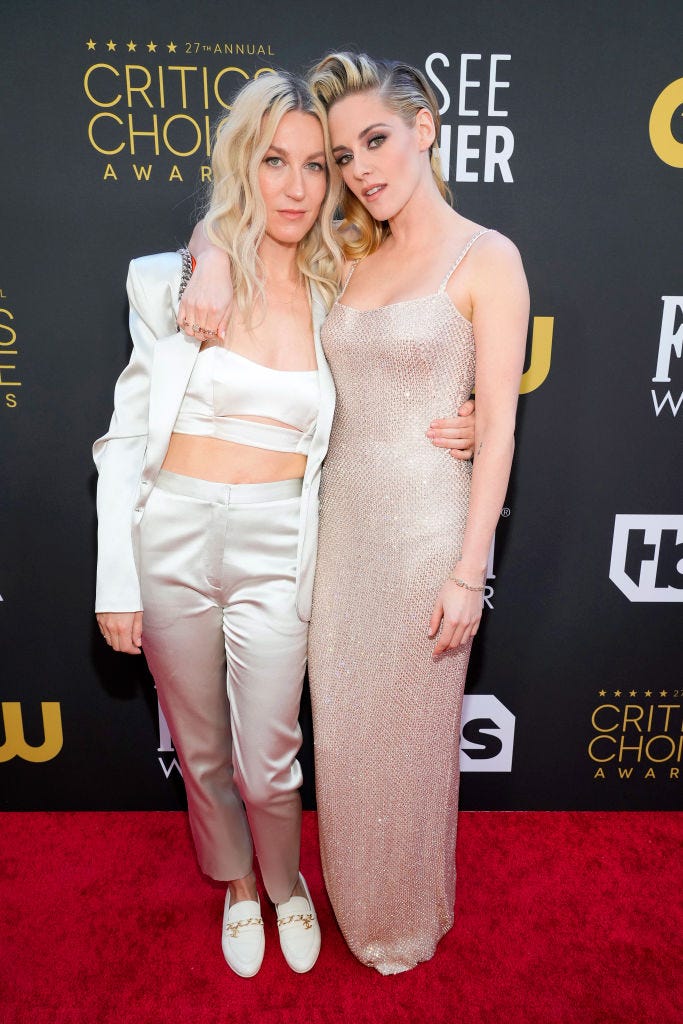 Kevin Mazur//Getty Images
Stewart spoke this month about how blessed she feels having her personal life and career thrive at the same time. "I'm living a simulation, it's too good," Stewart told E!. "You run through the list, and I go, like, is that possible? Right now, I'm definitely feeling it. It's not lost on me any second of any day. I will tell you that."
They attended the 2022 Oscars together.
To top off an eventful awards season, Meyer and Stewart stepped out together at the 2022 Academy Awards, where Stewart is nominated for Best Actress for her role in Spencer. The duo, matching in black and white suits, posed together in the red carpet and engaged in some PDA in front of the cameras. They held hands as photos snapped and shared a quick kiss before Meyer let Stewart pose solo.
In November 2022, Stewart drove her fiancée around Los Angeles.
On Saturday, December 3, the pair were spotted tooling around Los Angeles in their Dodge van like any suburban couple. They were headed to a friend's house and dressed comfortably for the afternoon. Stewart was behind the wheel and smoking a cigarette as she navigated the quiet streets. The Twilight actress was wearing black Adidas sweatpants with white stripes and a black sports bra under a hoodie. She paired the look with white Nike sneakers and sunglasses. After being a blonde for quite a while, Stewart has gone brunette with a short chop.
Meyer was also dressed casually and in sunglasses. Sunday, December 4, was Meyer's 35th birthday, so there may have been fancier plans ahead for the couple.
Meyer shared an adoring tribute to Stewart for Valentine's Day 2023.
While the pair have kept their relationship mostly under the radar, Meyer posted a tribute to Stewart on her Instagram on February 14, 2023. Meyer wrote: "One time I turned a hundred dollars into fourteen hundred dollars at a casino in Pittsburgh. I was playing craps (my first time ever) and when it was my turn at the dice I didn't roll a seven for forty five minutes straight. Strangers were getting rich off of my hot streak, tipping me chips and tequila shots. Cheering for me, clapping me on the back. Calling their gambling addicted friends/co-workers/ex-wives to regale them with my extraordinary feat. I was the hero of the people, an instant legend. Bennie and the Jets was playing. My hair looked great, too. And even this, the clear peak of my short time on earth, does not remotely come close to how it feels to spend a Monday night in sweatpants with you, valentine."
Meyer posted a 33rd birthday tribute to Stewart about how much she loves her.
On April 9, 2023, Meyer took to Instagram to share her love for Stewart again in honor of the actress' birthday. Meyer wrote, "Cheers to my favorite Shrimp on her birthday! Sweetheart, I love you more than all the shades of green, all the phases of the moon, all the cats in LA. Love you more than chunking express, or Denis Johnson's already dead, or the stooges' raw power. I love you more than a dominos pizza when you're stoned, a Ricky's fish taco when you're hungover, and EVEN more than a plate of wings ~ hot and extra crispy ~ from rustic, aka the pinnacle of my capacity to love. Some might say that's too much love but I say those people are squares. Go big or go home! Happy birthday dude I love you so much."
Meyer and Stewart were photographed together in August 2023, in yet another subtle show of their enduring relationship.
Meyer and Stewart continued to keep their relationship mostly private during summer 2023, although paparazzi captured the couple grabbing dinner with friends on August 4, 2023 in Los Angeles.
Meyer herself last posted a shot of her with Stewart on Instagram in June:
Meyer and Stewart were seen getting brunch in complementary blue outfits in early October 2023.
Meyer and Stewart kept a low profile through September. Paparazzi captured them getting lunch together Little Dom's in Los Angeles on October 2 though. Both matched in blue looks, with Stewart wearing a light blue cardigan with a white top and light-wash jeans. Meyer was in khaki pants, an open navy blue button-up, and a white top. See photos here.

Editorial Fellow
Savannah Walsh is an Editorial Fellow at ELLE.com.

Hilary Weaver is a freelance writer based in New York who writes about politics, queer issues, Meryl Streep, Glenn Close, and every woman the Queen has ever made a dame. I saw Mamma Mia! Here We Go Again three times in theaters, and that's pretty much all you need to know.