In the NFL, Brittany and Patrick Mahomes are quite the power couple. While they've always attracted attention as a pair, in 2023, Brittany got a new wave of followers for her quickly developing friendship with pop star Taylor Swift. Swift is recently romantically linked to Patrick's teammate, Travis Kelce, and she and Brittany have been buddying up in the VIP box during Kansas City Chief games this fall.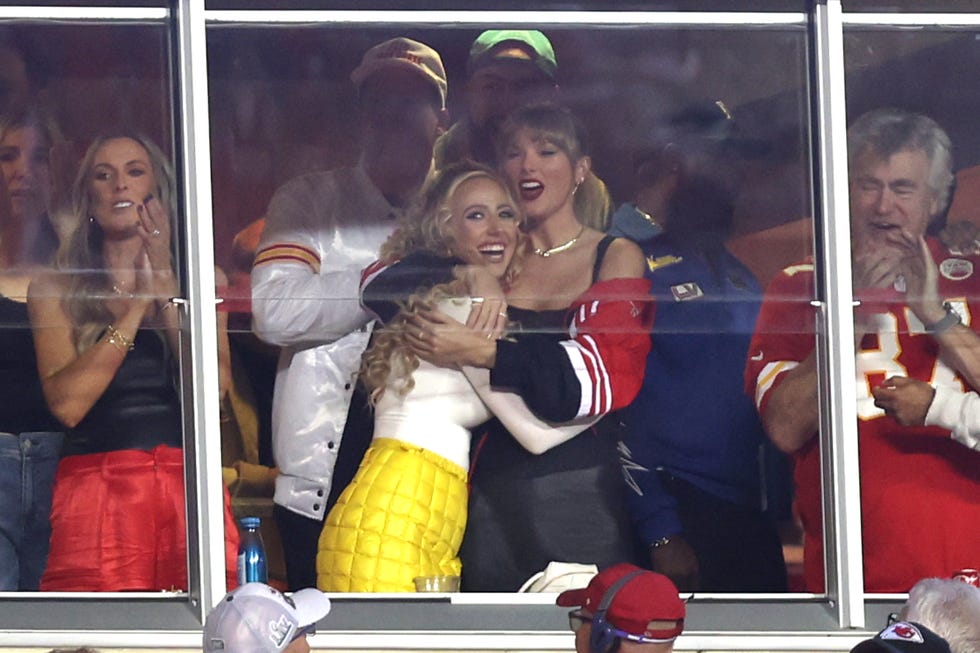 Perry Knotts//Getty Images
For people just catching up with the Mahomes, here's everything to know about Patrick's wife, Brittany.
Who is Brittany Mahomes?
Born Brittany Matthews in August 31, 1995, in Whitehouse, Texas, Brittany is an athlete in her own right. In college, she was a soccer star, and she then grew her own company, Brittany Lynne Fitness, which runs programs for clients with guided workouts. She went on to found the Kansas City Current as an expansion team in the National Women's Soccer League in 2021, co-owning it with her husband.
She currently has 1.4 million followers on Instagram, so she is something of an influencer, too, with affiliate links in her profile that often lead to sold-out clothes. People want to wear what Brittany and her kids do.
How did Brittany and Patrick Mahomes meet?
The couple have been together since 2012, after meeting in high school. Brittany has shared how she knew he was someone she wanted to be with.
"He brought this little Valentine's gift for me at lunch one day. It was like a heart-like card and said, 'Happy Valentine's Day,' and like a rose or something," she said. "And he just brought it to me as a funny joke, but I thought it was the cutest thing in the world. Everyone in the cafeteria started chanting like, 'Kiss her, kiss her' to him and I was like, 'I'm doing this,' and then from then on, I think that's where I just kind of started getting a crush on him. Then boom, we just fell in love."
They announced their engagement in 2020, after Patrick proposed to her in a VIP box at Arrowhead Stadium in Kansas City, Missouri. The moment came just a day after the team received their Super Bowl 54 rings as well as the day after Brittany's 25th birthday.
Once again, flowers were a big part of their special moment. A marquee of white blooms and lights spelled out, "Will You Marry Me."
Brittany shared a pic of the display in her Stories at the time, adding, "This happened today."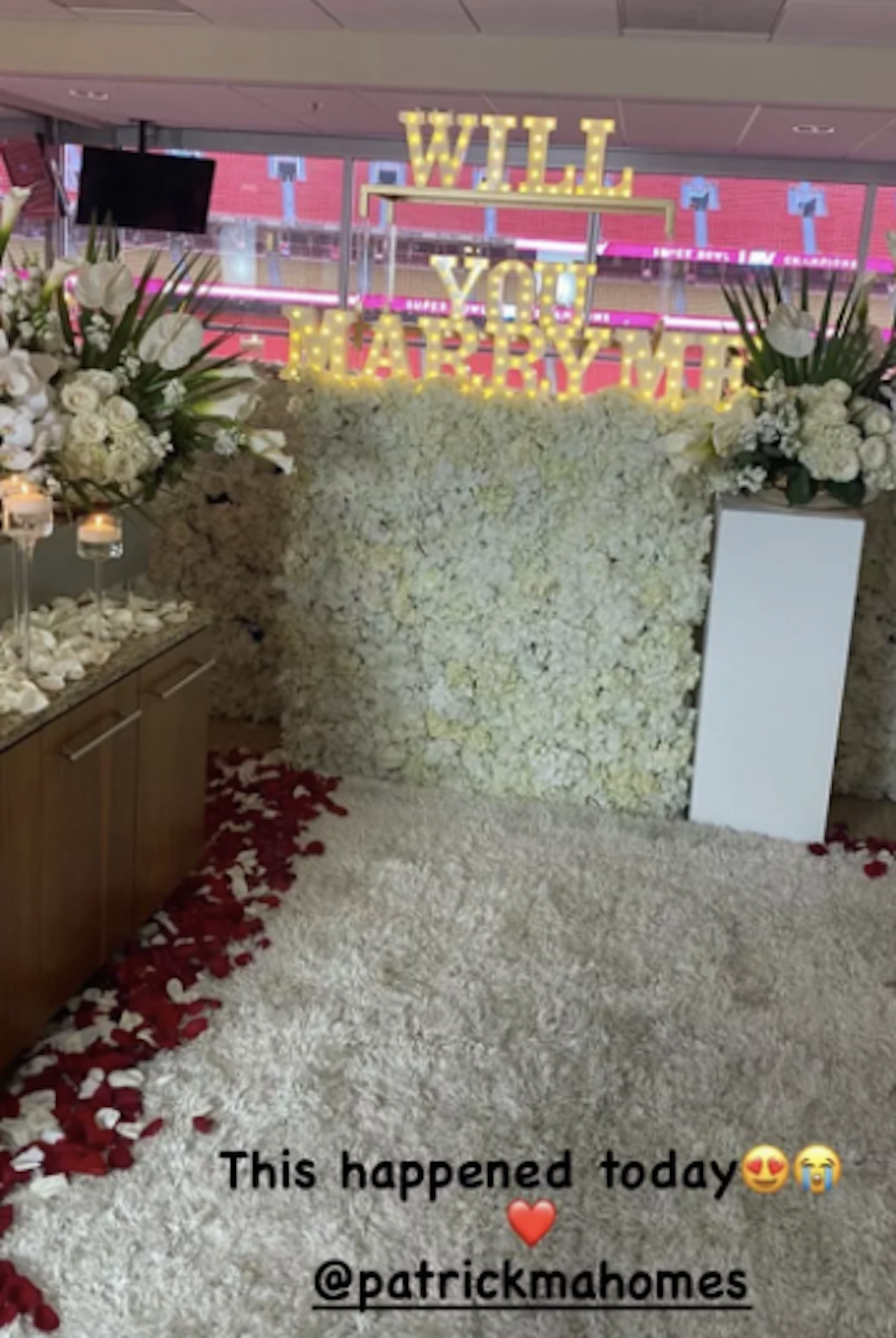 Instagram
Later, they shared a picture of the engagement ring, an emerald-cut diamond on a double band with the caption, "Ring SZN."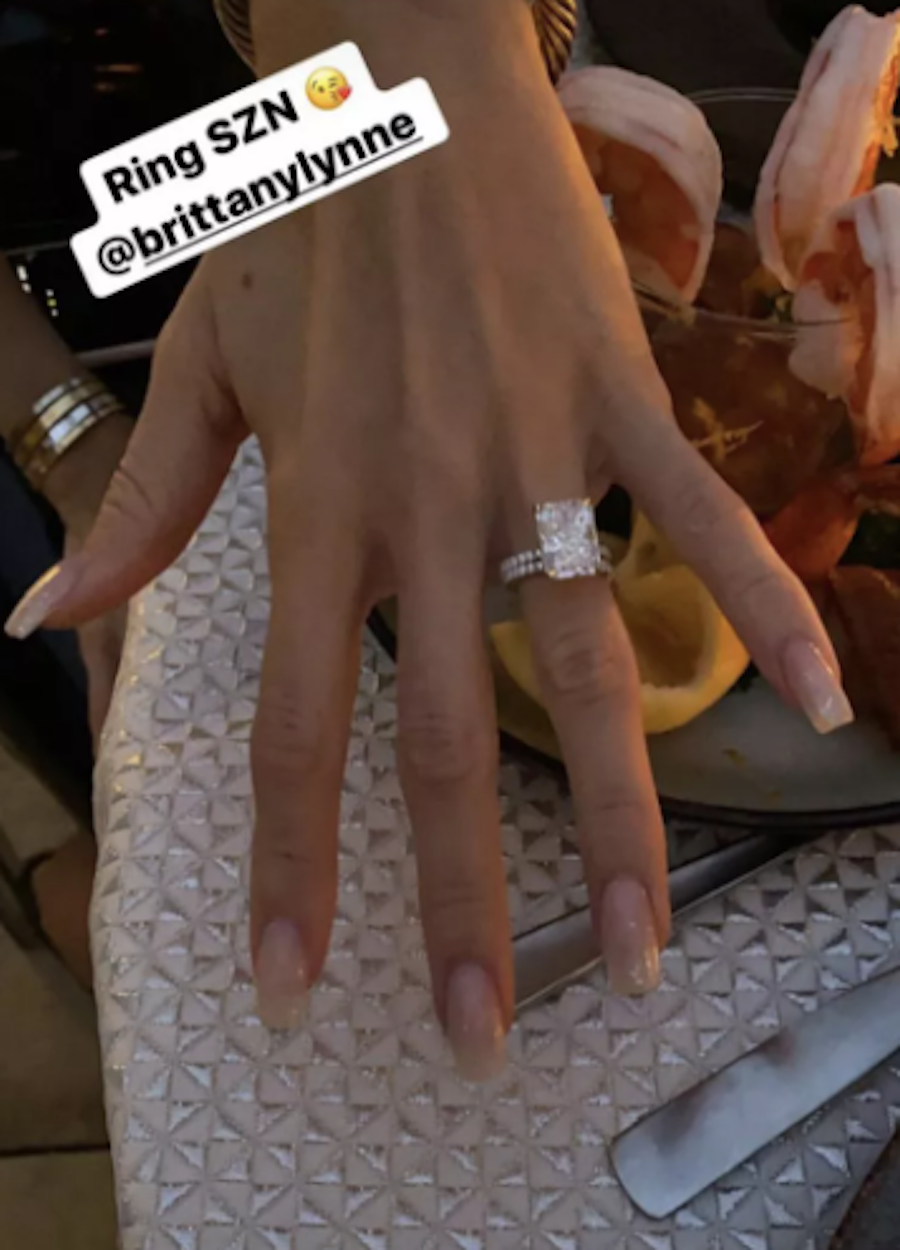 Instagram
To celebrate their engagement, the couple shared a private candle-lit dinner, but she offered a glimpse of the table to her followers.
"My heart is so full," Brittany wrote over the photo. "Couldn't imagine this day being any more perfect!"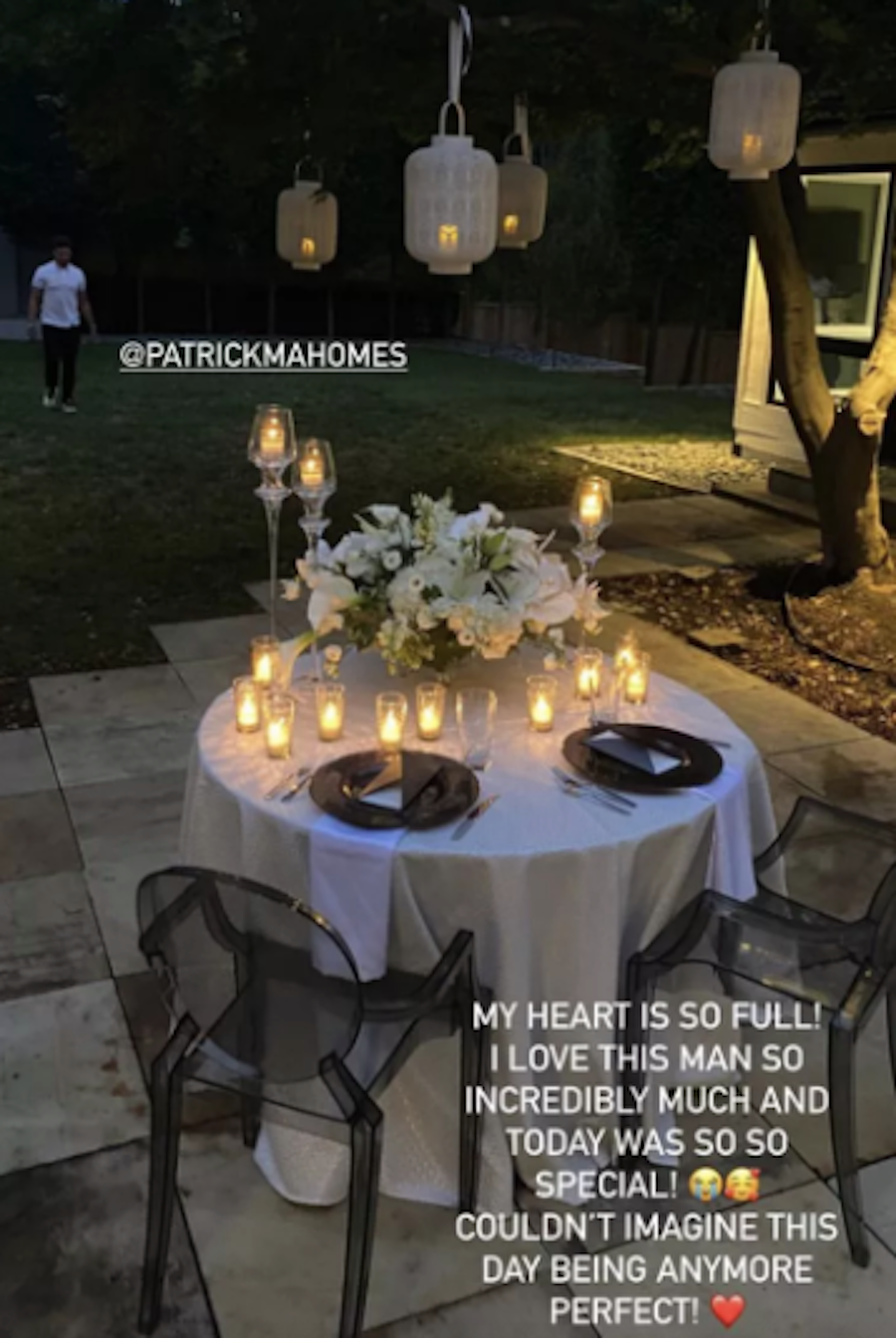 Instagram
The pair were married on March 12, 2022, in Hawaii in a ceremony with family and close friends.
Do Patrick and Brittany Matthews have any children?
Less than a month after the proposal, they announced they were expecting their first child. They welcomed their daughter, Sterling Skye, in February 2021.
Their son Bronze was born in November 2022.

What is Brittany's relationship with Taylor Swift like?
A source told Daily Mail in late October 2023 that the two women hit it off fast and were becoming friends outside of NFL game day, too. "[They] are working on building their relationship, so when people see their handshake and doing the girly girl thing, it's exactly what people close to them expect to happen," the source said. "They aren't embarrassed by it."
"Taylor and Brittany will hang out in the future," the source continued. "There has been talk that after the season is done that Brittany and Patrick will see one of her shows overseas. Although their friendship is mostly at the stadium, slowly but surely they are going to be doing double dates and hanging out with each other more and more."

Aimée Lutkin is the weekend editor at ELLE.com. Her writing has appeared in Jezebel, Glamour, Marie Claire and more. Her first book, The Lonely Hunter, will be released by Dial Press in February 2022.