Cardi B and Offset called it quits in 2020, TMZ reported at the time, but they reconciled before the end of the year and welcomed a new child in the fall of 2021. The couple's often tumultuous relationship has had its fair share of ups and downs prior to Cardi filing divorce papers in September 2020.
They started 2018 secretly married, but then dealt with cheating rumors. In April of that year, Cardi confirmed they were expecting a baby and that they were married. By the end of 2018, Cardi announced they'd fallen out of love and would be breaking up.
But the 2019 Grammys—including his onstage presence during her win—signaled they were back together for the foreseeable future. After she filed the divorce papers, he was by her side for her birthday in Vegas. Then, they reconciled, and Cardi dismissed the divorce case two months after she filed. They have been together since.
Ahead, we relive the big moments in an exhaustive timeline of their entire coupledom.
---
Sometime in 2016: Cardi and Offset meet at an "industry event."
Not much is known of the couple's first meeting, but Cardi has said they first met at an "industry event" and Offset pursued her.
"He was very consistent," Cardi said in a video on her Twitter account, recapping the night they met. "He really wanted to talk to me."
This content is imported from twitter. You may be able to find the same content in another format, or you may be able to find more information, at their web site.
January 2017: They release a song together called "Lick."
At this point, they were still ostensibly only collaborators and/or friends — and they were also still far from household names.
Cardi was still best known as a reality star at this point; her first hit, "Bodak Yellow," wouldn't come out for months. Migos' "Bad and Boujee" was climbing the charts, after having been released in October 2016, so Offset's star was on the rise.
Feb. 2, 2017: Offset appears on Cardi's Instagram at the Super Bowl.
Cardi B and Offset attended the 2017 Super Bowl together. Cardi posted on her Instagram Story about it, referring to Offset as "my friend… you know what I'm saying?"
People sensed what was really up, though, and rumors started flying that the duo were dating. Offset confirmed to Rolling Stone in January 2018 that this had been the pair's first real date. He called it a "power move," but we'd say the real power move is putting a guy on your Instagram the first time he takes you out, while simultaneously referring to him as a friend.
Feb. 14, 2017: Cardi posts a pic of them together with a kissy-face for Valentine's Day, pretty much confirming they're together.
The post has since been deleted, but it was a photo of them at the Super Bowl a few weeks earlier, according to Vibe. Offset commented with the boyfriend-girlfriend emoji, according to Bossip, so clearly they were well and truly hooking up by this point — although it'd be a long time before they admitted it.
June 22, 2017: Cardi continues to deny she's dating Offset, this time in an interview.
Cardi nabbed the cover of Fader magazine, but refused to confirm or define her relationship with Offset. She did talk about his work ethic, though.
"It's been a blessing, me meeting him and meeting his friends. I see how hard they work. And that motivated me to work even harder," she told Fader. "And I see how good things are going for them and how popping it is to be number one. And I'm like, I want that."
Aug. 27, 2017: Cardi drops a hilariously obvious marriage hint at the VMAs.
While talking to Charlamagne Tha God, Cardi — who still hadn't confirmed she was even dating Offset — said, "I'm a woman. Every woman, I think, wants to get married and wants to have children. It's never too early to get married now. You know, if you want to propose to me, you can."
Not very subtle—but it apparently worked.
Sept. 20, 2017: Cardi and Offset get secretly married.
While the rest of the world was obsessing over her new single "Bodak Yellow," Cardi was off getting married in secret, in Fulton County, Georgia.
The general public didn't learn the news until TMZ tracked down the couple's wedding certificate in June 2018. At that point, they'd been married for eight months but still hadn't announced it to the public.
Oct. 22, 2017: Cardi posts that she's "single," then backtracks and says she was being "extreme."
Over the course of a few hours, Cardi posted a selfie with the word "single," then apparently took it back and confessed she was being "extreme."
"So listen babes ,I exaggerated alil bit earlier cause I was really upset and the Bronx girl in me always have to go to the extreme," she wrote, over a photo of Offset. "I came to my senses now.Im sorry …waffle house on me ?"
Oct. 27, 2017: Offset "proposes" to Cardi onstage—even though they're already secretly hitched.
Cardi and Offset made headlines with this proposal—but little did we all know, they were already married. Later, Cardi would reference the proposal in a statement about their wedding.
"I appreciate and love my husband so much for still wanting for me have that special moment that every girl dreams of," she tweeted the following June, "when he got down on his knee and put a ring on my finger and he did that for me!!"
This content is imported from twitter. You may be able to find the same content in another format, or you may be able to find more information, at their web site.
Jan. 8, 2018: The couple is rocked by cheating rumors.
Offset was suspected of cheating on Cardi at the beginning of 2018. Rumors flew that he'd not only cheated on her, but made a sex tape with someone else. This wasn't the first time rumors like these had popped up, and Cardi was already sick of hearing people's opinions on her partner's alleged infidelity.
"I'm going to make a decision in my own times with my heart and mind," she wrote on Twitter. "I don't need to be rushed or be told what to do. Its my life! I belong to me not to the world."
Feb. 3, 2018: People start speculating that Cardi's pregnant, but she denies it and implores fans to let her "fat in peace."
Cardi posted a video on Instagram and a fan, apropos of nothing, commented, "Is there maybe a Kylie Jenner secret that we need to know about lol Just asking," referring to Kylie's surprise-baby-heard-round-the-world.
Cardi swiftly responded, "No bitch I'm just getting fat. Let me fat in peace."
This content is imported from twitter. You may be able to find the same content in another format, or you may be able to find more information, at their web site.
Feb. 14, 2018: TMZ reports that Cardi's pregnant.
Apparently one of Cardi B's staff members let it slip at a Super Bowl party that she was pregnant, and TMZ got their hands on the info. Cardi responded to their publication of the rumor by posting an angry photo of Buttercup from "The Powerpuff Girls" with the caption, "Getting on my damn nerves this morning."
Feb. 27, 2018: Cardi explains why she stayed with Offset despite the rumors and basically tells everyone to eff off.
In her cover interview for Cosmopolitan, Cardi addressed all the drama that was swirling around the couple.
"Everybody is coming down my neck like, 'Why are you not leaving him? You have low self-esteem.' I don't have low self-esteem," she told Cosmopolitan. "I know I look good. I know I'm rich, I know I'm talented. I know I could get any man I want—any basketball player, football player."
Cardi said she wanted to work things out with Offset—and added that she's "no angel."
"I want to work out my shit with my man, and I don't got to explain why," she said. "I'm not your property. This is my life … I'm going to take my time, and I'm going to decide on my decision … It's not right, what he fucking did—but people don't know what I did, 'cause I ain't no angel."
April 2018: Cardi confirms her pregnancy at an SNL performance.
So much for fatting in peace. A beaming Cardi performed on Saturday Night Live in a tight white dress that showed off her pregnancy.

Offset posted on Instagram to thank fans for their support, but the post has since been deleted. The general public still believed the couple was engaged—not married—at this point.
June 25, 2018: TMZ breaks the news that the couple's been married for eight months, and Cardi confirms.
Tricky tricky, Cardi and Offset. The couple managed to keep their nuptials secret all the way up until June 2018, when TMZ finally found their wedding certificate.
Cardi confirmed the news with a tweeted Notes App statement, as one does:
"There are so many moments that I share with the world and there are moments that I want to keep for myself! Getting married was one of those moments! Our relationship was so new breaking up and making up and we had a lot of growing to do but we was so in love we didn't want to lose each other."
This content is imported from twitter. You may be able to find the same content in another format, or you may be able to find more information, at their web site.
The couple decided to get married on a whim one morning in September, she added:
"We found someone to marry us, and she did, just the two of us and my cousin. I said I do, with no dress, no makeup and no ring!"
She said in another tweet, "Well now since you lil nosey f*cks know at least ya can stop saying I had a baby out of wedlock."
July 11, 2018: Cardi and Offset announce the birth of their baby.
Cardi posted an insanely epic pregnancy glam-shot along with the baby's name, Kulture Kiari Cephus, and birthdate: July 10, 2018. She tagged Offset.
Aug. 31, 2018: Damning rumors about Cardi ordering an attack on two women in a strip club emerge.
There was trouble in paradise shortly after Kulture's birth. Cardi was accused of throwing a bottle at two women in a strip club and ordering members of her entourage to attack them, according to TMZ.
One of the women was allegedly attacked on Aug. 15. Both claim Cardi's posse attacked them on Aug. 29 when Migos were performing at the strip club where they worked as bartenders. Both the women and sources close to Cardi have said Cardi was not physically involved in the altercations. The women and TMZ allege that the attacks were ordered because Cardi thought Offset had cheated with one of the women.
Sept. 20, 2018: In honor of their one-year anniversary, Cardi shares a never-before-seen photo of the couple's wedding.
It turns out Cardi and Offset got married in the most casual possible outfits: his-and-hers tracksuits.
Oct. 1, 2018: Cardi turns herself in for the aforementioned strip club attack.
Cardi was charged with assault and reckless endangerment for the alleged attack, according to TMZ, which arose because Cardi believed one of the women had slept with Offset.
Oct. 9, 2018: Cardi confesses that rumors of Offset's infidelity get to her.
In an interview with W magazine, Cardi got real about how the ongoing cheating rumors make her feel.
"Every single day there's rumors about me and my dude," she said. "And it almost drives me crazy, because I start to believe them. I don't have no proof. I don't have receipts. But I just got to know my man. We practically on the phone 24 hours a day. If I can't find him, I'm going to find his friend. Somebody going to answer the phone. But I cannot be feeling insecure, to a point that I would drive my dude away, because these people want that to happen."
Oct. 10, 2018: Cardi and Offset attend the American Music Awards together.
Despite constant rumors about Offset's infidelity and Cardi's legal issues, the pair put on a united front at the AMAs.
Oct. 14, 2018: Offset surprises Cardi with a giant party and a ridiculous assortment of birthday gifts.
Offset lured Cardi out with promises of a dinner date but surprised her with a massive surprise party, six dozen roses, a diamond-studded bracelet with their daughter's name, and more.
Dec. 5, 2018: Cardi announces that she and Offset have split.
Somewhat out of nowhere, Cardi announced early in December that she and Offset were breaking up.
"So everybody been bugging me and everything, and you know I've been trying to work things out with my baby father for a hot minute now," she said in an Instagram video. "And we're really good friends and you know, we're really good business partners—you know he's always somebody that I went to to talk to, and we got a lot of love for each other but things just haven't been working out between us for a long time."
"And it's nobody fault," she added. "It's just like, I guess we just grew out of love, but we're not together anymore. I don't know it might take time to get a divorce, and I'm going to always have a lot of love for him because he is my daughter's father and yeah."
The Instagram account @commentsbycelebs shared the video, and Offset commented, "y'all won."
Meanwhile, the rumor mill was in overdrive. That same day, TMZ reported that Offset had been trying to arrange a sexcapade between himself and two women known as Cuban Doll and Summer Bunni, with no Cardi to be found. Yikes.
Dec. 6, 2018: Cardi shares a photo of baby Kulture's face for the first time.
Some might say she was trying to steer the news away from their impending divorce. But Cardi finally shared a pic of Kulture the day after announcing her breakup from Offset.
Dec. 9, 2018: Offset tweets that he misses Cardi.
This content is imported from twitter. You may be able to find the same content in another format, or you may be able to find more information, at their web site.
Pretty self-explanatory.

Dec. 10, 2018: Cardi denies rumors that their entire relationship was fake.
Cardi took to Instagram Live to clear a few things up, and said there was no way her relationship with Offset was fake.
"Ain't no type of publicity that I would ever want that would have my daughter looking at me crazy when she gets older," she said. "My relationship was never fake. I met this n—a, he was on my ass, I gave him a chance and we fell in love with each other, things was not always gravy because at the end of the day we are two different people. But we never did anything for f*cking publicity, bitch. You think I got f*cking pregnant, could have ruined my career for f*cking publicity?"
Dec. 15, 2018: Offset apologizes on Instagram for being a "selfish, messed up husband" and says he wants Cardi back.
In a video posted to his Instagram, Offset said he only had one birthday wish, and it's to get his wife back.
"I wanna apologize to you, Cardi," he said. "I know I embarrassed you. I was partaking in activity I shouldn't have been taking in."
He called himself a "selfish, messed-up husband" and said he apologized. Cardi didn't respond, but fans were clearly sick of his apologies even before he posted the video.
"Are y'all going thru a lot?" one Instagram commenter asked. "Or are you putting her thru a lot?"
"Dude! you will not stop cheating," another said, "you will only get better at hiding it. It cannot be helped. You will do it again and disrespect her. Your apologies are hollow to her."
Dec. 16, 2018: Offset ambushes Cardi onstage.
Cardi headlined the Rolling Loud music festival on Dec. 16, and her set was interrupted when Offset walked onto the stage, with assistants wheeling out a series of signs that said "Take Me Back, Cardi."
Cardi looked annoyed in videos of the encounter. After Offset left the stage, she finished her set. Later, she took to Instagram Live after the set to share her reaction with fans.
"I get that he's trying," she said. "It's hard. It's gonna take a long time to—I don't know what's going to happen next […] I just feel bad. This is why I don't like surprises."
The plot thickened in the aftermath of the onstage ambush. Organizers of the Rolling Loud festival claimed that Cardi, or at least her people, knew Offset would be joining her onstage the whole time. And judging by their past sneaky onstage faux-proposal, fans might not put it past them to fake another dramatic onstage moment.
Many commentators and fans are agreeing that Offset's antics—from the pleading Instagram video to the gesture onstage—are verging on harassment, or even emotional abuse.
But Cardi has stuck up for her ex, urging people not to "bash" him.
"I know I see a lot of people bashing me because I'm defending my baby's father, they think I'm gonna get back together with him," she said on Instagram. "I'm not saying that I'm gonna get back together with him, I just don't like that bashing online thing."
Dec. 22, 2018: Cardi B and Offset vacation together.
Speculation began to swirl that this pair was officially on the road to reconciliation when TMZ acquired photos of the couple on a romantic jet ski ride in Puerto Rico. "I just had to get f*cked. That's all," Cardi said during an Instagram Live on the vacay, per E!.
Dec. 27, 2018: Offset buys Cardi a ton of designer Christmas gifts.
Christmas came early for Cardi. The singer showed off a bunch of designer duds in a since-deleted Instagram, thanking Offset for the presents. According to E!, Offset bought Cardi a total of six designer purses (two Chanel and four Hermès Birkin bags), several extravagant-looking shoes, and multiple pieces of jewelry.
Jan. 6, 2019: Offset vows to "change his ways" in the new year.
A source gave an update to TMZ on the state of Cardi and Offset's once fractured marriage, hinting that a reconciliation is definitely on the table. Insiders told the outlet that the husband and wife had "been communication regularly" and are "focusing on fixing their marriage." While the piece noted that Cardi wasn't wearing her wedding ring, she was "receptive" to Offset after he vowed to "change his ways."
Jan. 31, 2019: The couple is reportedly reconciled.
TMZ broke the news once again that Cardi and Offset had formally called their divorce off and gotten back together. Multiple sources close to the couple told the outlet that Cardi had returned to the Atlanta home the husband and wife once shared together. "This is the first time she's been back to stay there with Offset and Kulture since December," the outlet noted.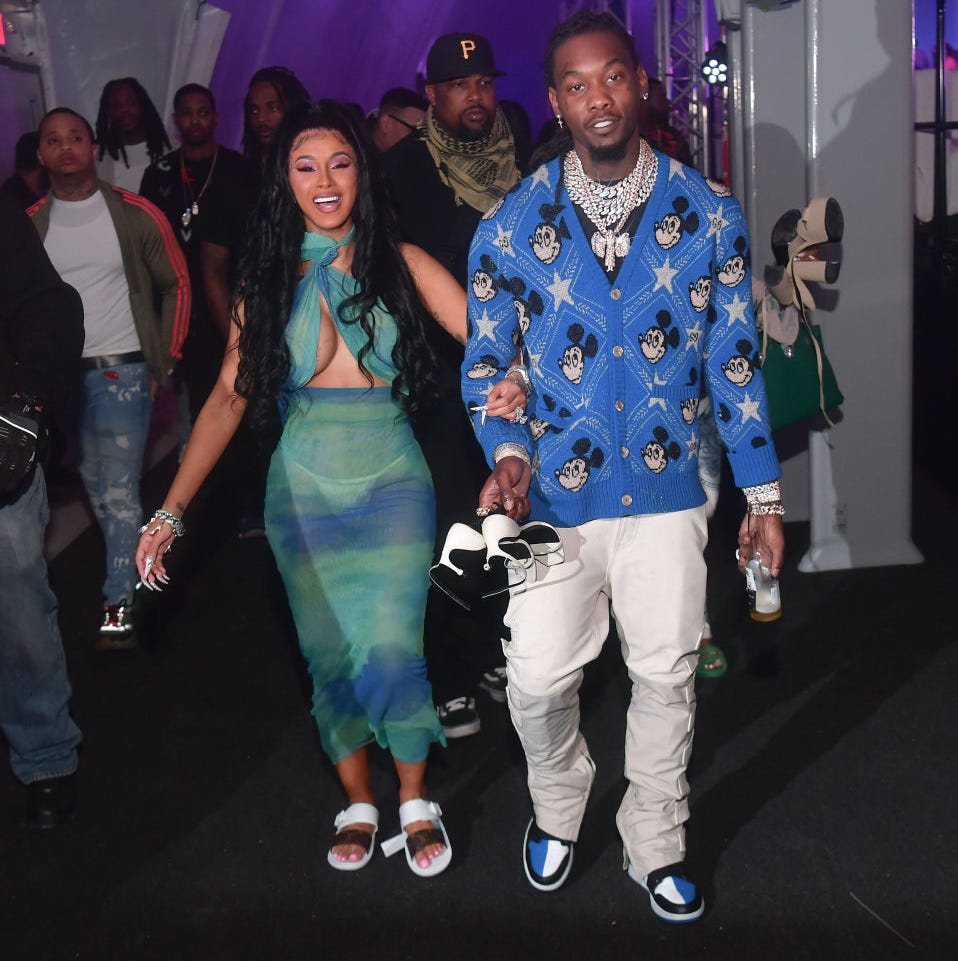 Prince Williams//Getty Images
However, sources pointed out that Offset needed to change his phone number to ensure "he's serious about being honest and faithful," according to TMZ. "Our sources say the new digits are strictly for Cardi and business calls."
Cardi B spoke about the news herself to People a few days later. "I hang out with him, I talk to him every day and we do our thing…It's just like to make things perfect…it takes time," she admitted. "You know, f*cking and hanging out doesn't mean that you guys are on like a perfect note, it takes time. It takes time. And it's a marriage and there's a child involved and family involved."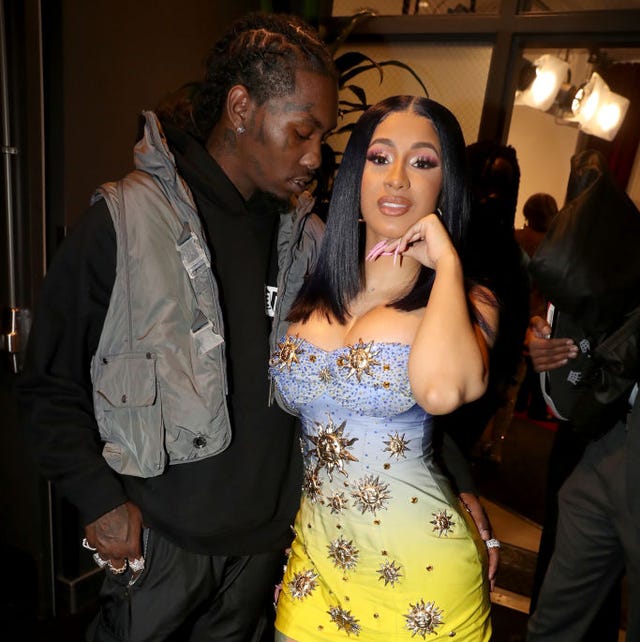 Johnny Nunez/VMN19//Getty Images
Feb. 10, 2019: Cardi and Offset reunite at the Grammys.
The couple's full-fledged declaration that they're together-together came at the Grammy Awards. Basically at every opportunity to showcase PDA, they did. On the red carpet, they aggressively French kissed. Cardi wore vintage Thierry Mugler, and Offset was in a black textured suit.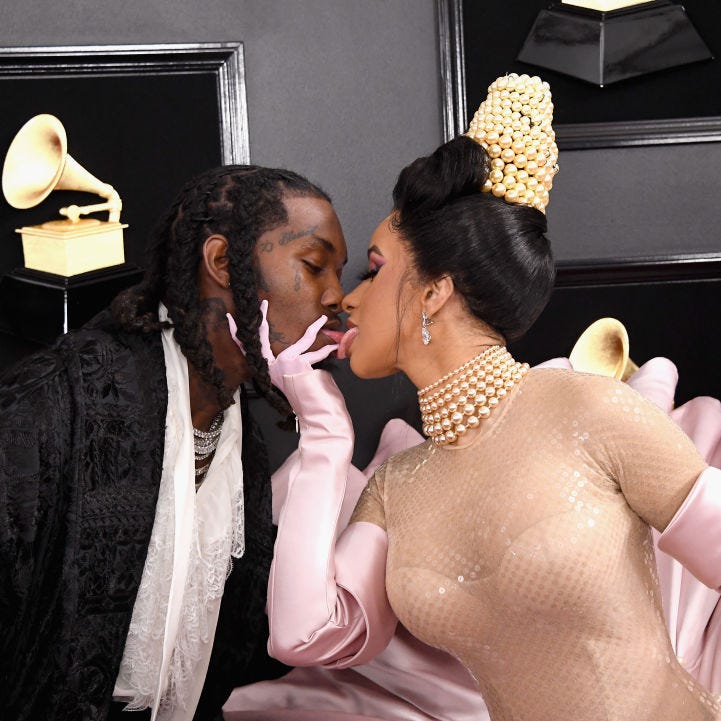 Steve Granitz//Getty Images
Then they sat together during the awards ceremony, where she was nominated for five awards, including Album of the Year. Cardi became the first solo female artist to win best rap album at the awards show for Invasion of Privacy.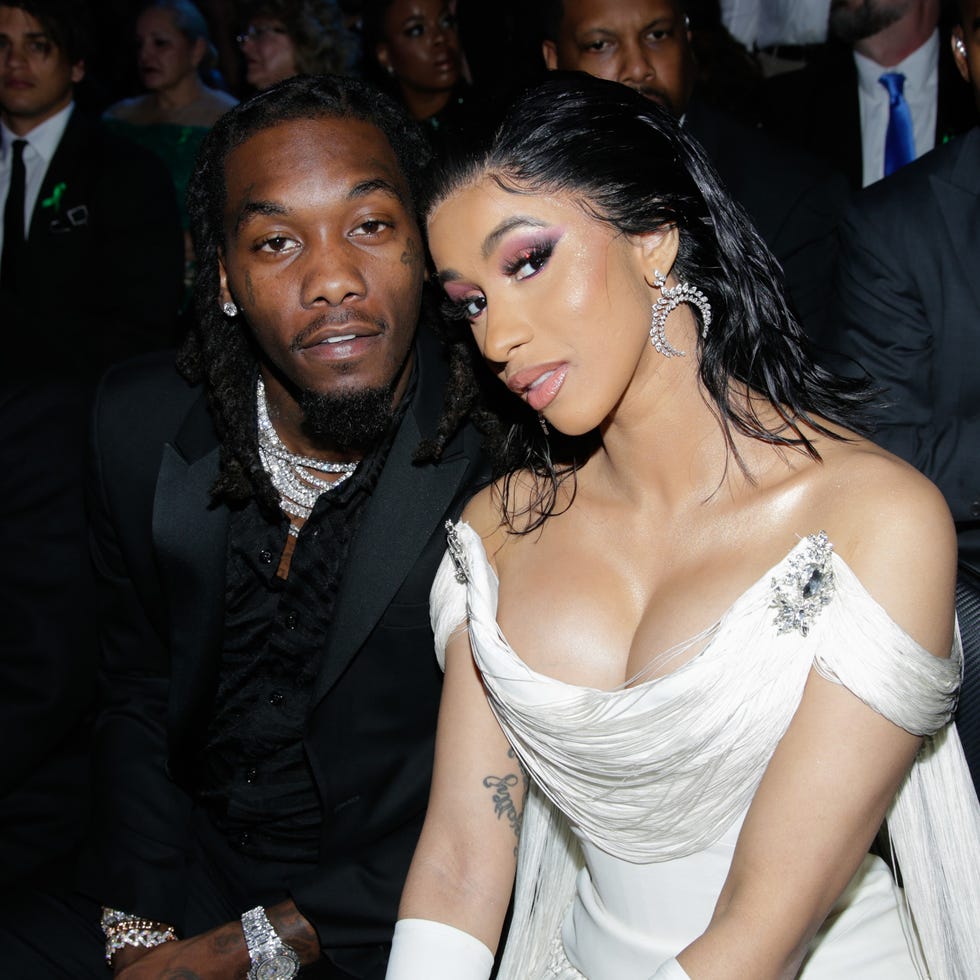 CBS Photo Archive//Getty Images
When she was announced as the winner, Cardi walked onstage with Offset by her side. "I want to thank my daughter," she said, referring to she and Offset's child, Kulture. "When I found out that I was pregnant, my album was not complete. I had like three songs. … We was like, 'We have to get this album done so I can shoot these videos before I am showing.' It was very long nights."
Then she turned her attention to Offset. "You, husband, thank you," she began. "Nah, serious, because he was like, 'You gonna do this album, girl. We gonna have this baby. We gonna make this album.'"
May 1, 2019: The couple continues their awards show reign.
Cardi and Offset's next major red carpet outing came at the 2019 Billboard Music Awards. She wore a two-piece yellow outfit, and he wore a black suit as they kissed passionately for the cameras. It was their first major event as a couple since a performance at the Revolve Festival a month earlier.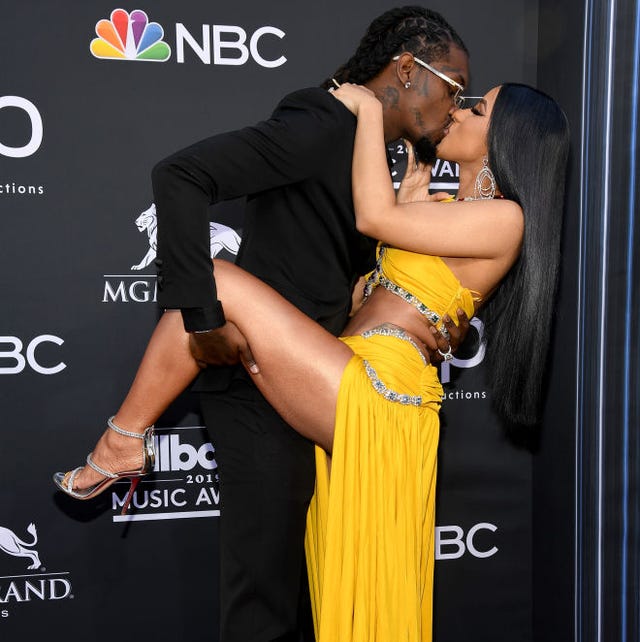 Kevin Mazur//Getty Images
She ended the evening with wins in six categories and captioned a video of the couple walking to the awards show, "I love you babe ❤️. Thank you for always uplifting and encouraging me and loving my crazy ass."
July 17, 2019: Cardi and Offset perform their duet, "Clout."
February brought the release of Offset's first solo album, Father of 4. Among the 16 tracks was "Don't Lose Me," a song about winning Cardi back. (A Birkin bag is mentioned.) Then there was "Clout," a duet about balancing fame and their relationship that Offset collaborated with Cardi on. The couple performed the song during an outdoor concert on Jimmy Kimmel Live! in July.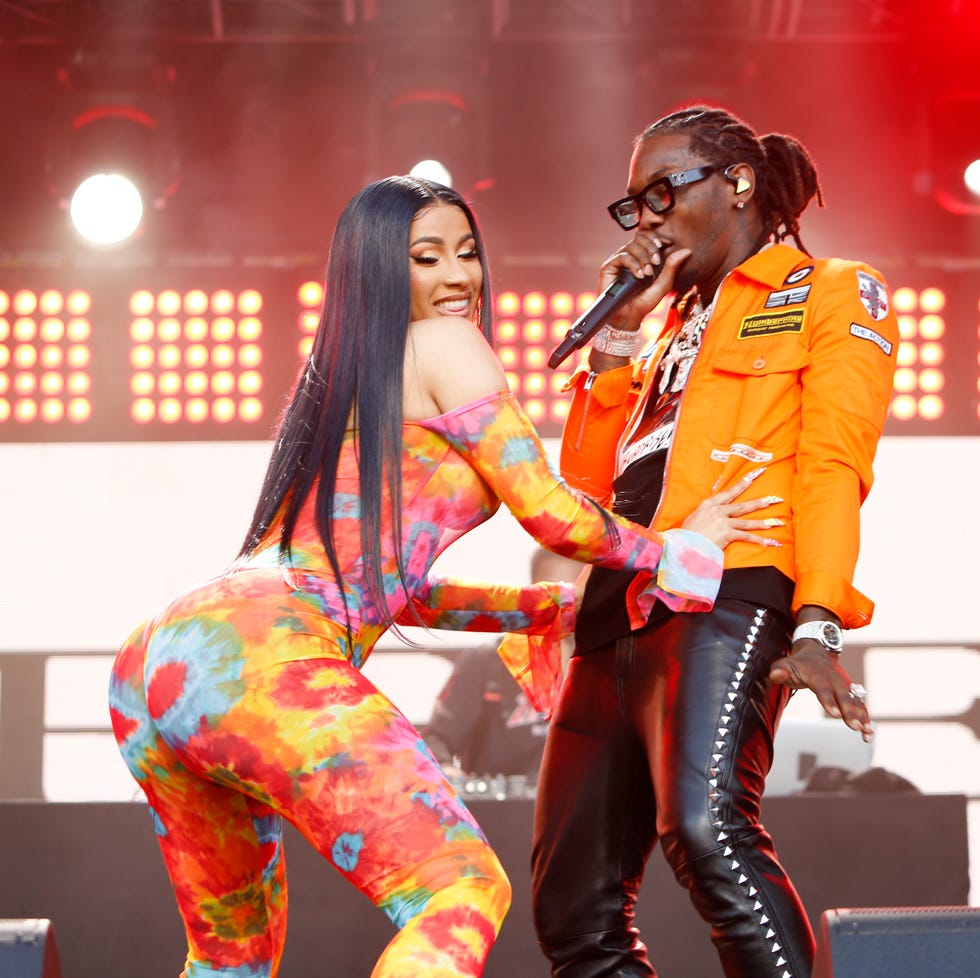 Randy Holmes//Getty Images
Sept. 10-12, 2019: Cardi and Offset hit the town.
Days before the couple's second wedding anniversary, Cardi and Offset make appearances at both Rihanna's Savage X Fenty show during New York Fashion Week and Rihanna's 5th Annual Diamond Ball Benefit.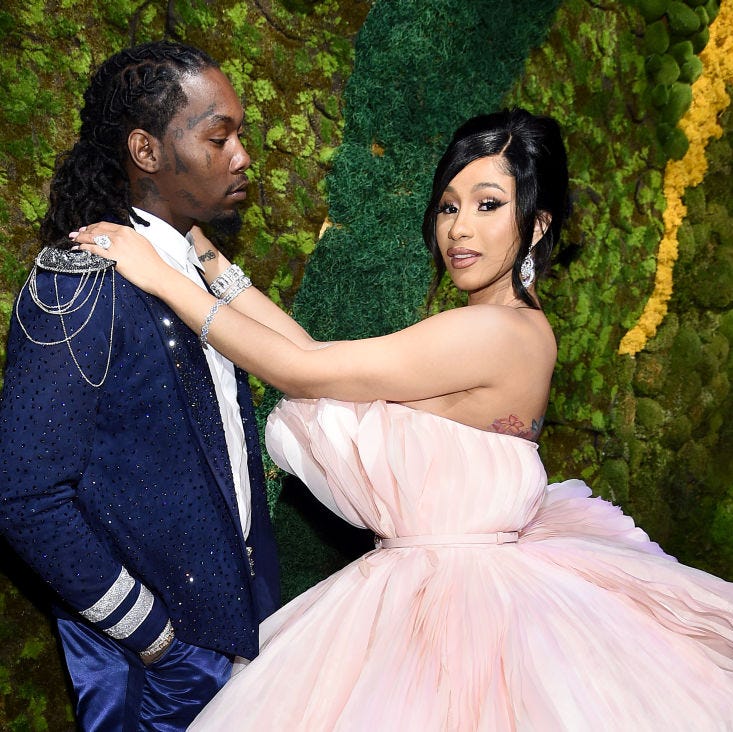 Dimitrios Kambouris//Getty Images
Sept. 20, 2019: The couple celebrates their anniversary on Instagram.
Cardi commemorated her anniversary by sharing a photo of herself and Offset at the Savage X Fenty show. "9/20/17 Happy marriage anniversary hubby❤️ We keep learning and growing. Thats what marriage about," she captioned her Instagram post.
Offset posted a video of his wife to Instagram, writing, "Today is our anniversary nobody believed it was real. We got married without nobody knowing because it was only between us and God! Now we have beautiful Kulture and a big family. I love you 4ever and after life. ❤❤❤ 📷: @#1xcardib."
Oct. 12, 2019: Offset gives Cardi a pair of diamond rings.
Although their anniversary had passed, Offset kept the gives for Cardi coming. In honor of her 27th birthday, the rapper received two heart-shaped diamond rings from her husband. She shared the surprise in a video on Instagram captioned, "Thank you sooo much babe @offsetyrn I can't believe it 😱Deum @pristine_jewelers ! I'm so happy ❤️Soo grateful."
"TITANIC DIAMOND 💍 💎 HAPPY BIRTHDAY TO MY QUEEN U DESERVE EVERYTHING THAT COME YOUR WAY I LOVE YOU AND OUR FAMILY TOGETHER," Offset wrote in his own post of the moment.
Dec. 9, 2019: Cardi speaks out about forgiving Offset.
Cardi gave her first formal remarks about reconciling with Offset to Vogue:
"When me and my husband got into our issues—you know, he cheated and everything—and I decided to stay with him and work together with him, a lot of people were so mad at me; a lot of women felt disappointed in me. But it's real-life shit. If you love somebody and you stop being with them, and you're depressed and social media is telling you not to talk to that person because he cheated, you're not really happy on the inside until you have the conversation. Then, if you get back with them, it's like, how could you? You let all of us down. People that be in marriages for years, when they say till death do us part, they not talking about little arguments like if you leave the fridge open. That's including everything. When I was pregnant with Kulture, a lot of people was like, oh, he has three kids already; why would you have a kid with somebody that have three kids? And it's like, how is that such a bad thing? My dad has eight kids, and we all get along, and it feels better, fuller. And with Offset, I feel like his kids just bring a pop of fun to life when they're in his house. I actually love it. It brings out a different side of him that I like to see, and I love to see my baby interacting with her siblings. The more the merrier."
The Grammy winner said that, ultimately, "Everybody has issues. I believe in forgiveness. I prayed on it. Me and my husband, we prayed on it. We had priests come to us. And we just came to an understanding like, bro, it's really us against the world. He has my back for everything, I have his back for everything, so when you cheat, you're betraying the person that has your back the most. Why would you do that? We have come to a clear understanding. For me, monogamy is the only way. I'll beat your ass if you cheat on me."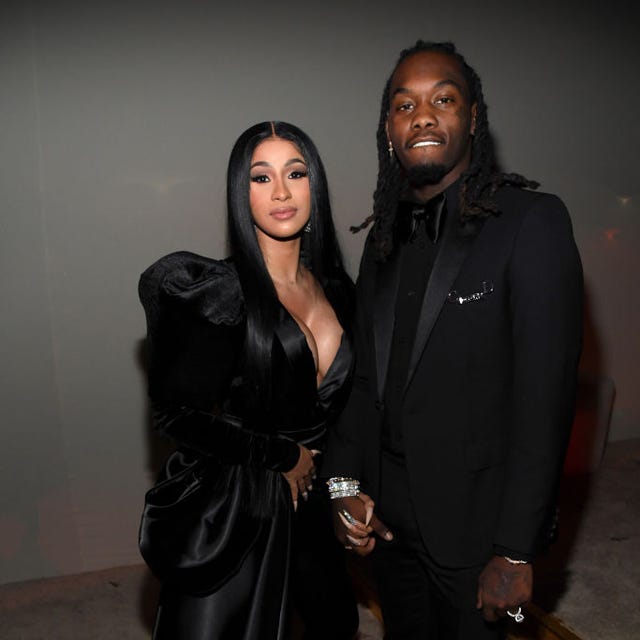 Attending Sean Combs' 50th birthday bash in Los Angeles.
Kevin Mazur
//
Getty Images
Dec. 24, 2019: The couple gives an unprecedented tour of their mansion.
What a difference a year makes! The couple closed out their 2019 by offering a home tour of their mansion, which they had just signed paperwork on. Cardi and Offset walked their followers through a tour of the property, speaking about their holiday plans as they did. "@offsetyrn and I been house hunting for the past 2 years with our realtor @b_luxurious .It has been a roller roller coaster ! Houses that @offsetyrn liked there was always a room I didn't like that we couldn't agreed on 😩and a couple houses that I liked @offsetyrn said NO because the areas they where in are not to good.We even though about building a house but with a family that's a bit complicated .With the help of @b_luxurious and God WE GOT OUR HOUSE!!!!! Sorry if the videos don't fit so well on Instagram," she captioned the first of several videos.
Jan. 27, 2020: Cardi and Offset quietly attend the Grammys.
The couple's latest awards show outing was much more low-key than usual. The pair opted to skip the red carpet, instead posing on their way to their seats. She wore a glittery gown, while he wore a leather vest and pants. The couple was jointly nominated for Best Rap Performance for their song "Clout."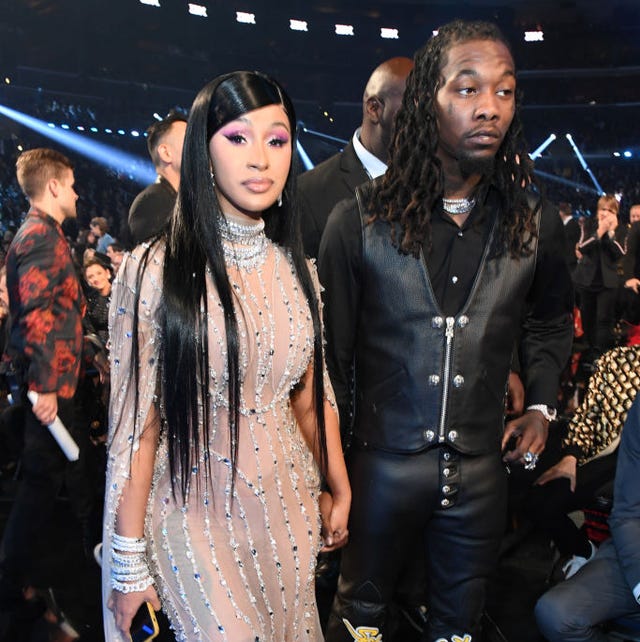 Kevin Mazur//Getty Images
They did, however, make time to show off PDA at a pre-Grammys event days earlier.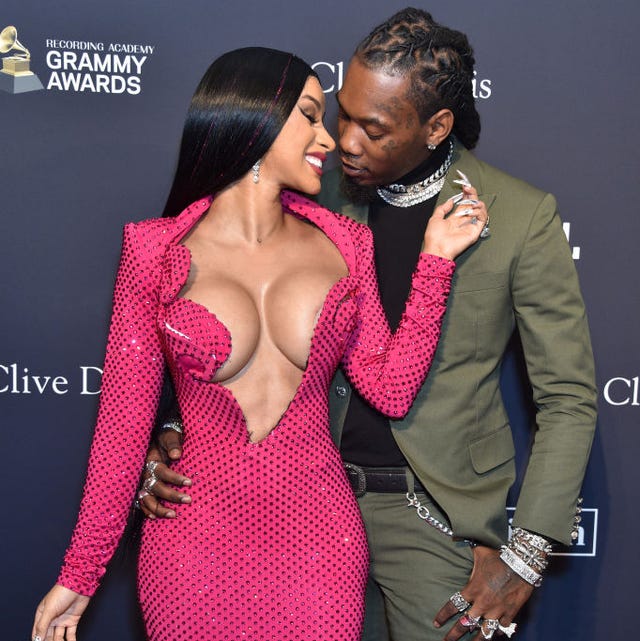 Gregg DeGuire//Getty Images
May 11, 2020: Cardi continues to make milestones with Offset in quarantine.
Although Cardi has been keeping busy during quarantine, she has still enjoyed celebrating holidays with Offset and Kulture. "Happy Mother's Day," she captioned a photo of herself and her family on Instagram.
Offset also posted a tribute to Cardi on IG, writing, "Happy Mother's Day since I met you it's been love thank you for my beautiful daughter she smart with attitude like you and talented like us both my kids and you help me become a better guy all around
Thank You WIFE !!!!" She responded, "Love you .Thank you for makin me a mommy ❤️❤️"
The following day, Cardi captioned a photo of herself surrounded by roses and holding two Birkin bags. "Thank you papasotee ❤️," she captioned the Instagram post, expressing gratitude for Offset's Mother's Day presents.
June 21, 2020: Offset and Cardi celebrate Father's Day.
Page Six reported that the couple spent Father's Day with daughter Kulture and their family at the recently-reopened TAO LA. Sources said that due to restrictions on parties of more than six people, the couple's guests were separated at socially-distanced tables.
Cardi also commemorated day with a few Instagram posts for Offset. "Happy Father's Day love ♥️" she captioned a photo of the rapper with all four of his children.
"Guess who photobomb me and @offsetyrn picture ? And she know she did it on purpose 😒😒🙄" she captioned a post of herself, Offset, and Kulture ahead of their TAO outing.

August 11, 2020: Cardi admits her relationship has drama.
Cardi got candid about speculation surrounding her relationship with ELLE. "I don't really like talking about love much, but I feel like I have to do it, just because I want people to know a little bit," she said for the September issue. "There's always rumors about me and my husband, and I feel like people would rather start rumors because they want me to be heartbroken. They want me to be hurt."
Cardi went on to admit that even though "my relationship has a lot of drama and everything" there were also elements to hold onto. She continued, "But there's a lot of love there's a lot of passion, there's a lot of trust, there's a big friendship. It's always us against the world." The rapper also revealed there would be songs about Offset on her upcoming album, including a collaboration between the couple. "If you all are so curious to know about my relationship and blah, blah, blah, I'm going to put it in the fuckin' music, and you can buy it, too," she said, adding, "I'm not going to give it to you all for free."
Sept. 15, 2020: Cardi B files for divorce.
Just ahead of the couple's third wedding anniversary, Cardi filed for divorce from Offset on Tuesday September 15. According to documents reviewed by TMZ, Cardi filed for dissolution of marriage in Georgia and it's a contested divorce, meaning an aspect of their separation isn't agreed upon. Cardi is listed as the plantiff and Offset as the defendant, per the outlet. She's also requesting primary physical and legal custody of their daughter Kulture, as well as child support from Offset. Cardi also reportedly outlined that the couple is "currently separated, and there's no hope of working things out," TMZ writes.

People has reported that recent allegations of Offset's infidelity played a role in Cardi's decision.
The last photo Cardi posted of Offset arrived on July 29:
Offset posted a photo of himself and Cardi on August 7:
As of now, the couple still follows each other on Instagram.
Oct. 10, 2020: Cardi B and Offset Celebrate Her Birthday In Las Vegas.
Offset shared a series of Instagram stories that showed Card B was with him in Vegas to celebrate her 28th birthday. TMZ reported Offset gifted Cardi with a Rolls Royce,
Dec. 15, 2020: Cardi B Gives Offset a Lambo.
Cardi shared a warm message to Offset on his 29th birthday, even referring to him as "hubs," which seemed to confirm they were back together.
And Offset shared footage of himself receiving a big gift from his wife, a Lamborghini:
September 4, 2021: Offset and Cardi B announce birth of second child.
The couple still hasn't revealed the name of their baby boy, but they told E! Online, "We are so overjoyed to finally meet our son. He is already loved so much by family and friends and we can't wait to introduce him to his other siblings."
Nov. 19, 2021: Cardi says she's "glad they stayed together."
In an interview with E! News' Daily Pop, that they are currently in a great place.
"Of course we went through some challenges," she admitted. "We had to get to know each other better. But I feel like I've never been happier. I really feel like [it's] not even just like marriage, it's the family, the unity, the friendship that we have, the 'I have your back, you have my back.'"
Feb. 12, 2022: The couple gets matching tattoos.
On an episode of her Facebook Watch show, Cardi Tries, around Valentine's Day, Cardi B and Offset shared their new matching tattoos. The surprise was that Cardi B would be tattooing her husband instead of his normal tattoo artist.
In the episode, Cardi tattooed her husband with their wedding date: 9/20/17. He then tattooed her in exchange.
April 16, 2022: Cardi shares what her "ultimatum" to Offset was.
In an interview with Essence, Cardi B shared why Offset proposed to her in a joking way.
"We were making out and he was like, 'You're going to have my baby one day,'" Cardi said. "And I was like, 'We ain't having no baby. You have to marry me,' and he was like, 'Alright, let's get married.'"
After she became pregnant, he was supportive of her anxiety over being a working mom.
"He kept telling me, 'Trust me. It's going to be alright. You're huge. Everybody loves you. People are going to understand,'" she explained. "And I just kept telling myself, I have to put out my album before I get big and I can't do these music videos. I can't let everybody in the industry that believes in me down."
Offset was already a father, which she says comforted her.
"When I had my baby, I felt like things were going to be alright, because I know the type of man that he is with his kids," she added. "It's hard for me to explain, but I see how much he loves his kids and how passionate he is about his kids, and I love that."

She also shared some details of their relationship's progression.
"I feel like our first year, even though we were in love with each other, we had a lot of lust," Cardi said. "We didn't really know each other like that, because he was doing four shows a week. I was doing four shows a week. We would see each other about three or four times a month."
March 13, 2023: Cardi B and Offset attend the Vanity Fair Oscar Party
The couple attended the Vanity Fair Oscar Party, with Cardi wearing a Robert Wun gown and Offset in a black Dior tuxedo.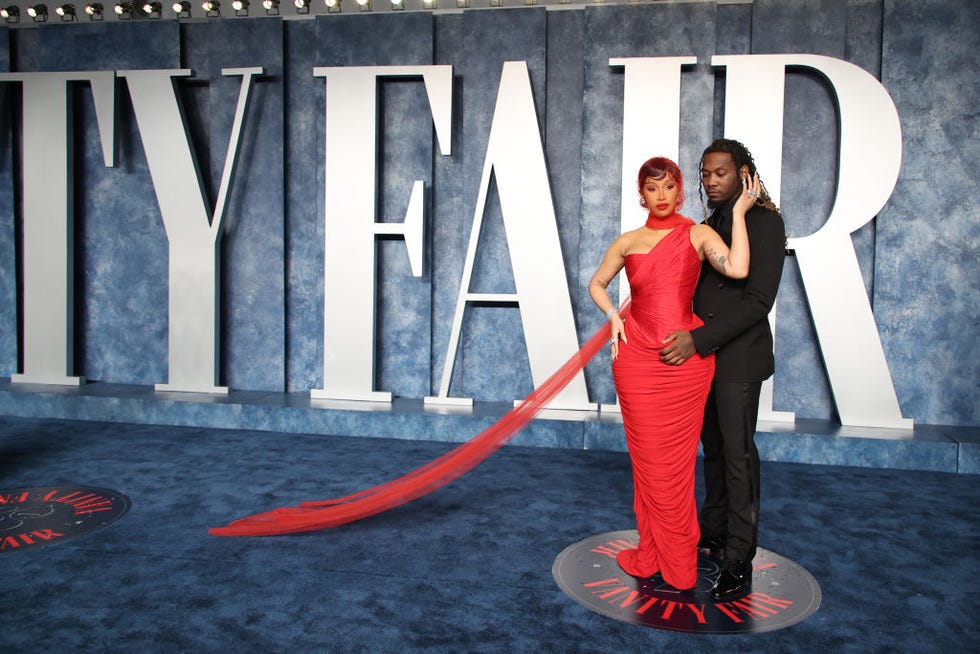 Daniele Venturelli//Getty Images
Sept. 9, 2023: Cardi B says she never thought they'd get married.
In a new interview with SiriusXM, the musical artists said she "never would've thought" she'd end up with Offset when she heard his Migos track "Versace" for the first time.
She went on about their passionate relationship, "We do be needing that fire. I mean, we're two different people, like we're very, very like different from each other, but I think that's what make us, work."
She added, "Yin and yang for real. But one thing that we like both love, we both love family. That's one thing and we both love what we do, like we both, we are each other's support system. I know that he backs me up a hundred percent and I back him up a hundred percent. I don't care."
Sept. 12, 2023: Cardi B and Offset attend the VMAs together.
The couple coordinated their hair clip-adorned looks with each other and kissed on the red carpet. They pretended to hook up in the bathroom in a clip Cardi filmed for her social media.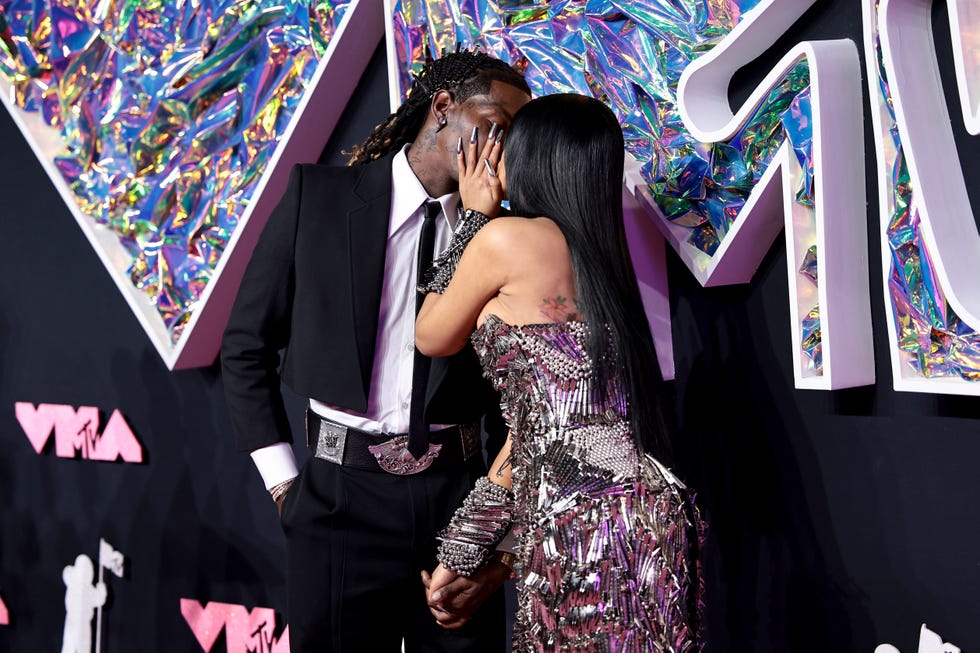 Dimitrios Kambouris//Getty Images
Sept. 20, 2023: Cardi B and Offset celebrate their 6-year wedding anniversary.
Cardi shared a video of all the flowers Offset got her to mark the couple's big milestone on Instagram. She wrote, "Thank you sooo much baby 💕 Thank you for the flowers, the empowerment, the protection and for being a great father to our children… I love so many things about you.I love the fact that I'm with a grown ass man that's going to provide , protect and help both of us GROW and can handle my mouth ,my attitude,my confidence my weakness and all this ASS!!😜 MY FAVORITE FAVORITE FAVORITE thing about you is that you study me and always pay attention to what I'm into From my favorite colors, my favorite brands to MY FAVORITE foods… I love that you into details like me because it's always the lil things that make me smile or even drive me off the wall 😩Happy anniversary to US."
Offset commented, "I Love You 4Ever," on her post.
Oct. 13, 2023: The couple celebrate Offset's new album Set It Off.
With the release of Offset's new album Set It Off, Cardi B and Offset celebrated in Miami. The pair invited all their friends to LIV nightclub on Friday, October 13. Cardi wore a body-hugging pale pink minidress and had her hair down in a long straight curtain. She accessorized with chunky bracelets and large hoop earrings and a diamond ring on one finger.

Her husband wore black leather pants with a matching belt featuring a massive buckle and several pockets chains. He paired it with a simple black t-shirt and his neck was also adorned with a number of thick chains; he had more silver and gold jewelry on his wrists.
The pair danced happily on stage and Offset performed some of his new numbers. His wife appears on the tracks "Jealousy" and "Freaky."

Molly Mulshine is a writer and performer living in New York City by way of the Jersey Shore. 

Editorial Fellow
Savannah Walsh is an Editorial Fellow at ELLE.com.